Discussion Starter
·
#1
·
Since there has been a couple of threads of new builds and someone asking to post their weight weenie build. I'd like to contribute my.
I first dreamed about building a Full Suspension bike about early 2007. The searched went on to find a low travel full suspension bike perfect for XC racing in Ontario, Canada. I thought about a Specialized Epic, then I thought about a Tuner Nitrous, BMC FS01, Litespeed Sewanee...
Then I saw Axis II's build and thought damn that is a nice bike.
I picked the frame August of 2007. Last 17" frame left in Canada.
Since August of 2007 I had been collecting parts. First was Avid Ultimate (brand new) off of ebay for $280 for the pair (160mm front, 140mm rear). Then I picked up some Crank Brothers 4Ti for about $180ish. I got them both from
https://stores.ebay.com/Geargurl-Cycles-International_W0QQssPageNameZstrkQ3amefsQ3amesstQQtZkm
Then a lot of the parts came from
https://www.starbike.com/
The new shifters, new xtr rear derailleur, Tune headset and a whole bunch of road parts for my Cervelo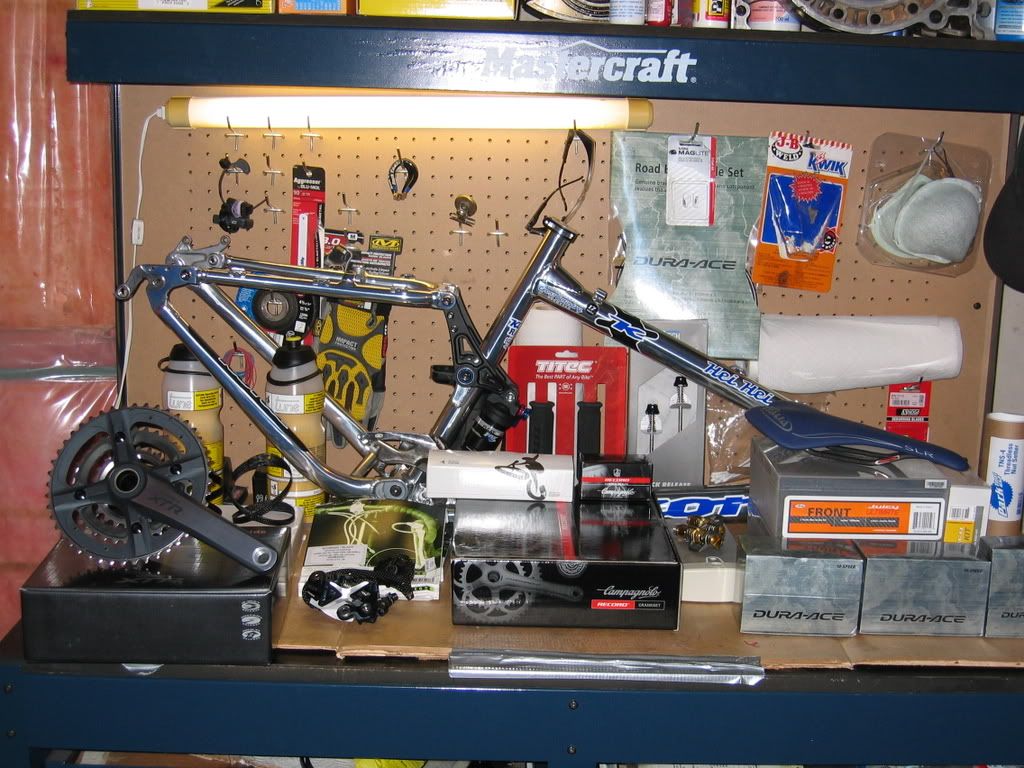 Next step was to decide on some wheels. In the back of my mind I always wanted blue chris king ISO disc hubs with some cool rims. Chris King... mmmMMMmmm really how could you beat Chris King... Answer is Tune. Ron Ruff over at
https://whitemountainwheels.com/
had built me a road wheel set with Reynolds carbon rims, some tune hubs and some CX-Ray spokes. They were awesome.
So I placed my order for these... Blue Tune Hubs were a 8 month wait. I waited. I wouldn't budge on the color.
Absolutely amazing wheels!
Next step is to get rid of all the steel bolts and go with either Ti or Aluminum bolts. I ordered everything from Tom at
https://www.torontocycles.com/
I love his store. I also ordered some Ahima ARO-08 rotors (160mm and 140mm)
Before Bolt tuning (OEM from Kona)
With Ti Bolts at all pivot locations, Aluminum washers, and a Ti nut to secure the bottom rear shock eyelet.
I then found out Axis II's 18" was lighter than my 17" frame. Ouch that hurt. So I went and machined my seat clamp with a 1/4" end mill and put a Ti bolt on. I saved about 10 grams here.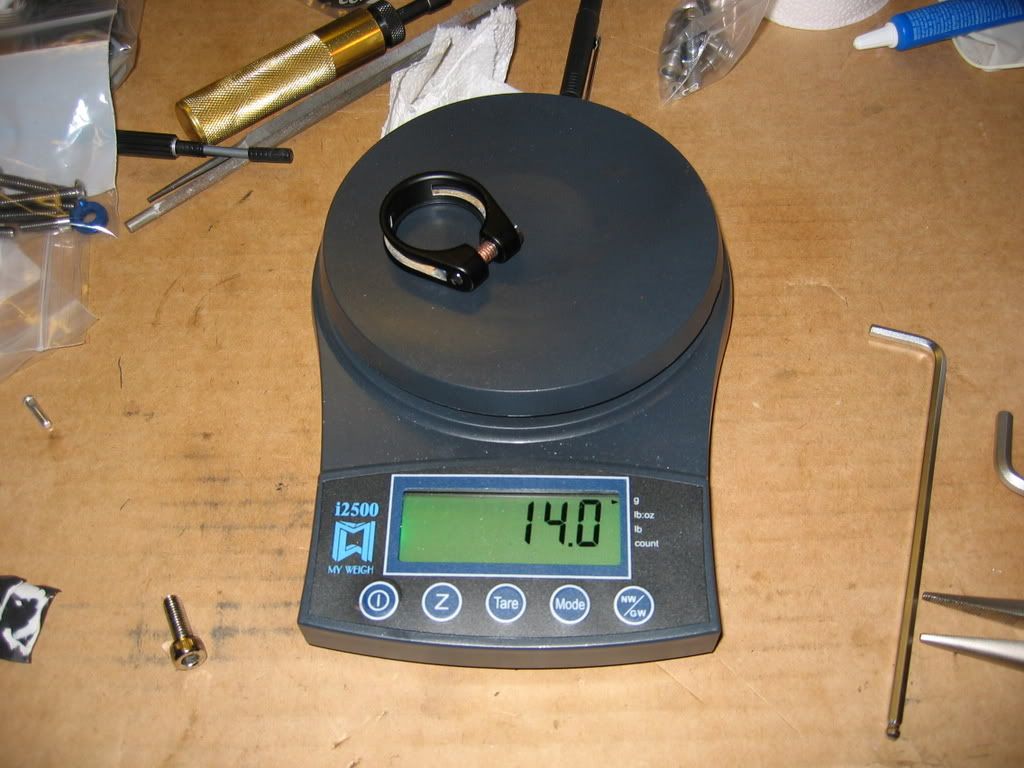 One of the final purchase was a Manitou R7 MRD Disc only in black. Not available...
So I tried to buy a red one... not available.
Then I tried to buy a Blue SID... only avaiable in world cup model. Not out for sale yet...
Then I bought a Magura Durin disc only. Got shipped a Canti/Disc version. I didn't want it.
I returned it because it wasn't the 1450g claimed and it was not Disc only. Then I found out that I couldn't get a disc only MD80R since Magura never imported that configuration into North America. Universal refunded my money.
I then tried to get a 2008 Fox F80RLC from my LBS. They placed my order to Outdoor Gears Canada. 1 week later they informed my LBS that there were no 2008s left. 2009s were another 3 weeks away to OGC (FOX Canada distrbutor). Of course you can't ship Fox products across boarders... I ordered a 2009 Fox F80RLC from Universal and shipped it to a package handling place in Niagara Falls, NY. drove from Toronto to Niagara Falls to smuggle a Fork past Canada Boarder/Customs as a 40 dollar used Ebay bicycle fork along with some Titec Pork Rinds and a whole bunch of park tools for assembling the bike.
What an ordeal... But the F80RLC is under the claimed weight of 1620g...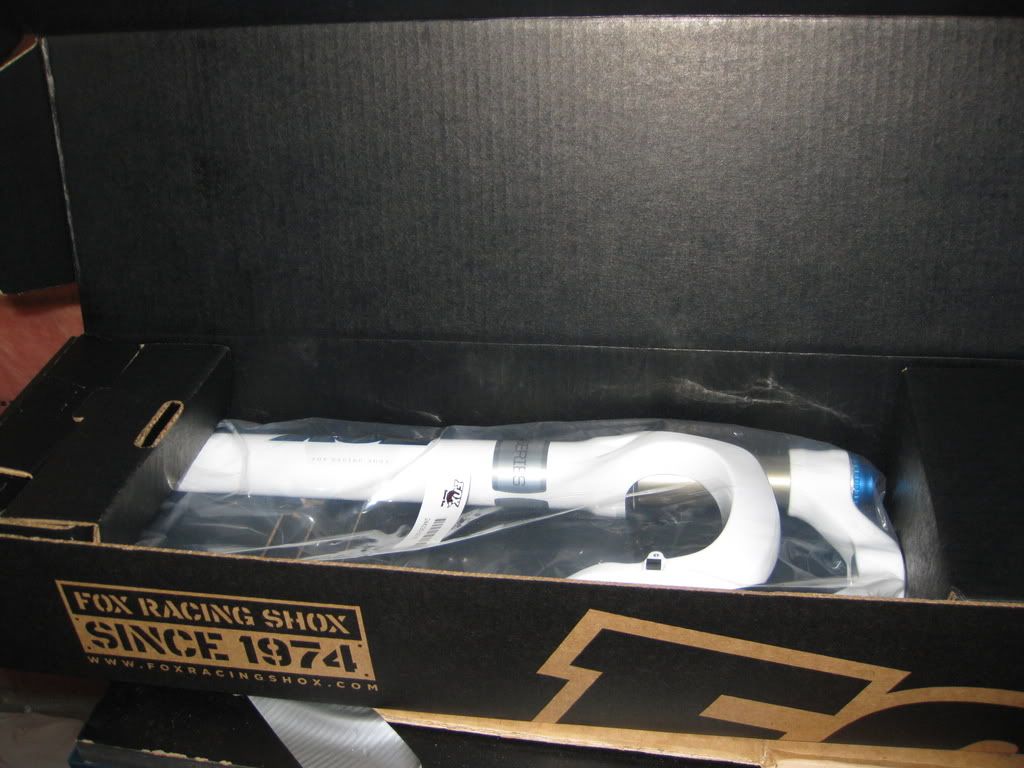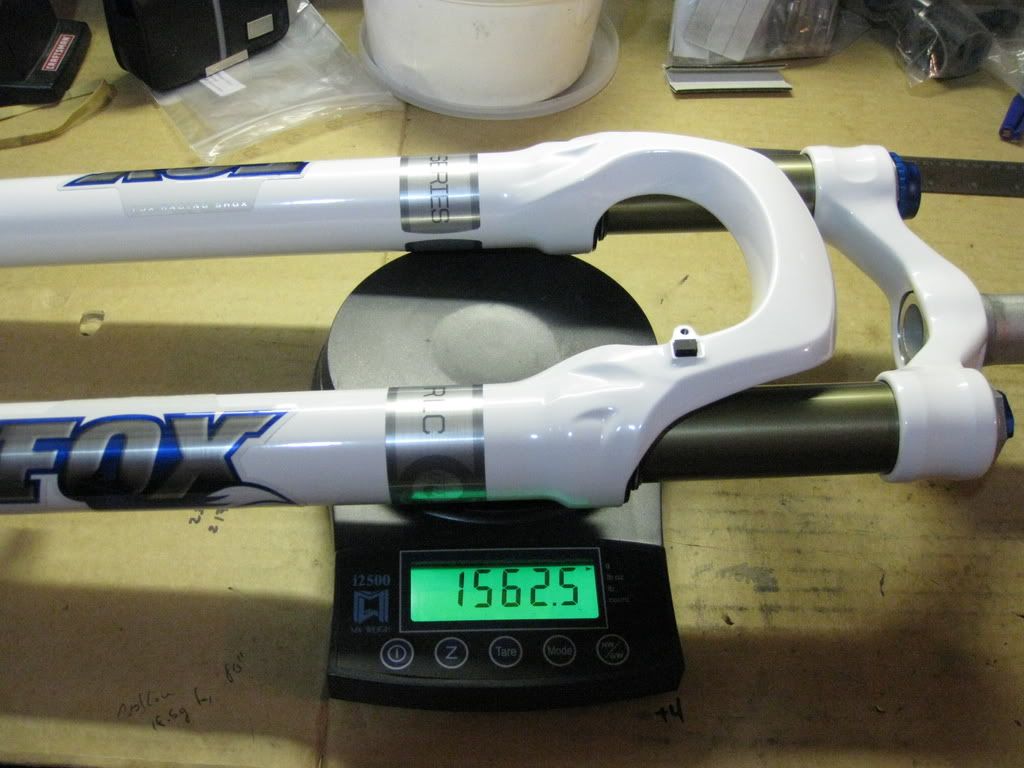 Saddle and dura-ace 12-27 cassette came from
https://probikekit.com/
Alligator i-Links came from Hong Kong Ebay!
https://stores.ebay.com/HOT-BIKE-HOBBY_W0QQcolZ4QQdirZ1QQfsubZQ2d33QQftidZ2QQtZkm
All of my remaining parts came from Giovanni over at
https://sales.light-bikes.com/
KCNC Ti Pro Lite, KCNC blue skewers, KCNC SC Bone 25.4mm, Syntace F99, Schwalbe Furious Fred 2.0, Schwalbe Racing Ralph 2.1, KMC10-SL chain...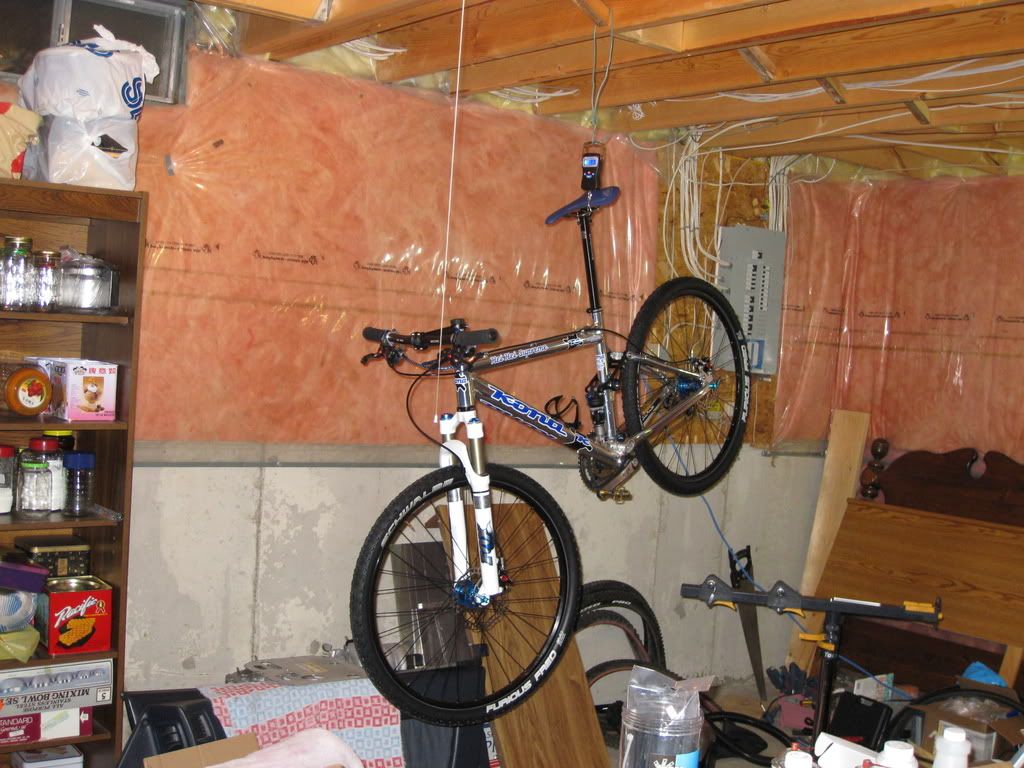 A picture before the first ever ride on the bike. Note: No scratches!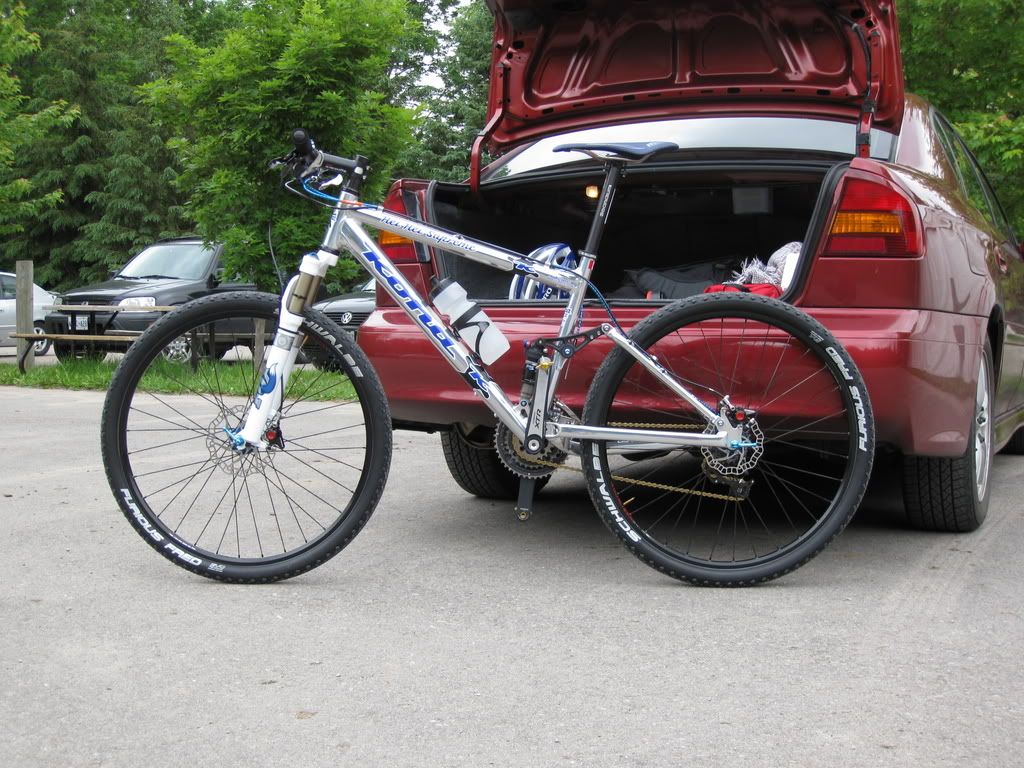 Then I raced it through mud in a 24 hour relay race at night and had a crash or two... 2.1" Racing Ralphs are not good for mud. Good thing I didn't have the Furious Fred 2.0s on... some of the sections were hike a bike only. even walking was almost impossible. I'll get a picture of the bike muddy later.
Here it is after I washed her.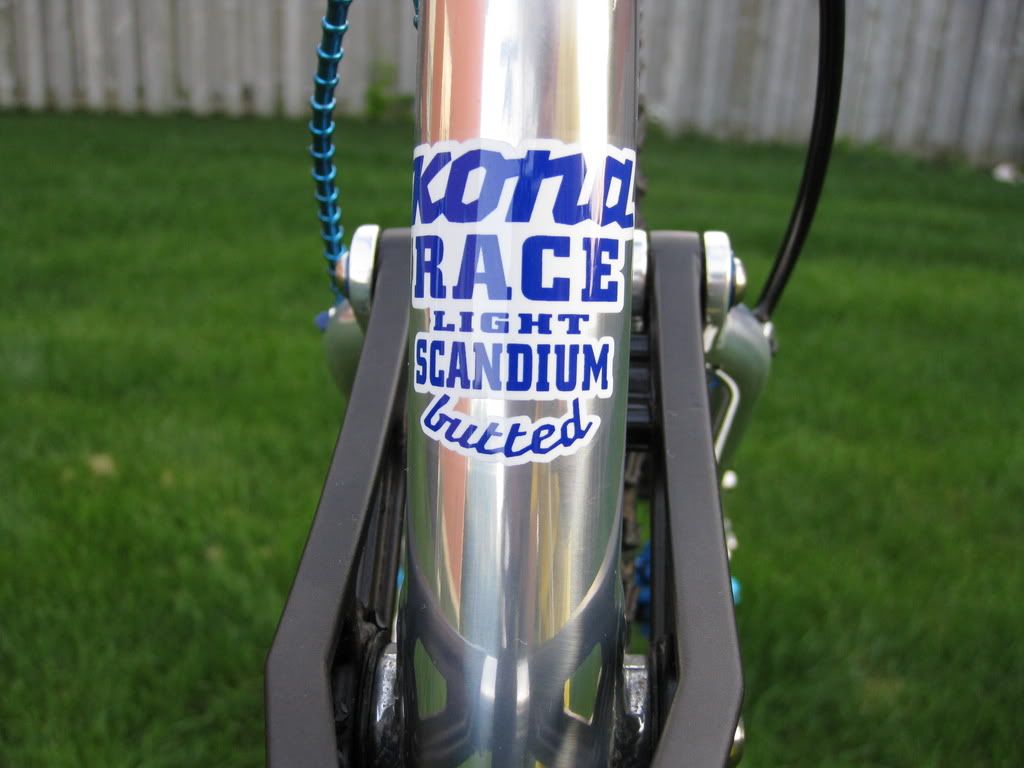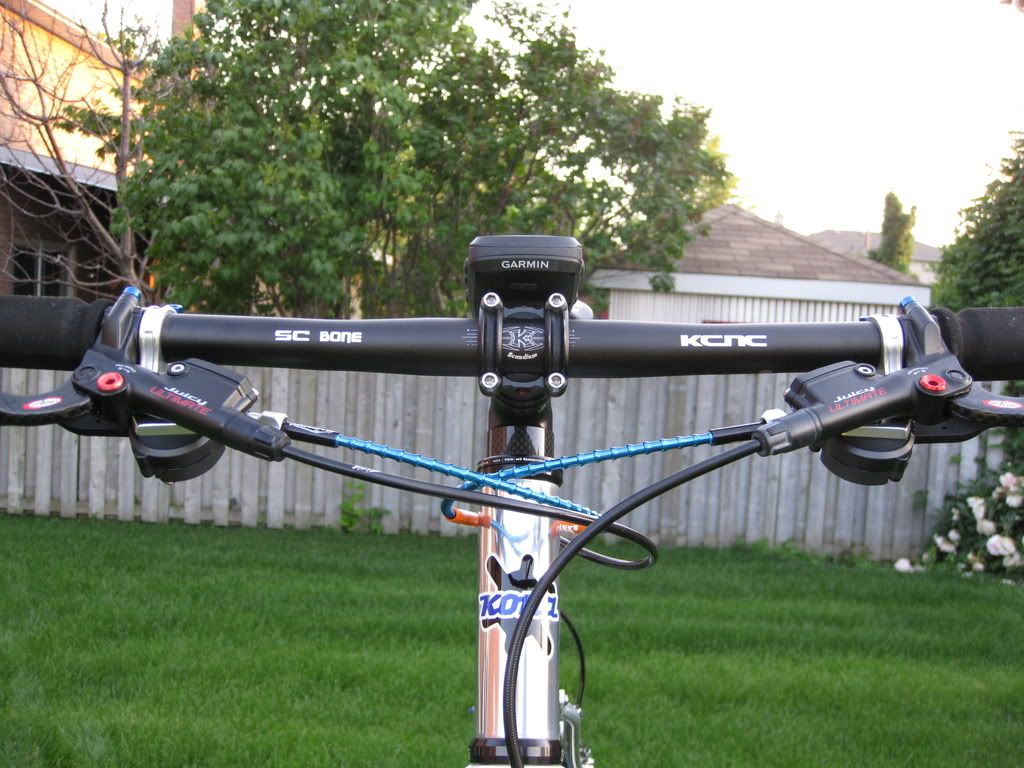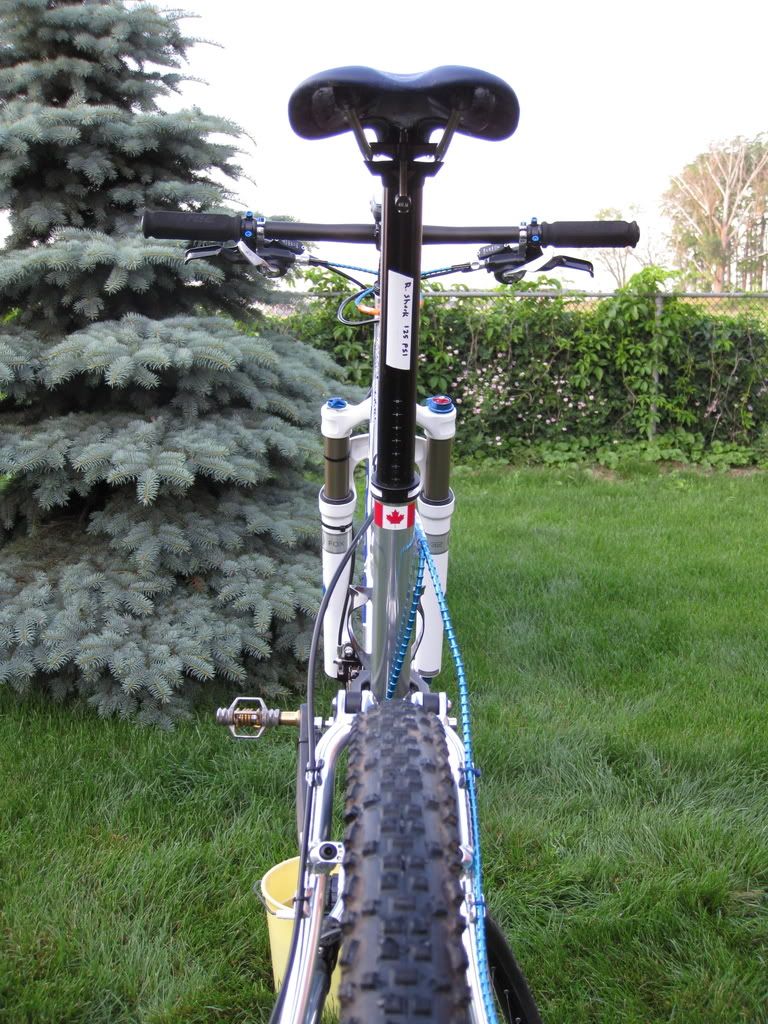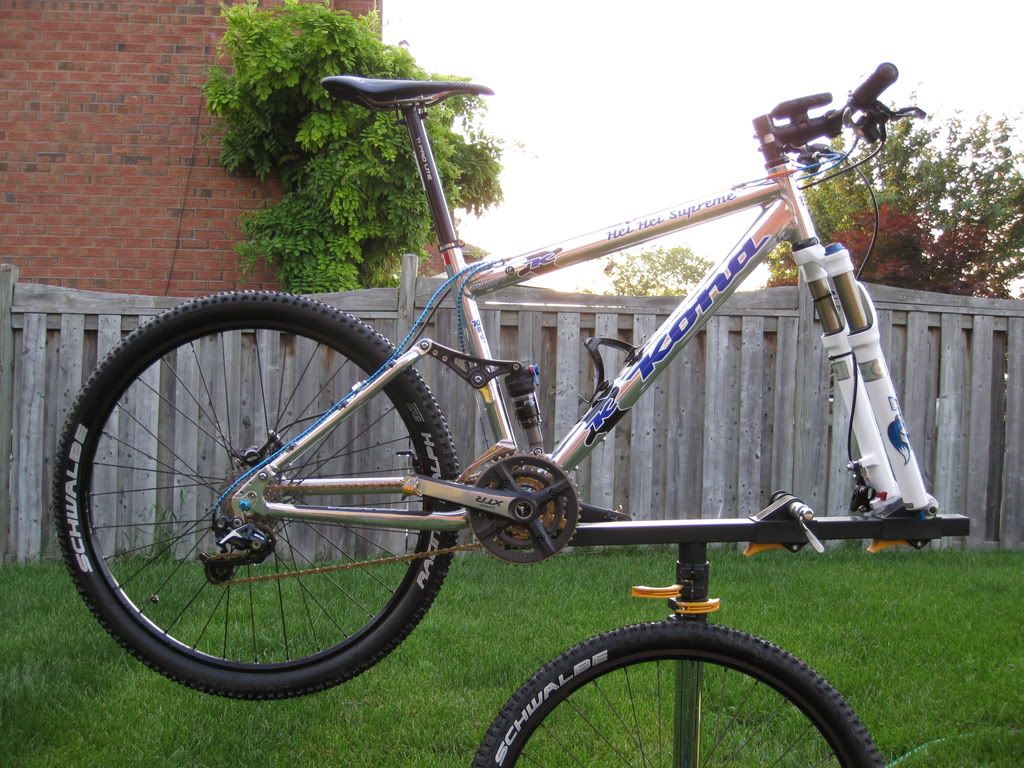 Build List:
Some thoughts:
1.) I really hate the Titec Pork Rinds. I know YMMV but damn... they throttle so bad. I installed them with the old hair spray trick but no luck. Next step is to get some spray on adhesive I think... Else I'm going to go try some ESI silicone grips. Or bite the bullet and go heavy and go with my fav, which are the Ergon grips.
2.) 610 mm for a bar is really wide. The KCNC SC Bone needs to be chopped down...
3.) I might need a setback seat post for this frame.
4.) I love the Furious Fred 2.0s... they are awesome.
5.) All the vendors that I bought parts from are excellent!