Discussion Starter
·
#1
·
Hey guys.
I was wondering which cargo bikes have the greatest weight capacity. In the summer I do local deliveries (within a few blocks) for a brewpub and using the stake-truck or even my car is really tedious in summer when the streets are crammed with tourists on foot and in their cars. Some streets are pedestrian-only and I have to make long trips with a loaded hand cart (a disaster waiting to happen, IMO).
I was thinking that a cargo bike or trailer would be ideal for weaving through tourists and getting as close to loading-doors as possible. Unfortunately most bikes have a cargo capacity of ~300 pounds. Most deliveries involve one-sixth-barrel torpedo kegs and it wouldn't be worth it to go with less than, say six, which is a common order in the summer months. A couple of restaurants order half-barrel kegs which are around 160 pounds and I'd like to be able to travel with at least three. Now we're talking about 450+ pounds...plus me, and I'm no slouch at about 250.
The only bike I can find that might fit the bill would be a
Worksman front-loading trike.
Optional mag wheels would probably be needed.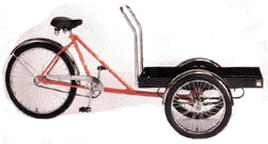 Am I missing anything? Are there any other bikes or trailers that would carry that much beer without balking? No rush, I've barely mentioned it to the brewery management, and I don't even start back to work until April. But they're pretty open minded, if I could come to them with a product and describe how it would make work easier/more efficient I think they might go for it.