I love my Zion, but the one thing that bothered me about it was the cable guides .Thanks to Jerry (Enoch) I now have five beautiful Paragon Machine Works cable guides.
Here's the frame ready for slicing and dicing action,
and the pile of parts that have been on and off the bike a lot in the last couple of weeks.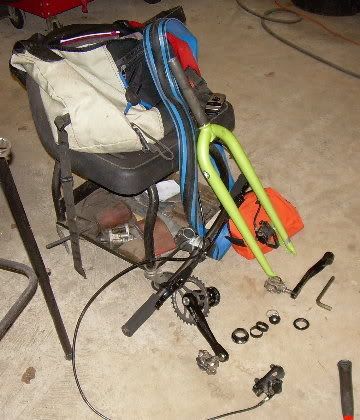 Jerry "I'm no stranger to danger" hacking away at the old silly guides.
Jerry pointed out that my rear disc mount left a little to be desired.
Once he got the ugly parts outta the way he smoothed things out all nice like.
Then we were on our way over to Cheech's "Shop of Wonders". Cheech made quick work of mounting the cable guides.
"You paid how much for this frame?"
The guides were made to look like part of the frame when we got back to Jerry's place.
When I got back home I just laid the cable in there to see just how pretty it would be. Nice.
This is the perfect shot. If I ever get my custom 29'er I hope the guides will be this inconspicuous. I placed the guide nearest the seat tube as far back as I could for shouldering it during nasty hike-a-bike La Ruta style climbing.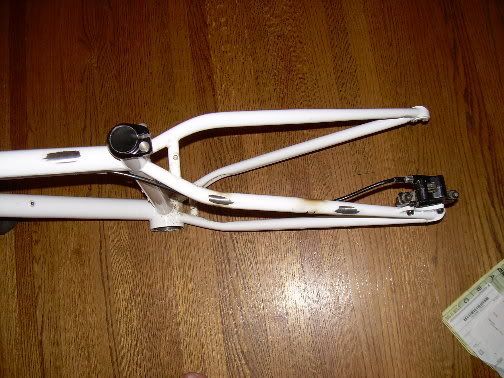 Now it's off to paint. David at P2 Custom Works right here in Charlotte, NC is picking it up tomorrow to give it some paint which will hopefully bring my Zion just a little closer to my $6,000,000 budget. Enoch's frame already got the same treatment, but he was in too big of a hurry to document it.
Here's how it looked when I first built it up, and another picture after I made a few adjustments. It's been through four forks, two seats, three stems (four by the end of the week), two rear tires, and two seatposts.