Discussion Starter
·
#1
·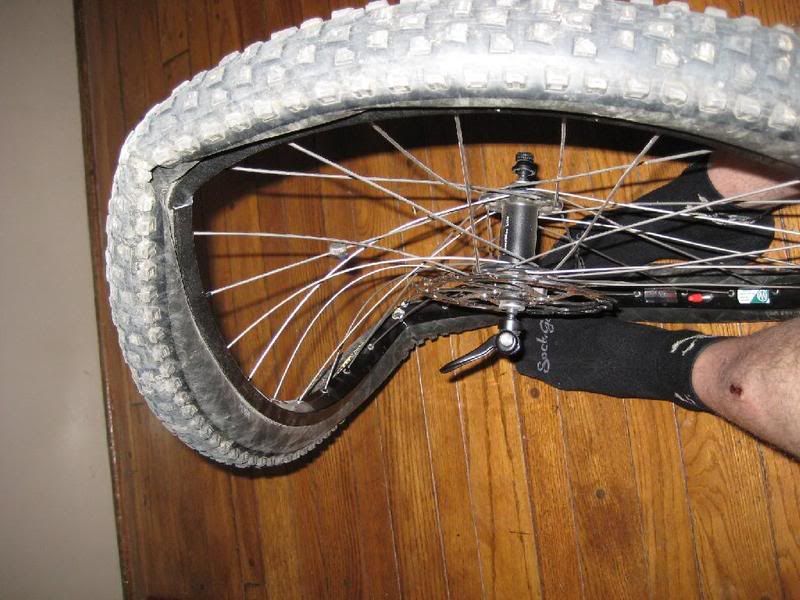 So my wheel completely taco'ed itself in a berm last week, and over the bars I went. Ouch. The crummy part was that I don't recall hitting anything, it just seemed to let go as I loaded it up in the turn. I have a few questions before getting a new wheelset built.
Damaged Wheel (built by Mike at oddsandendos) - wheels about 3yr old, I bought them used but true from an XC racer my size.
- Velocity Synergy Asymmetric 32hole (IMO the rim was the failure point, but who knows) - rims were slip fit, not welded.
- Alloy Nipples
- Wheelsmith 15ga Titanium Spokes
- WTB Laserdisc Lite Hubs
Rider (me) - 205lb with pack, moderate XC - no jumps over 24"
1) Would the ZTR Arch rims be a stronger rim and okay for my use, and can I use them with tubes? (not quite ready for tubeless yet)
2) Is there any chance the alloy nips could have been at fault? My understanding is they just can be a pain to true, but not a failure point.
3) Could the ti spokes or rims create a handling issue? I've had a horrible time this year feeling stable in corners vs my old setup. I'm guessing this has a lot to do with going from a heavy coil spring to a much lighter REBA fork and the front being lighter, but maybe these light wheels were flexing??
Other advice?