To install the Hopey steering damper in my White Brothers DT 1.2 fork, first I needed to remove the star nut.
I see quite a few posts on various forums about removal of star nuts, and how difficult it is. It really isn't a tough procedure, and only takes a minimum of time and effort to do it correctly. The alternative is to drive the nut all the way through the bottom of the steerer, but that scratches everything up and smacks of caveman mechanics.
In this case, I needed to yank mine out to install a Hopey steering damper. This is the process.
Anatomy of a star nut:
A star nut consists of a pair of spring steel "stars" which are joined by a threaded steel sleeve.
The sleeve has a collar on each end, which is folded back to form a rivet to retain the star.
Rather than drill out the entire length of the threaded sleeve, the only material that needs to be removed is the folded collar to break free the top star from the rest of the assembly.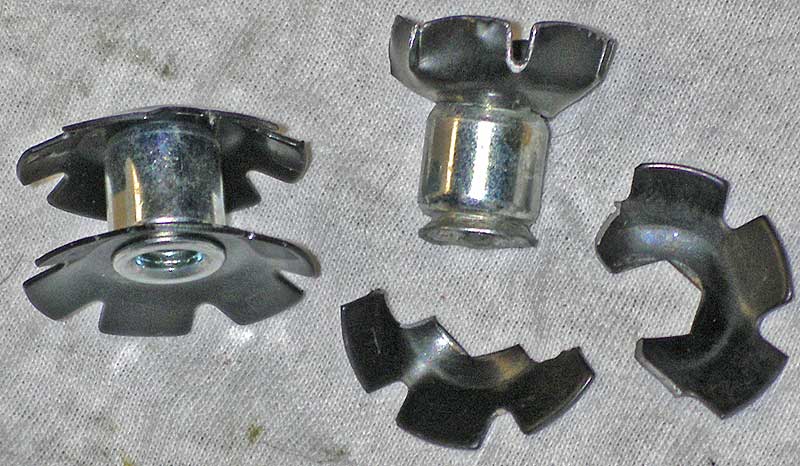 First step is to prop your fork up and begin drilling. My preferred combination is to begin with a 1/4" bit to start into the inside of the sleeve, then follow with a 7/16" bit to completely remove the collar. You can use whatever drill bits you have handy.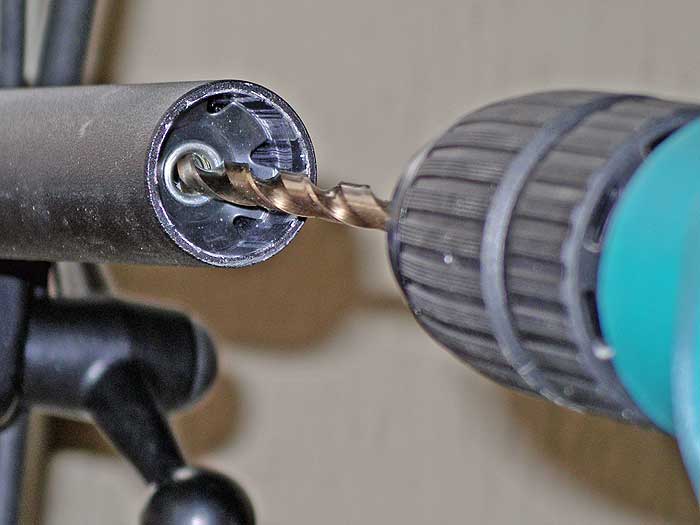 Here you see the collar drilled off. The top star is free to separate from the threaded sleeve.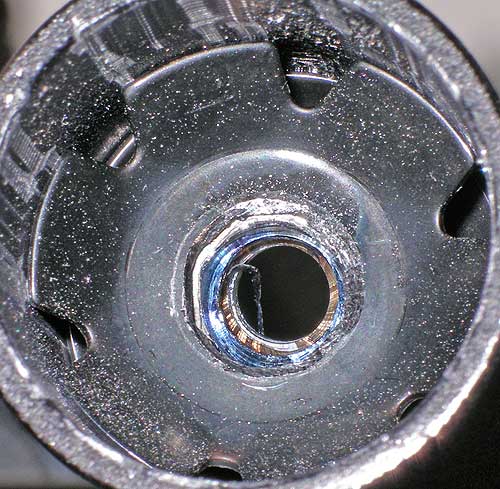 Use a center punch to drive the steel sleeve & lower star a few millimeters deeper into the steerer tube. The punch should be slim enough that it'll drive through the center of the top star, which you don't want to move yet.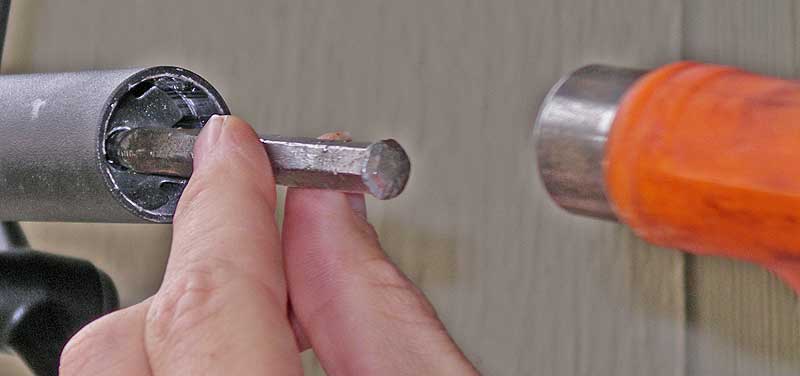 Here's a shot of the sleeve & lower star pushed back.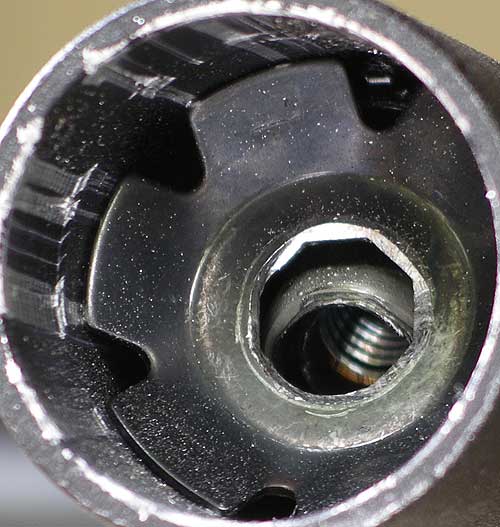 Now that the upper star has some room to manuever, use the punch to knock it sideways in the steerer.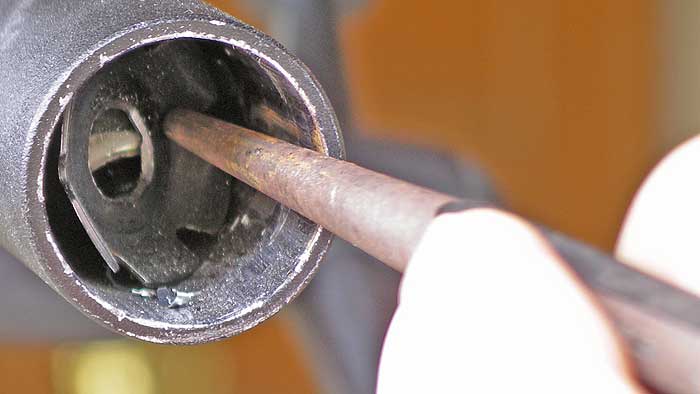 With a hooked tool, grab the upper star though the center and wiggle it free. It sometimes takes a good tug, but once you figure out how much force it needs it'll come out quietly.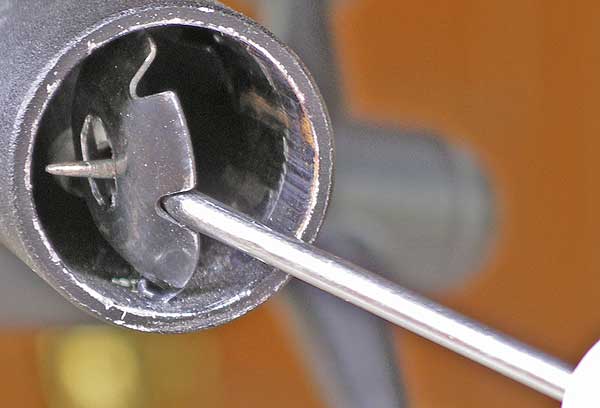 Now you've got the lower star and sleeve (still joined together) hanging out a little further down. Again, use the center punch to displace the nut so it sits sideways in the steerer, then use the hooked tool to pull it free.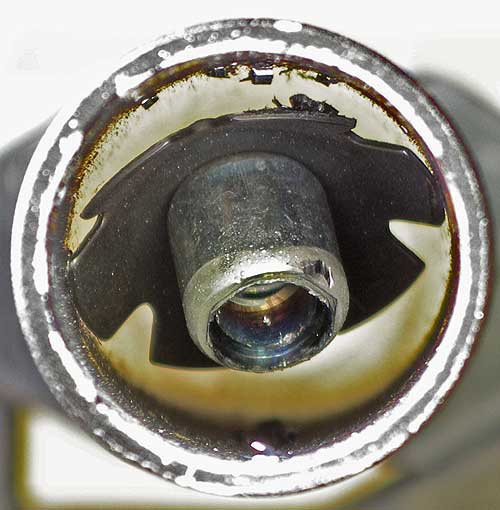 Taadaa! Piece 'o cake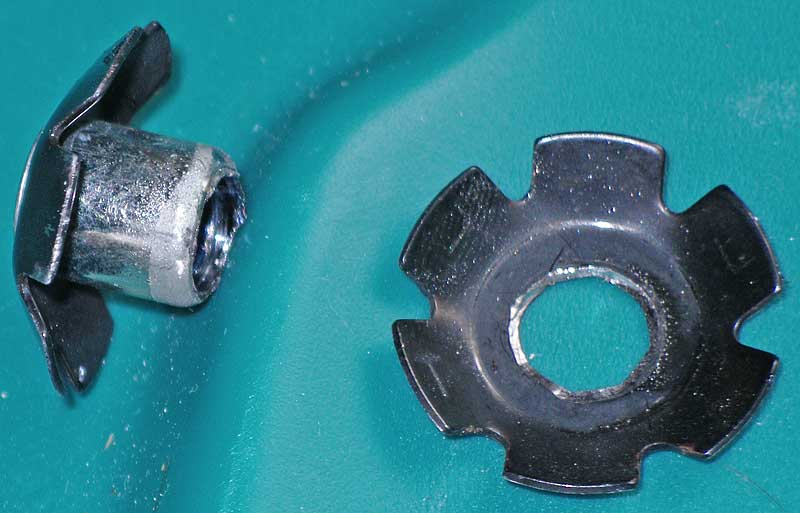 Index of MkIII Build Posts
MAIN: MkIII / Speedhub Build Pics
Iron Horse MkIII Naked Frame (March 2005)
Hollowpoint Speedhub Build Pictures (April 2003)
Cane Creek AD-12 Air Chamber Volume Adjustment
White Brothers 2006 Technology
White Brothers DT 1.2 Fork Porn
Stripping Anodization
Bottom Bracket Drain Hole Drilling & Installation
Drilling Out Cable Stops (Full Length Cable Run)
Dremel Cut & Prep of Cable & Housing
Hopey Steering Damper Installation
Stripping & Polishing an Aluminum Frame
Homemade Headset Removal & Installation Tools
Star Fangled Nut Removal (Drilling out the Star Nut)