After yesterdays battery issues I made plans to meet Cruz at the trail head this am for another ride. I woke up a little early to check the weather radar and it looked like the majority of the rain was going to just go a little north of Huntsville and Monte Sano. SWEET!! In an attempt to not get caught unprepared I put the camera batteries in the charger and ran them through a full recondition and charge overnight. I threw an extra 2gb SD card into my pack as well.
It was a frigid 57 degrees and quite humid when I met up with Cruz around 7:50 AM.
We planned a route that missed most of the boggy areas and would maximize the amout of good footage we could shoot. That humidity had made all the rocks very slick adding a little bit more technical challenge.
Vid from the start of the descent.
Monte Sano Tire tear
from
SSinGA
on
Vimeo
.
I stopped because I rolled over a flat rock at the start which slid my tire into it's buddy just waiting to sink a fang into my sidewall. We had probably not even covered a mile of trail at this point. The damage was about an inch long slice in the sidewall. I put a tail-side patch on the tire, inserted a tube and limped it back to the car to see if I could do a more permanent repair.
Limp back to the car
from
SSinGA
on
Vimeo
.
Couldn't resist this one - even with a damaged tire.
Wall ride
from
SSinGA
on
Vimeo
.
Back at the car, I made a boot from a piece of Gatorade bottle wrapped in a piece of tube. This would prevent the tube from oozing out of the slit. Back to the trail. :thumbsup:
We were cruising along on High trail to get to a DH that has a bunch of small rock ledges all the way to the bottom. We didn't make it. I flatted again!!!! :madmax: I turned around and started the walk back as Cruz rode back to the car to pick me up when I hit the intersection with the road. I t was much harder walking on those damp rocks then it was riding on them. I paused to take a couple of still shots along the way.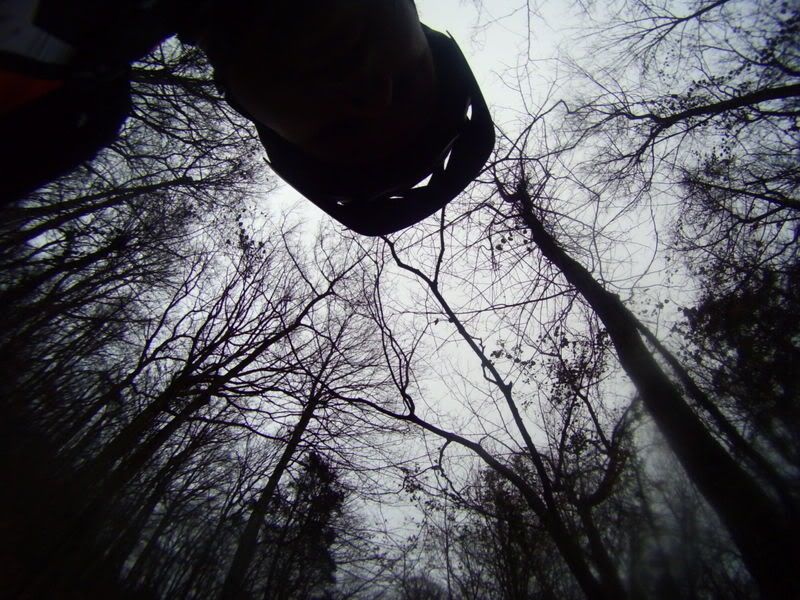 I think my Sultan has seen or heard me speak about the new DW bikes and it sabotaging my rides. :idea: