This thread will teach end users how to shim tune a Manitou Mcleod rear shock.
Lets start with the basic information
McLeod shock bleed video:
https://www.youtube.com/watch?v=6vmNyZC8qTo
McLeod Full service videos:
https://www.youtube.com/watch?v=6vmNyZC8qTo
Stock oil is Maxima 5wt which is
[email protected]
Stick in the 14-16cst range if you use other oils.
You can buy shims here:
Revalving Shims
You can buy the IFP tool here:
[
https://hayesbicycle.com/collections/manitou/products/rear-shock-3-in-1-ifp-service-tool
I'm not going to spend anytime on the rebuild process, the videos are clear on what to do. Only the bleed video is needed to change shim stacks, but the full rebuild videos give excellent insight into how the shock works and are worth the long watch.
Now on to the good stuff. There are 2 separate compression shim stacks in the McLeod and no low speed needle circuit. You read that correctly, the McLeod compression damper has no orifice/needle circuit. Its all shims. There is a 10mm ID shim stack and a 8mm ID shim stack. Generally speaking, you will only tune the 8mm shim stack and leave the 10mm stack alone, but we will dig into both.

10mm stack:
The the 10mm stack is the stack you can see when you pull the damper out of the shock body, like in this pic
This is what your IPA lever adjusts. When you run the compression damping full open, the shims rest on the pistons lip with no preload or possible a very small amount of float. How much preload or float you have in the open position is based on the eyelet/damper shaft adjustment. You can see how to adjust this in the above videos, but it mostly should be left alone unless you are doing a full service.
The stock 10mm stacks differ depending on the year of the shock, but the overall damping characteristics have not changed much over the years. Still a pretty firm lock out in when fully closed and a very active feel when fully open. So why change this stack? In reality, there is very little reason to, its pretty dialed and is not really addressed in the upcoming guide. Changing it changes the range of the adjuster, but not the main damping characteristics which are controlled by the 8mm stack. If you dont want a firm lock out, or want to make the difference between the 4 clicks of adjustment closer for fine tuning, then you would lighten the 10mm stack to change the range that the adjuster gives you.
The most current 10mm stack is the following
Damper shaft
10x14x.1 (2 shims)
10x 20x.2 (3 shims)
The best way to adjust this stack is to replace shims with different diameters. For example, If you want a smaller adjustment range, take a 20x.2 out and add (2) 14x.1's at the top of the stack. This guarantees you keep the correct spacing and relative stack thickness which is VERY important. There is no reason to use diameters other than 14mm and 20mm, only number of shims( and thickness of the 20mm shims) matter in this case. 20mm shims for to change damping, 14mm for spacers/clamp shims.
8mm compression stack:
The 8mm compression stack is where the main damping happens. The newest stock stack is as follows:
8x11x.1 (functions as a clamp shim)
8x16x.1 (velocity shim)
8x14x.1 (gap shim)
First thing to note is that the overall stack stiffness is .3mm thick. You want to keep this to a max of .4mm thick or the IPA adjuster may have a hard time reaching its 4th click.
Lets start with the gap shim. Unlike most shim stacks where you change shim thickness to change damping characteristics, in this case, you change shim diameter. We are essentially controlling a small amount of free bleed by not fully covering the compression ports with the face shim. A 16mm diameter shim fully covers the the ports, a 12mm doesnt cover them at all.
This Dyno graph shows how increasing the gap shim diameter changes the damping curve: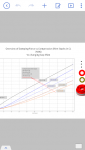 On the trail, gap shim size mostly relates to low and mid speed damping (though it affects the whole curve). If you want more low speed control from your stack, you would increase the gap shim diameter. If you want less low speed damping, you would decrease diameter to allow more bleed.
Next we have the velocity shim. This shim tends to control the mid to high speed characteristics. You can change the diameter from a 16 down to a 15 which allows for more free bleed at the lowest shaft speeds. Most riders tend to like the 16mm for more support though. If you add thickness to the stack, this is where you would do it. Adding a second .1mm shim adds mid to high speed damping if desired.
Last is the 8mm stack clamp shim. (its not really a clamp shim as the 10mm stack sits directly on top of it, but if functions similarly as well as creating a gap for the 8mm stack to work independently of the 10mm stack). Clamp shims change the slope of the damping curve by changing the stacks pivot point. You do this by changing the diameter of the shim which mostly changes mid to high speed characteristics in relationship to the low speed characteristics. Buying shims online can limit what you can do here as only 10 and 11mm diameters are available.
Pistons:
There are two pistons available. A red piston (stock in most cases) and a yellow piston that has a small free bleed that allows a very small amount of oil to pass on both the rebound and compression stroke. This allows for a better response when transitioning between the compression and rebound strokes.
Rebound Stack
The rebound stack tuning is like a normal shim stack for tuning. Depending on the year of your shock, you may have a 16x.2 paired with a 11mm clamp shim, or the most current stack of
8x15x.15 (2 shims)
8x12x.15 (2 shims)
8x10x.2
This stack is very good on most frames and is a great place to start if you have a older stack you are not happy with.
If you open up you shock and find its using a 16mm diameter rebound shim, switch it to a 15mm shim as the 16mm shims slightly cover the compression ports. This was by design originally, but we have since found that the 15mm rebound shims not covering the ports works better.
Lastly, you have the rebound check valve. Leave this stack alone, its only purpose is prevent back flow through the rebound orifice on the compression stroke.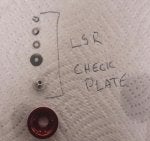 I will update this thread with more information in the upcoming weeks with some different stack combinations and the dyno info for them, as well as some more detailed pictures of the damper. I dont have it readily available currently.
A few other things to note. Manitou has clamp shims of 10.3, 10.5, 10.7 and 11.3mm in diameter. You can not get these elsewhere to my knowledge. If you ask them nicely, they may be willing to send some out if you find you need them. They are used to change the rebound damping slope, not for use on the 8mm compression stack. If you ask really nice, they may be willing to send you a yellow bleed piston as well (make sure you have a red piston before you ask).
[email protected]