Discussion Starter
·
#1
·
As the thread title says I am working on a carbon fiber composite frame. I have never built a frame before, so I have spent a lot of time reading, planing, trying to figure out bike specific parts, measurements etc.. I asked a few questions here on this forum about the things I didn't understand. I am confident that I have thoroughly thought this through and I have begun the work. The general idea is to make tubes by bladder molding and then to glue them together using unidirectional carbon fiber wrapping. This is not very elegant compared to more refined more-or-less monocoque techniques, but I believe it is challening enough to start with.
I made a CAD model of the frame and printed the outline on paper. The paper is glued on an MDF board to shape a model of each tube. Here is a picture of the model of top tube. I coated it with three layers of a gelcoat (clear, dark and light gray) and sanded and polished it. I used three colors so that I can see when I get close to sanding through the coating. Sanding and polishing isn't really my strong suit. Let's hope I get better with practice.
I got a scrap piece of chipboard to support the first half of the female mold. The outline of the tube is cut out to allow the model to fit in. The gaps are filled using plasticine. Additionally, small pyramids of plasticine are used to as alignment help for the mold halves. I got this idea from a vacuum infusion tutorial on YouTube. I took those pictures in the middle of the work. The plasticine has to be cleaned up before proceeding.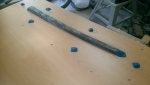 I made both female mold halves using a black gelcoat layer and several layers of glass fiber mat on top. This is the first half. Unfortunately I have some irregularities in the surface because of trapped air.
I decided to fill the irregularities with a polyester filler after applying the release wax. It's not pretty, but I thought it might help in avoiding further air inclusions. I have successfully split the mold halves and removed the tube model. There is a defect in one spot, where I probably missed another air bubble, but otherwise the molds turned out alright I guess. I took a picture after washing off the PVA release agent. It was still partially wet, hence the blotchy appearance.
I will make the preparations for the bladder molding next.
Daniel