Discussion Starter
·
#1
·
Hi there,
As a Jersey resident I still haven't been up to Diablo (Im at the other end of the state) & probably won't get there for another month or so...life has just been very hectic.
Anyhow, I would like to make it up there a couple times before the end of the season, but I'm not sure if my bike can handle it, so I could use a little advice here.
I'm about 220 or so w/ gear & not very experienced w/ jumping & drops so I'd likely be taking it fairly easy & would be going w/ another beginner.
My bike:
Here's the most recent pic, although some things have changed & I have some parts ready to go on: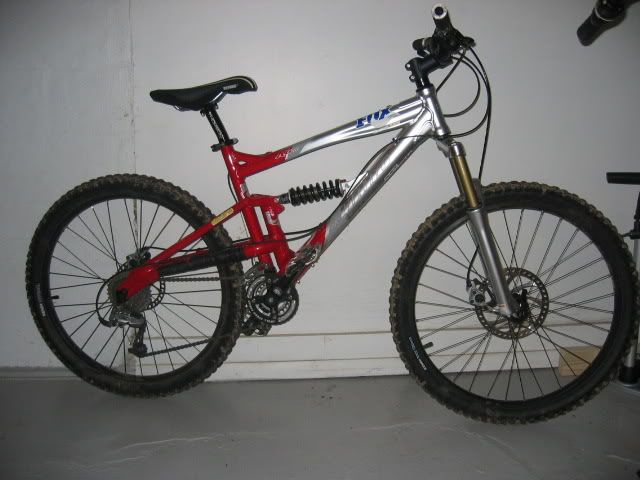 '04 Haro X2
Fork - Marz EXR Pro - 120mm
Rear Shock - Fox Vanilla R - 6" Travel
Brakes - Hayes Mags
Wheels - Sun Hill Rod, standard QR, Blue Groove & Nevegal tires both 2.35
Crankset - FSA Alpha Drive w/ Bash - (have Hussefelts to replace these)
Front D - Sram XGen, Rear D - Sram X.9, X.9 Triggers
Bars/Stem - Husselfelt DH & Generic 31.8 50mm Stem
Biggest concern is the fork/wheels. I'd like to budget about $500 +/- for fork/wheels.
I could pick up a used Jr. T pretty cheap, but that would be way overkill for the rest of the local trails I ride plus would suck going uphill. I was thinking about a Pike (although this will be a bit hard to swing money-wise) or maybe Flick as I'd be able to use them at local spots. The wheels as well would likely have to go, atleast the front to a 20mm, so I'm thinking Outlaws or maybe find a used front wheel.
What are your thoughts? Anything else I should be concerned about? Any reccomendations on tires? Should I even bother or would I have more fun on one of their rentals?
Any help is greatly appreciated.
Thx,
Mark