Discussion Starter
·
#1
·
Okay, so, today was the first day of my Cannondale F7.
I bought the F7 to have as my urban runs and XC bike, and I wanted something cheap but good. I didn't (and don't) plan on upgrading the bike anytime soon.
But, since I had some spare stuff and things waiting for the Endo, right now I changed the stem and bars from the stock ones to a Thomson X4 and Easton EA50 risers, the seat to a WTB Pure V. And I also got hold of some XT hubs.... so, it's not stock right now.
I started at around 9:20 or so, and didn't really do a large or medium loop. Sort of did two runs on my short loop, which is basically the lower part of the 3 caidas trail. The day was awesome! No rain, some sun, but not too hot. Traction was pretty cool!
I met RitoPC and Tacubaya on the way down from my second loop. They were, I guess, starting their run. We stopped a bit to chat and continued.
My impresions on the bike are as follows:
1. The bike felt a little smaller than the ML, but no big deal, I think it will work fine, and didn't really had any problems where I felt unconfortable with size.
2. I missed being clipped! It really was anoying sometimes thinking I could do something and the bike would follow, only to have some skips on the grip. Sometimes just peddaling uphill I had this issues. Well, I wanted to try the bike as it was, so it wasn't unexpected. I'm going to put the Candies on this one, and I think I'll do better.
3. It has a pretty low BB! At least, lower than the Viento or the Moto Lite. Some parts, which I thought I would pass, splat! nope, didn't pass. Just have to get used to that.
4. Handling. Pretty good actually. It was nimble, went where I wanted, I think it has a good geometry for what they built it for. No qualms here.
5. Drivetrain... well, I don't mind it being 8 spd, but I would have liked to have a 34T, but it has a 32T. I didn't had any ghost shifting, and I liked the rear shifting. The front wasn't as smooth, but worked ok.
6. Tires. My bike came with 2.0 CST Caballero tires. I actually really like them. They're on the skinny side (2.0) but provided a lot of traction and performed very well overall, it would be great to test them 2.3 front 2.1 rear for trailriding, but I'm keeping them for a while. Maybe for a long while, I don't know yet.
7. Brakes. Well, nothing much to say here. Tectro V-Brakes, performed well, not as good modulation as my previous, but that's why hydros discs are more expensive than V-Brakes. But they performed well. Maybe they locked the rear tire too easily, and they're not as confortable as my previous ones, where I require two fingers rather than one, or one when I want to do better modulation.
8. Fork. Actually, another surprise for me here. The Gila fork is 100mm travel, and actually performed better than I thought it would. Okay, the Revelation is better, but the Gila isn't bad at all as a XC fork. It performed pretty well on the whole trail (including some rutty sections and rocky), except for the section where there are a lot of steps one after another, but it's a hardtail, not a FS.
Overall, I'm pretty pleased with the bike so far!
here is a pic when I was preparing it to ride.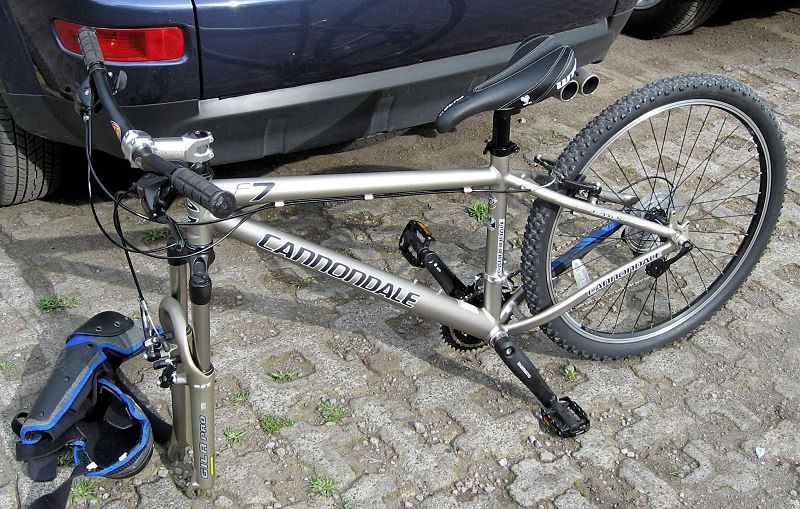 here is a pic of the trails, traction was awesome!