Discussion Starter
·
#1
·
I know there are tons of 1x10 questions using 3x cranks and in general it seem to work just fine. But when you say "fine" does your extreme opposite selections work just like your middle gears? Or is it "it's rough at both ends but it works ok" type of fine?
Here is my situation: I built my new (to me) Rip9 as 1x10 using my beloved XTR chopped m960 cranks with 3-year old pre-bust HBC rings still in an excellent condition. I went for somewhat rocky ride and it didn't drop chain (I even forgot to engage XT clutch LOL), so it looks like this set up is working. I used road chain (Shimano 105 CN-5701 10 sp chain - it was lighter than SLX chain) with SLX 10sp cluster.
I initial had a spacer on drive side as usual. It was immediately clear that it wouldn't work. So I removed the spacer from drive side to non-drive side. The chain line was still pretty bad in granny gear, which would get 50% of trail time… Crank rotation requires significantly more effort, and you can hear chains getting bent and grinds. Small gear is pretty much silent strangely, even though it's getting similar bend.
Stability in granny is more important for me, so I need ring moved inward. I dug up chain ring spacers from ancient square cranks (they used to come with a whole bunch of spacers), measured 6 mm in height. Now, it moved the chain line by about 2 gears, so the 3rd gear gets the best chain line. Granny is silent. Small gear is sort of rough but I doubt I use that gear that much.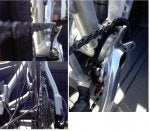 Is this what you would expect with 3x cranks? It can't be a Niner thing, can it? I also encountered more pedal strikes today compared to my ss 29er that I usually ride… Ride itself is a confidence inspiring, smooth handling, decent climber. So I'm a little puzzled. Can you share your inputs?