Discussion Starter
·
#1
·
Ok it looks like this forum is lacking in content. I don't know about you guys but constant discussions about disc brake rotors, and alloy bolts is kinda boring. I hope this sparks some cool conversations or inspires someone to posts something other than how to measure bolt sizes.
The bike is a size "M" w/ slightly modified build. The top tube length is 22.5" instead of 22.25" stock length, I had the cables routed on the 4 oclock and 7 oclock position of the top tube and had them drill a drain hole for me. All the other dimensions are the same as listed on the website.
https://www.lynskeyperformance.com/a/pages/2009-products/mountain/houseblend-m230.php
The finish I chose was satin finish as I feel this is the most durable of all finishes they offer. The only thing I pondered was getting the logos etched into the frame, but that was a rather expensive option so I stuck with decals instead.
The goal originally was sub 16.5 lbs race ready w/ a 100mm fork, but every single part I've purchased to this date for this build has been over the claimed weight. So I'm projecting under 17lbs ready to race w/ two cages and pedals. I also gave instructions to the Lynskey team to make it as light as they can.
Here is the result 1343g w/ Level 2 tubing.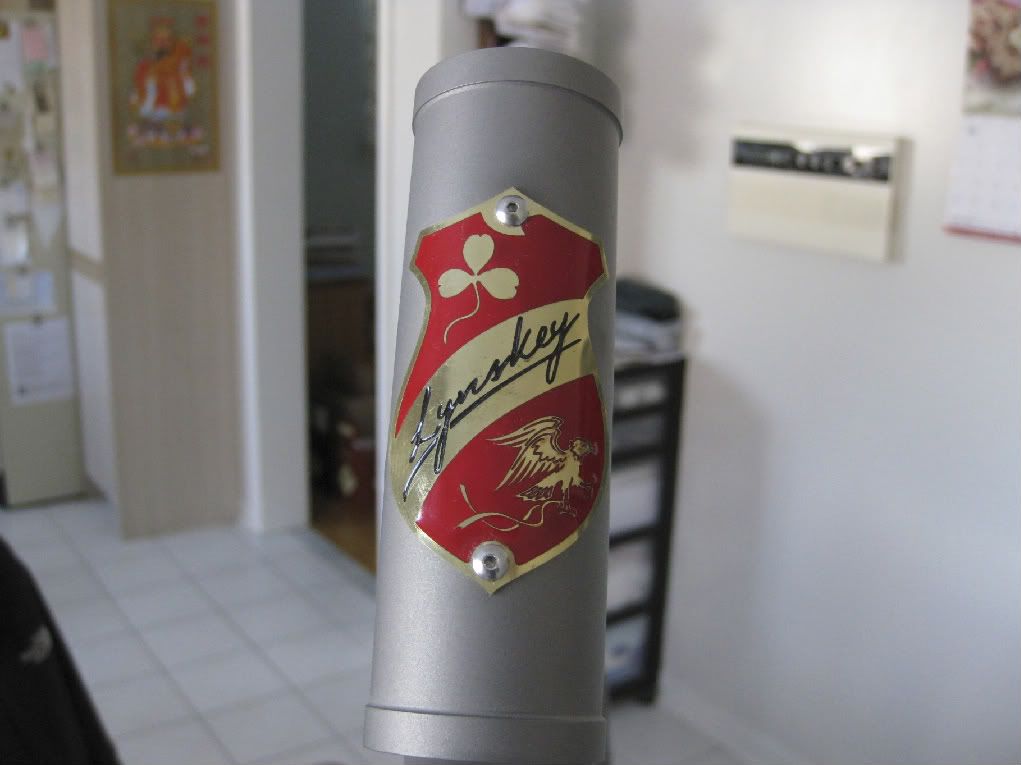 The so called "dent" for Fork Crown clearence that everyone thinks is ugly... You can barely tell it is there!
So why I chose Lynksey Performance:
I always wanted a Litespeed when I was a kid. I could never afford such extravagances doing a paper route or landscaping. When I heard that the Lynskey family was restarting a Titanium bicycle company that got me thinking about my final bicycle purchase to add to my collection.
Yes I do already have a fast light FS race bike (the Kona Hei Hei Supreme), but the allure of Titanium is strong and this is what I wanted ever since I saw what a mountain bike was in the early 90s. I still view Ti as the epitome of bicycle frame material even with the advent of carbon fibre.
In terms of build of the bicycle, I knew that if I was getting a Ti frame must have the following:
-Breezer Style Dropouts
-Disc mount only
-shaped oversized tubing
-light
Which is what the M230 stock frame offered. The M220 (2007 hardtail Lynksey frame) didn't really interest me much because it lacked the Breezer Dropouts.
I had investigated about getting a Titanium hardtail even before I got my Kona Hei Hei Supreme Full Suspension that I built up between the winter of 2007&2008. The choices were:
-Independent Fabrications
-Kent Eriksen
-Seven
-Used Litespeed or Moots off of ebay
Lynskey wasn't even on the list until I heard they had started up shop again. I chose Lynskey in the end, because Litespeed at the time was the best at shaping tubing, and to create a stiff bike I believe that correctly shaping your downtube to optimize the shape factor near the BB and the Head Tube is what makes a stiff bike. Plus it helped they were having a sale! Too bad the Canadian Dollar tanked just as their sale started...
Right now I'm stoaked about this frame. It is 99% perfect, the last 1% is if it was even lighter. I guess the only way to get lighter is if you can find someone to build you a Ti Frame w/ Reynolds 6/4 butted Ti tubing (which is rumored that Reynolds can't even supply it anymore).