Discussion Starter
·
#1
·
Because of advice in this forum, I decided to buy DT Swiss centerlock adapters to put my new Avid rotors onto my new DT Swiss wheelset. Avid BB7 160mm rotor on a DT Swiss 340 hub.
I got all the pieces and assembled the rotor onto the wheel using the adapter. The adapter piece fits onto the centerlock portion of the hub. Then the rotor fits onto 6 prongs sticking up from that. Then the lockring screws into the hub, fitting over the rotor, holding it in place. Here is a picture: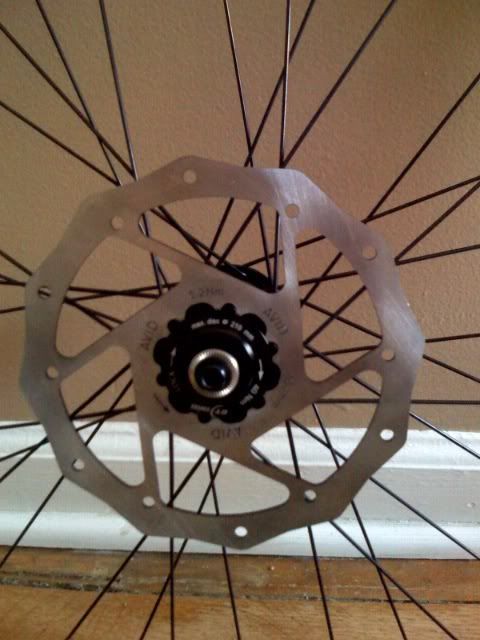 The problem is, the rotor is shifting on me. If you are looking at the picture, it shifts from left to right rotationally, or right to left, just a little bit. Maybe 1mm. It appears as though the the adapter is not 100% snug on the hub. It also appears that the 6 prongs are a tiny bit too small for the holes, so there is some movement there as well. These 2 things added together are making it feel like its moving alot. I havent ridden on it yet because I havent gotten to the store for cables and housing yet.
The rotor feels solid on the wheel and isn't moving forward and back any on the hub. This is happening on the front and rear wheel. I have a little experience with 6 bolt, but this is my first centerlock experience. Also, is there some better way of tightening the lockring other than using my hands? I dont recognize the tool that would fit into the piece to tighten it further.
Is this movement bad or is it supposed to be this way? If so, is there any way to fix this?
Thanks