My gal often rides around with a rack on her car, so safety was a concern. Plus, it makes me less paranoid when I'm driving us to the trail in her car.
It's 1.5" angle-aluminum, shaped with a saber saw and belt sander. The stand-offs are 1/2" plastic conduit at 4" long. Paint is the rattle-bomb variety, in satin black. To keep it clean and conceal the wiring as much as possible, the wires run through the conduit, along with 1/4" all-thread cut to length. A little precision drilling keeps the all-thread seperate from the wires, each having their own hole in the angle-aluminum and existing rack spanner-bar. The 1/4"X20 thread pitch hardware, including a couple acorn nuts, washers and nylock nuts, is stainless steel. Wires were spliced to a trailer harness from Amazon using solder and shrink tube. They're stop and turn only. No running lights. Additional LED strips would be required for running lights. The 2.4" LEDs are from Oznium.com and come ready to connect directly to 12 volt. A piece of 3M double-sided car trim tape comes with each light. After sanding some paint off the mounting locations and cleaning with alcohol, I used the tape for attaching the LEDs. They're plenty bright in the day-time.
Opinions, thoughts, and criticisms are welcome (as if ya'all
need
permission).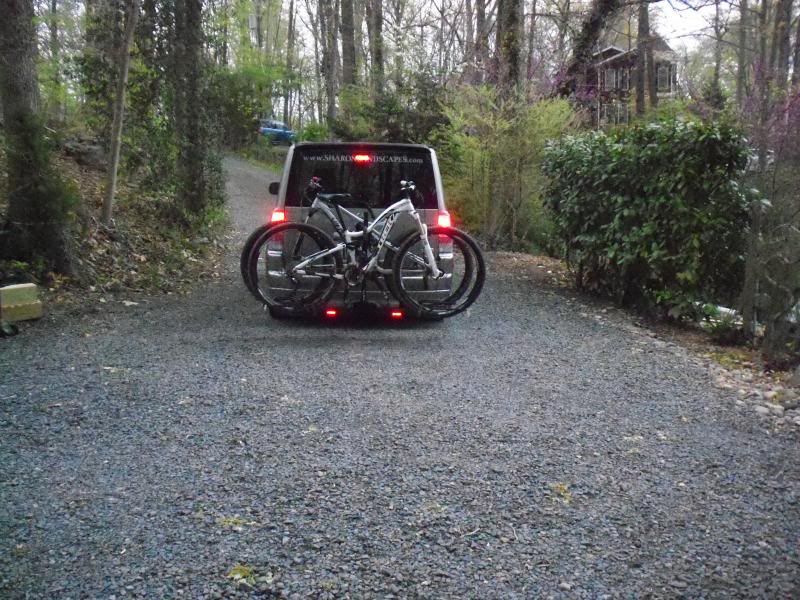 Left turn, Clyde:
Getting dark:
You can see an acorn nut under the LEDs. It's attached to the all-thread with red Loctite. The hole for the wire is directly above the acorn nut. You can't see it. I didn't use washers on this end.