Discussion Starter
·
#1
·
This weekend was the Claymore Challenge up at Highland Mountain Bike Park. Many of you New England locals will remember The Highlands from back in the day. It would seem anytime I mention the place, the person I'm talking to learned to ski there back in the 70s or 80s.
https://highlandmountain.com/
The Claymore challenge is a huge Slopestyle event, bringing in the pros from all over the world.
We (Sinister) showed up early Friday to catch the end of Practice and Qualifying and set up the booth. We ate, drank and partied with all the usual suspects and some new suspects as well. Great time. Tons of GREAT riding Sat and amazing show by the pros.
Just as Evan and I had finished packing up the Vanagon to head out after Riding Highland and watching the Claymore Challenge a fella carrying the mangle remains of a bike walked up to the Tent. He smiled and asked if we were from Vermont. I explained that we used to have our welding done there and that our HQ was in Gloucester, MA. Very conversational and upbeat. And as it would turn out...in shock.
I looked down at his bike and commented, "Wow, that looks like it was abrupt..."
He smiled and said, "Sure Was..."
Ever the concerned fella, Evan asked, "Wow, were you hurt? "
Guy looks at us and says, "well, this happened..." Holds up his arm and Evan and I scream like very young children. A woman passing by faints and a dog ran and hid...well, the last part isn't true. No one fainted and the dog just watched. Yes Virginia, that is his own valve stem in his arm.
We helped him get sorted and off to the EMTs with assurance that we wouldn't let anyone touch his bike...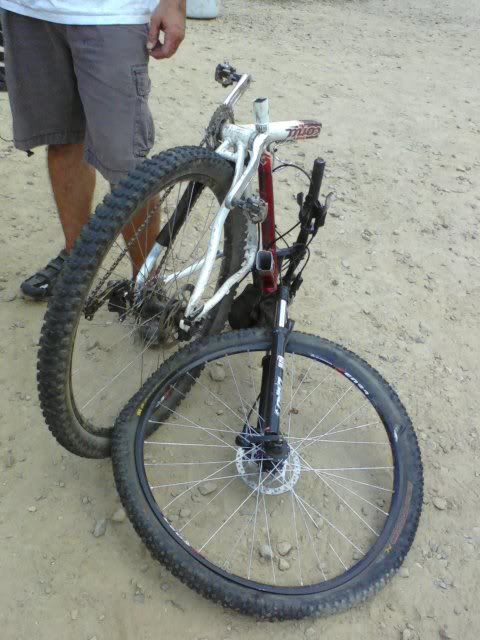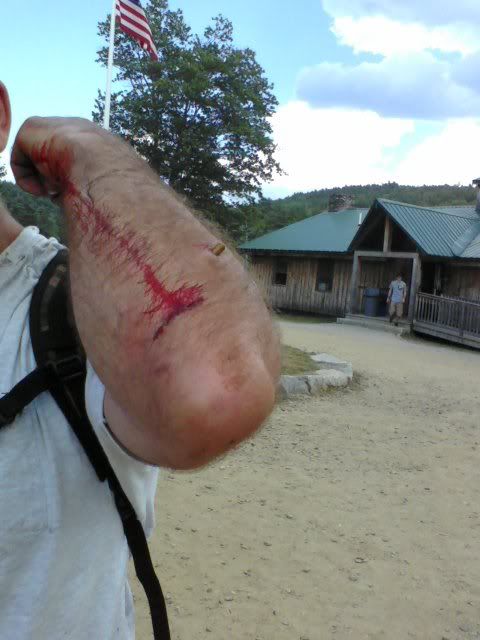 The Kona he was riding was a nice bike, no doubt, but a hard tail has no business being out on the mountain. A dirt jump or park hard tail, sure, but not an XC rig and especially not a 29er XC rig. That bike wasn't designed to be abused by anything at Highland. Just way out of the scope of the equipment. He paid the price for the failure.