Discussion Starter
·
#1
·
Hello wise and all knowing gurus of MTB science!! I didn't see a "Medical/First Aid" subforum, so GD it is. :thumbsup:
I have recently moved from my 1993 Trek 930 size 19.5 to a 2005 Jamis Dakar Sport size 17. The overall feel is better as I sit inside rather than on top of the bike, but I have begun to experience some pain in the top region just above my knee.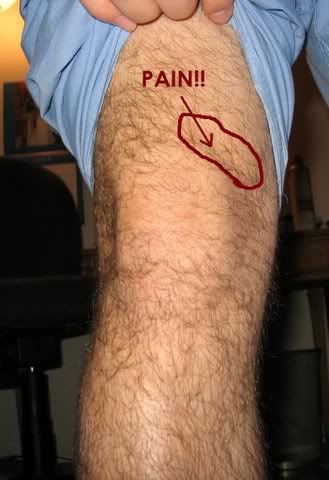 On the bigger Trek, I never had any troubles even after 2+ hours on the bike. With the smaller Jamis, I feel it after 10 minutes of riding and the soreness can still be felt 4 days after my last trip out. I've played with the seat position on the seatpost...pulling it back, bringing it close. It didn't matter. Then I tried adjusting the seat height position and still the pain persists. The length from the bottom bracket to the top of the saddle (along the seatpost) is currently 27 inches...what wrench science recommended for me. Unfortunately, I cannot remember that distance on my previous Trek. Going higher may help the knee, but even at that height I already feel "up in the air" and slightly out of control on a downhill.
Is there anything else that can be done? Is this the type of issue that can be remedied by going to a smaller crank size? They're currently and older square taper 175mm and I'm 5'7" 160 for reference.
Thanks!!
Jod