Whistler was amazing. All I can say is GO! If you like New England style terrain you will feel right at home here. The mountains are bigger, the roots and rocks, are bigger and of course the mosquitoes are bigger! Whistler has all kinds of trails for different skill and thrill levels, from paved bike paths to the most gnarly steep downhill, there is something for everyone. This was my first time out there, but definitely not the last. Despite some inner turmoil about shipping or flying with a bike, also some debate with my travel mates about which kind of bike to bring, xc? dh? fr? ss? I finally ended up flying with my heavy 7" travel Cannondale Gemini, with the big ol 20mm Marz 66 up front, this bike was a pig but I knew it climbed well, and it did prove to be an excellent choice. Although it was slightly energy sapping on XC climbs, the bike was just wicked on all the rough burly trails, including ripping down the bike park. The Gemini truly is a "do all" bike... well I'm not so sure about riding the 6 hour long "Comfortably Numb" trail on it, glad I didn't have time for that, guess I'll have to go back.
Flying into Vancouver Airport on Sunday night was easy, and a Perimeter van drove me up the sea to sky Highway towards Whistler. Passing Squamish, the views were great big snow capped mountains, old mines, lush forest and rageing rivers.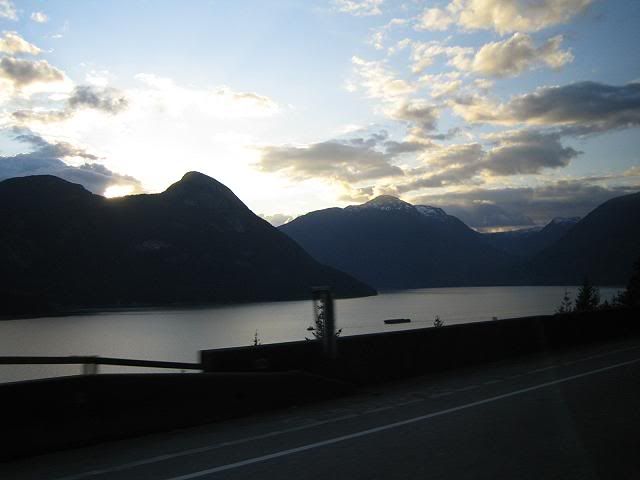 Whistler was a party town every night, mostly with a young loud international crowd and the locals are pretty much Australians. Met up with friends Z, Pete and Mike Tabaczynski at the condo that we were also sharing with some IMBA staff right in the heart of Village. Monday morning rise and shine on East Coast time, grabbed a Latté and built up the bike. The frist trail we rode was "Thrill Me Kill Me" to "Big Kahuna" to Mel's Dilemma" and through the Emerald Forest back to Whistler.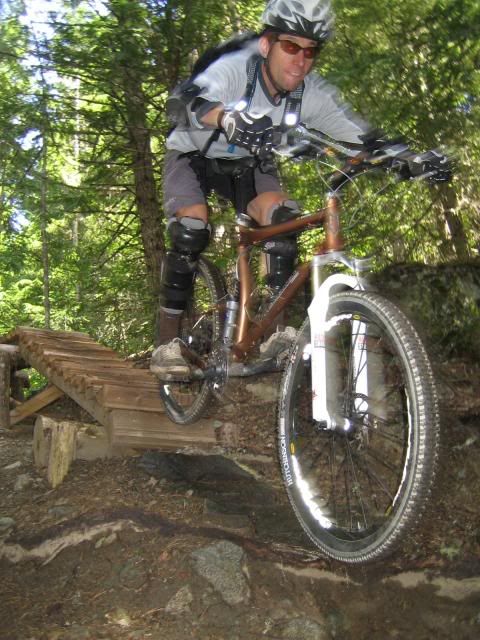 Thrill Me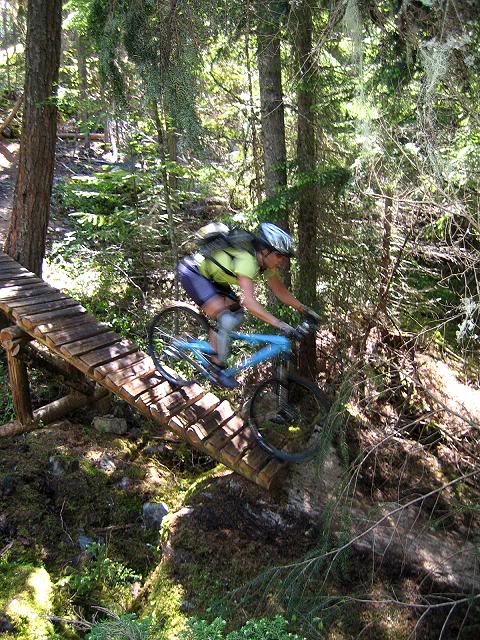 Kill me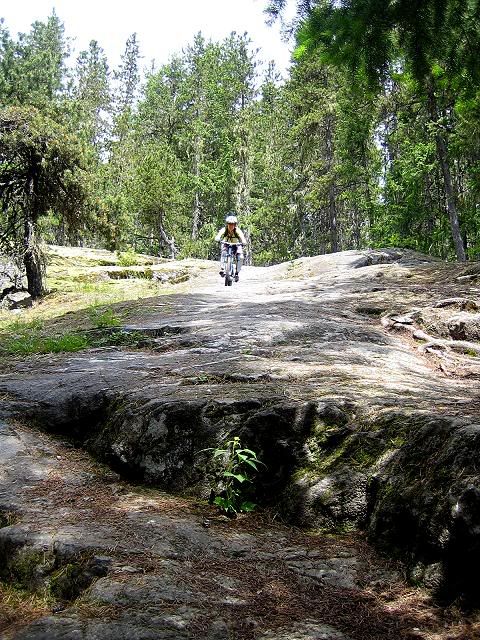 Z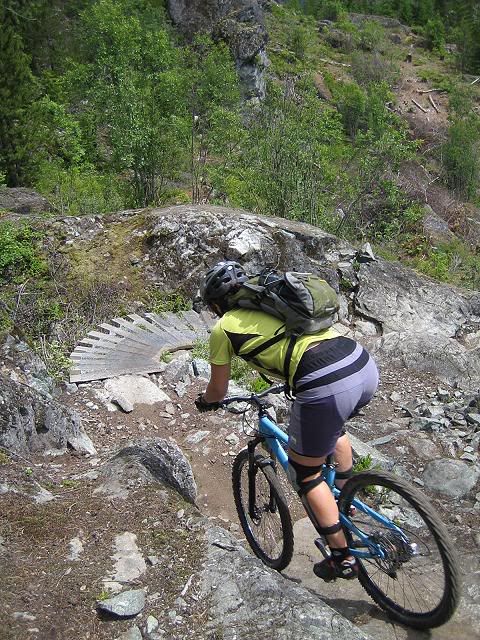 Tuesday morning we did a quick ride on stunt infested "River Runs Through It", you want your pads for this tricky trail, it's all about wood. At one point on the trail you must ride across a fallen tree high above a river... word of advice- DON"T LOOK DOWN. In the afternoon Z Pete and I rode the chair lift in the Bike Park. I didn't get any pictures in the Park the whole time, it was nice riding downhill without a backpack flopping around and it's really not a great place to be standing around on tight trails and blind spots with bikers flying by at about 100mph, and I literally mean flying.
River Runs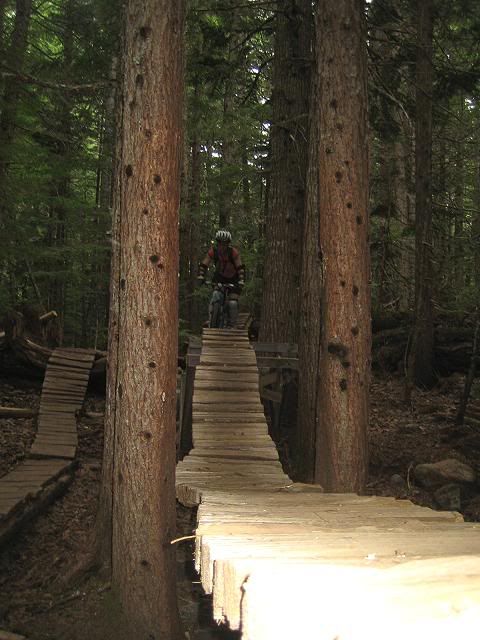 Big nasty black slugs all over the place on this trail, some were 6 inchs long, really gross roadkill stuck to your shorts.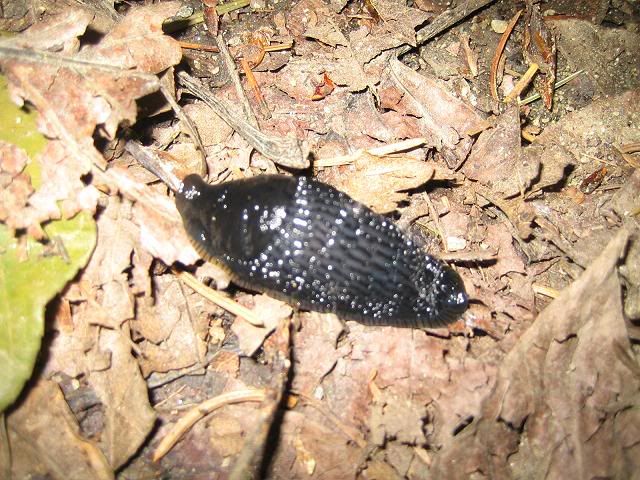 This draw bridge was my favorite.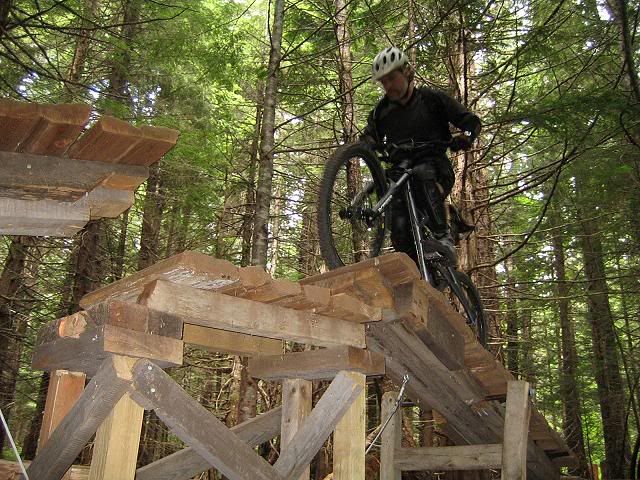 logs logs logs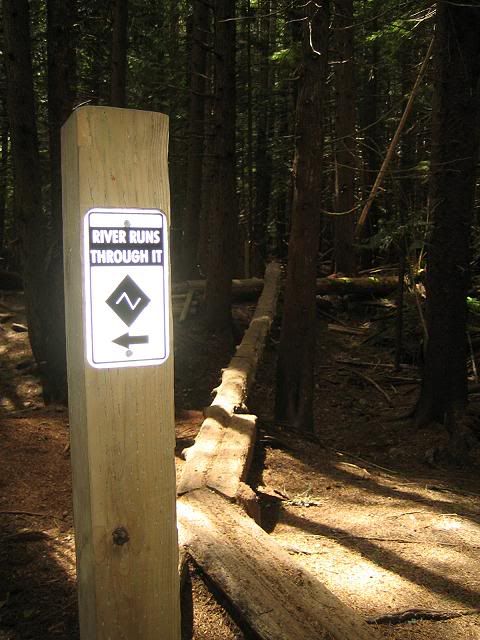 all kinds of neat stuff to see in the Village.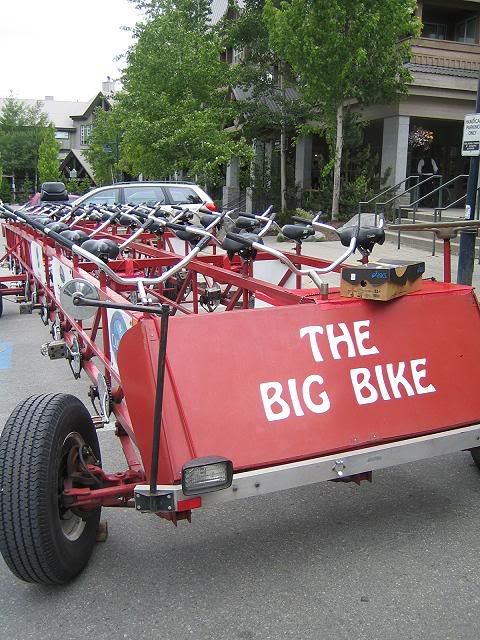 On Wednesday I did a quick pre-race ride in "lost lake" which are the xc ski trails that also have bike single track if you can find it. That evening WORCA hosted a "Looine Race", Four hundred riders!!! We all biked up to the top of the chair lift, rode down B-Line and then climbed back up Blackcomb a bit. I stopped to get a picture with the bears. All four days I rode in the bike park I saw oblivious black bears in close proximity, I heard of a biker hitting one... yikes! After the Loonie race was a big pot luck dinner, it's amazing that the local bike club does this every week and on average attracts 2-300 riders for the cost of two bucks.
Looking down into Whizzer from Lost Lake.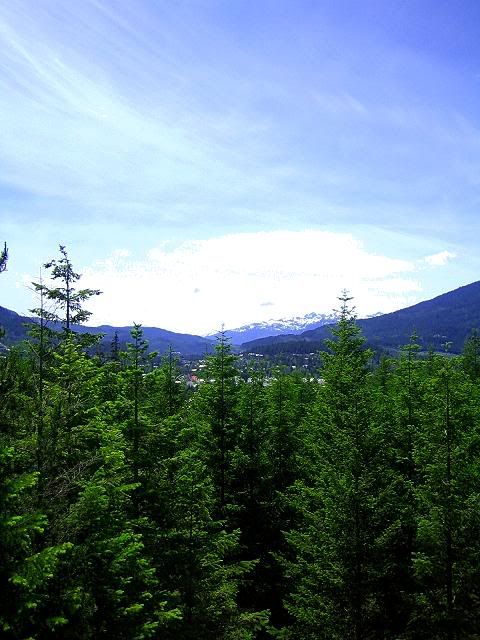 Does anybody have a picture of her without a smile? "shuttling" back up on the easy trails of LL.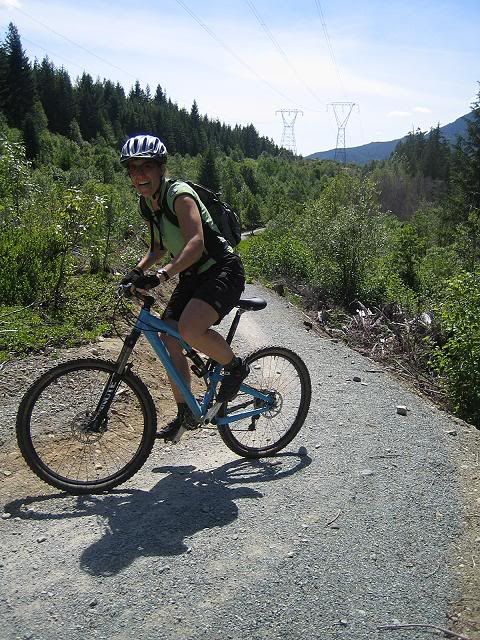 Can you see three bears?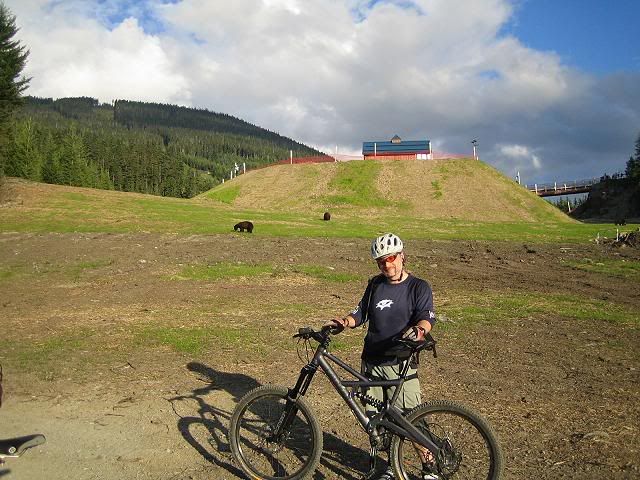 Thursday- Pete and I snuck in another "lost lake" loop (its so close) in and then we all hit the Bike Park for extended play, (that means riding the lifts till 8pm). I rented a big Kona Stab this time and got some great tips on how to nail the trannies on A Line and push off bigger drops.
Friday was my last day of riding, yet another quick xc hit in Lost Lake, btw there's a reason they call it Lost Lake, get a map! Back to the Bike Park for extended play despite the painfull blisters on my hands, I was getting beat. In the Park I mostly rode Angry Pirate, Crank it Up, A-Line, Dirt Merchant, Devil's Club, Whistler Downhill, Schleyer and the got the middle GLC drop under my belt as well. By the end of the fourth day in the Park my technique had greatly improved, but I was too tired to give it 100% and ride safe, I was done. Whistler was really awesome, already planning next years' trip. Flying home was a nightmare due to, what else RAIN on the East Coast. It took me close to twenty hours to get back to Maine and the airline lost my bike, but for some reason I really don't care.
*update- some dude dropped my bike off at 1am last night. It's all good.