Discussion Starter
·
#1
·
Hey Fellow Warshingtonians,
I recently completed a cross-state tour on the John Wayne Pioneer Trail. For anyone not familiar, it's a (mostly) state-owned trail that occupies the former railbed of the Chicago, Milwaukee, St. Paul and Pacific Railroad, aka the "Milwaukee Road". West of the Columbia, it's managed by State Parks as the Iron Horse State Park. The trail surface is every bit as diverse as the landscape across our wonderful state. It was an awesome trip that spanned 6-1/2 days and 380 miles.
I wanted to ride on pretty specific gear (fatbike), and between getting that gear and the route all figured out, it took me over a year to get ready. But the planning was almost as fun as the trip. Almost.
Information about certain parts of the trail was not always that easy to come by, and so I wanted to get a thread up to make my modest contribution to this great forum we all benefit from. I know I've been able to sort a boat-load of stuff out, thanks to all the rad contributors here. I did a lot of picture-taking and writing about the trip and I know that this won't have mass appeal on this forum and so I won't go on and on, but for those who are smitten by the lure of this incredible public resource and the adventure it holds, as I have been (I know you're out there
), there is a ton of information at the following links, which I've broken down by section, travelling from east to west:
Intro
Prologue: WA-ID Border to Tekoa and Beyond
Day 1: Just Past Tekoa to A Ways Past Ewan
Day 2: Middle of Nowhere to Ralston
Day 3: Ralston to Othello
Day 4: Othello to Ellensburg
Day 5: Ellensburg to Snoqualmie Pass
Day 6: Snoqualmie Pass to Puget Sound
Probably anyone in the state though, would appreciate a few pics, so I've put up one from each day. The basic route is
HERE
.
Prologue
6 miles in, after bailing early from work on Friday. Just after having a beer and some real-deal bar food for dinner. Me on the left with my fattie, Eric in the middle with his rigid 26" MTB (Surly Troll) and Scott on the right with his Trek 29er and Bob trailer. Three different approaches to skinning this cat. (Scott wasn't intending to go the whole way, but took the opportunity to get on the trail with us for the first couple of days.)
Day 1
Eric and Scott, as we approached Rosalia.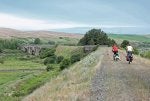 Day 2
Out in the middle of nowhere. So awesome.
Day 3
Crossing a live Union Pacific Line on our "ghost liine".
Day 4
Heading down into the Columbia River Gorge.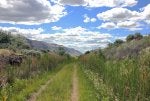 Day 5
Keechelus Lake (aka "Stump Lake") atop Snoqualmie Pass.
Day 6
Finishing up on the Burke Gilman with the rush-hour commuters. Sweet.
For those of you out there that know this trail and share my passion it for, I hope this is a bit of stoke. For those that are just in the process of discovering it, I hope this is a bit of stoke.