·
Te mortuo heres tibi sim?
Discussion Starter
·
#1
·
Why not, folks? I'm sure others are in the midst of winter doldrums, right?
First up: the Crank Bros. Directset that I installed a couple months back? In September, actually.
Looks sweet! Light, low stack, smooth, quiet. Seeminngly trouble free innocence in a headset, right? The outer bits of the bearing housing actually makes up the actual headset cup. Smart design, but not so hot implementation.
Eh, not so much. This was supposedly the "burlier" version as well. Outers of the lower cup breaking off. No riding out of the ordinary for me, and in fact less, with the onset of craptacular winter weather. However, everyone assures me that Crank Bros. has "such great warantee coverage" anyhow. . . Meh. Lower cup has been replaced with a trouble free and much tougher in design Cane Creek S3 unit.
Next: Continental Spike Claw 240 2.1" studded tires. Spendy, but I figure to be getting a few seasons from them, leaving them on the singlespeed over the winters to have a dedicated "oh crap the trails are frozen sheets of ice, which bike to take" problem solver.
They rock.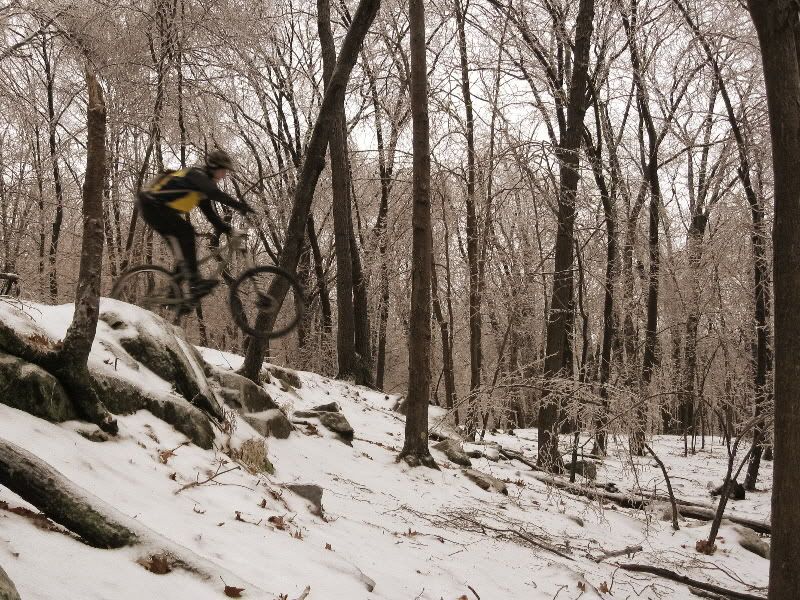 On ice. In soft snow or slushy stuff, they are not better than regular tires, possilbe worse since they are skinny and don't give much wide float on top. Bogged down like a sovereign nation invasion, I tell ya. Depends on you theories of snow/ice riding. Fat and soft to float over the top, or skinny and hard to cut through to underneath?
Whoo! Planet Bike Borealis half lobster winter gloves. Not too expensive,in fact, fairly cheap.
Really, really warm. As in, over freezing temps they are too hot and your hands sweat too damn much - somewhat breathable, but when things get too warm, their ability to vent and breath is overcome. Down into the teens they've kept me pretty toasty though without overheating.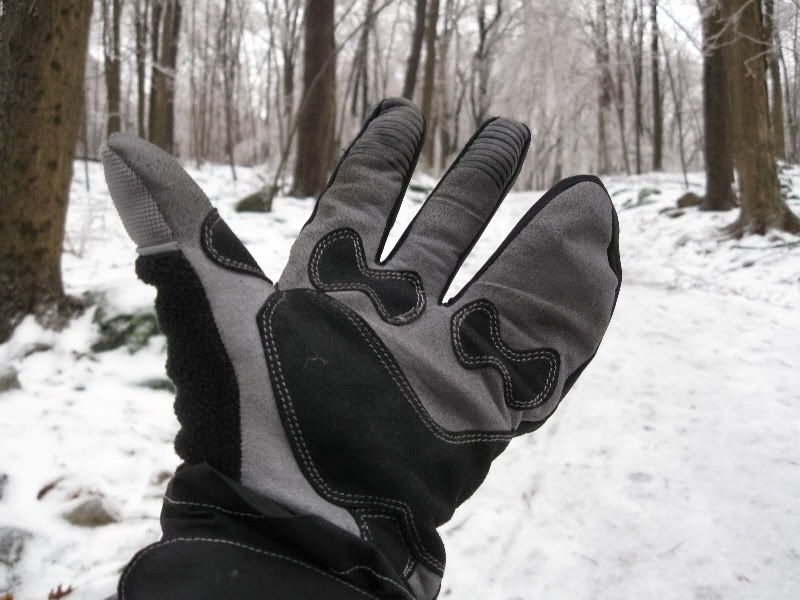 Not waterproofed, but they'll take a bit before soaking through, and even then they stay fairly warm. You could treat them with something to add to their water proof-ness if wanted. Nice and soft inners, with a big hook and loop wrist closure that is easy to grab with big glommy gloves on. Large terry cloth type snot wiper bits on back of the thumb and index fingers.
Selle Italia SLR saddle stripped of its stock minimal butt floss padding and recovered in deer hide. Yeah, it's weird. A gift from my brother-in-law, who says he found it on e-bay. Go figure.
It's not too uncomfortable of an ass hatchet. Really. However, it also is on the singlespeed, since it's a bike that sees me standing up more than the others. No, it did not keep my but any warmer than any other seat. Only time will tell how the deer hide/hair will stand up to abuse.
Shimano MW80 winter boots. Shoes. Whatever.
Gore Tex lining with a bit of thermal insulation. Seam sealed. Not too heavy. Got them a touch larger than I'd normally wear. Plenty of warm sock room. Doesn't feel tight. They are actually very comfortable, and the warmest winter bike shoes I've tried yet. (though that has only been some Answer Kashmir and Specialized models)
Downside: I'd love to see these with toe spikes. the only thing missing, IMO.