Discussion Starter
·
#1
·
Today I had the day off in preparation for my switch to mid shifts coming up tomorrow evening, and wanted to get some good solid riding in. My energy level usually fades when I switch over to mid shifts, so I wanted to take advantage of what little daylight I have left before I revert to a vampire for the next three months...
There is a trail system about 1 1/2 hours away called Indian Caves. I have been meaning to go there for the past 5 years ever since I heard about it, but what little I had heard about it did not sound promising. Supposedly the place was really tore up by horses, and nothing but up, down, up down, up, down... wash and repeat. Not a switchback to be found. In short, it never really appealed to me that much.
But I went anyway. Time to find out for myself.
I left the house at about 10:00am and figured that would put me on singletrack by noon. The local weather forecast was calling for a scorcher: High of 96F. So I knew that staying hydrated was going to be a special concern. No problem. 100oz Camebak and water bottle full of Gatorade. Hate carrying the Camelbak, but on a trail I don't know, on a day as hot as today... I sure as hell don't want to break down and have to hoof it out.
The 1 1/2 hour drive was mostly uneventful. Actually went pretty fast and next thing I knew I was at the trailhead.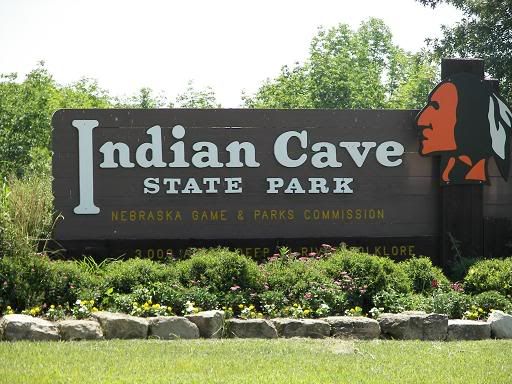 I studied a trail map for a bit while I worked out the route I woudl take. I strung together a route that looked to be about 16 miles in length and figured that would be about a 2 to 2/12 hour ride. Properly oriented, I headed out.
The first trail bombed straight down a ribbon of chalky doubletrack cutting through the woods. It was fun, but the whole way down I just kept hoping beyond hope that the way back up was not similarly laid out. Once I reached the bottom I learned that this was indeed the case. Straight back up to the top of the ridgeline again!
I dropped down to the granny gear and began spinning like a little hamster in a wheel. This actually pissed me off, because this whole summer I have been doing all of my climbing in the middle ring. That crap would be thrown right out the window as the day progressed. I would find myself in the granny on the majority of the climbs.
The first couple of miles of trails lived up to the reputation. Up, down, Up down...it was sucking actually and I was about ready to cut my losses and head back to the car. The first 30 minutes or so of riding wasn't that fun, and I didn't snap any pictures.
After about 30 minutes of riding I grannied my way to the top of a ridgeline and caught the first glimpse of the Mighty Mo'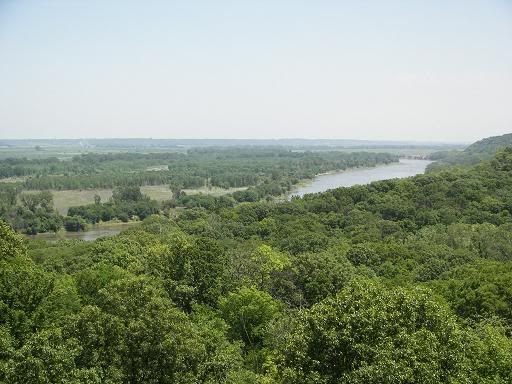 I caught my breath for a bit at the scenic overlook, and started to feel a bit better about the ride. The burn had started to subside. The fact that I was now basking under the shade of a mighty bur oak, watching the distant Missouri River wisp by, in no way had anything to do with me feeling better: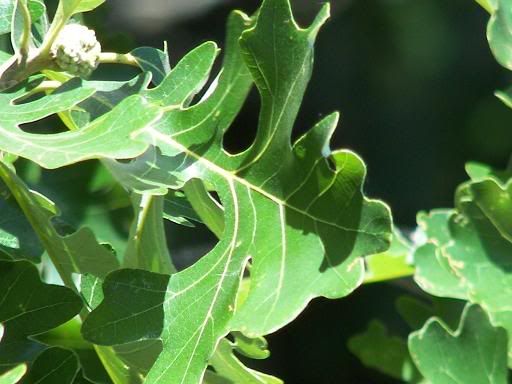 I pressed on to the next bit of trail. True to form, the next trail looked like a repeat of the last one I was on: Doubletrack runs down fall lines:
Weaving down the hill I stopped one more time for a photo before continuing on the bombing run. This is a case of STIL (steeper than it looks):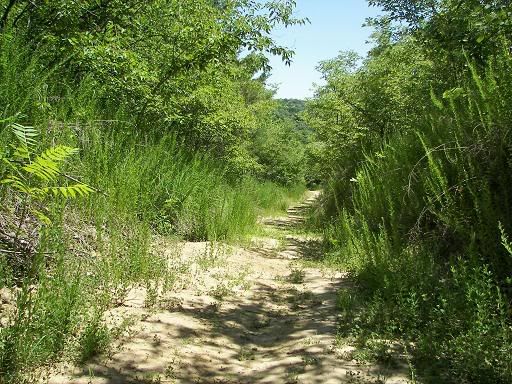 As soon as I hopped back on the bike and resumed the bomb run, a red-tailed hawk swooped just in front of me, and actually lead the way down the trail! It was awesome. The hawk flew point, and I was right behind him.
Lots of speed, and then up ahead the trail dumped out into an obstacle that had disaster written all over it: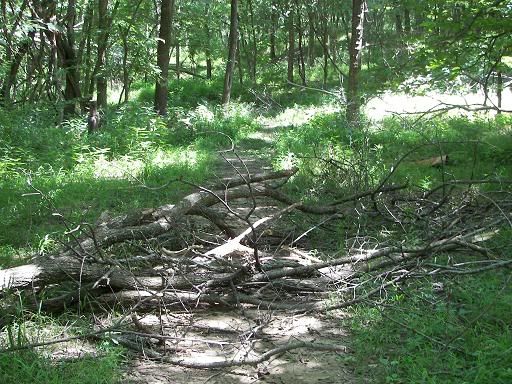 Dismount. Drag bike over deadfall. Back on trail. After a short bit I reached the coast of the Missouri River. The sun was blazing by this time, and I wanted so badly to swim... but not in the nasty Missouri...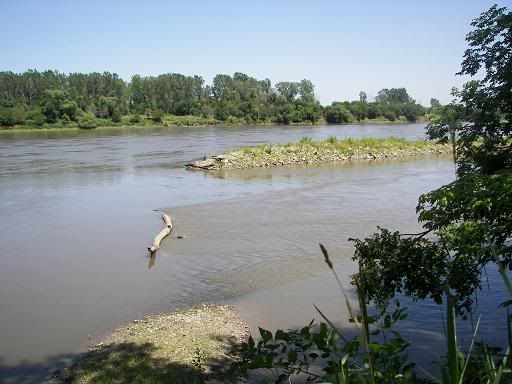 Oh well, back to the granny: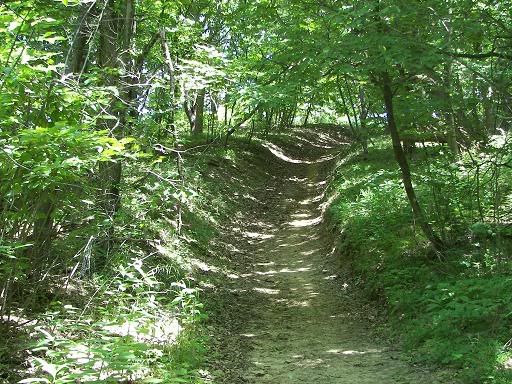 The combination of intense heat and long climbs lead to many trailside breaks. And nature shots: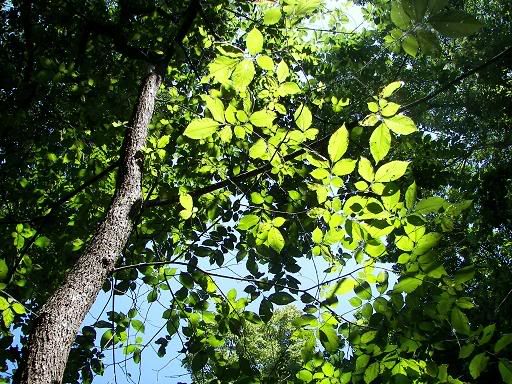 Flat level sections like this were dreamy: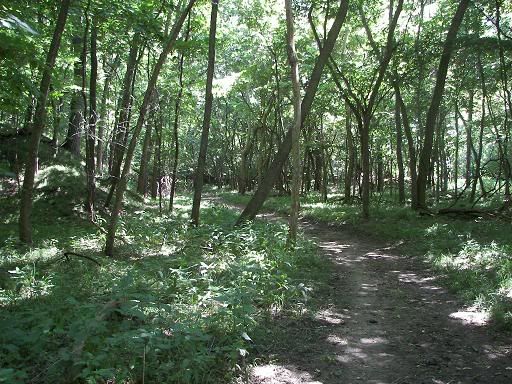 Most of the riding was under the canopy of trees, however there were a few prairie sections to get to know the sun better: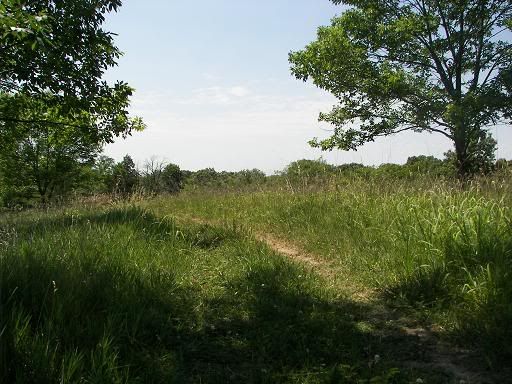 After clearing the prairie, I made a few missteps and ended up having to hike a bike back up to the "real trail". The plan was to link in with a trail that dropped me near the namesake of the park... to see the Indian Caves.
Soon enough I found the real trail and found the first truly technical section I had seen. Downhill boulder section: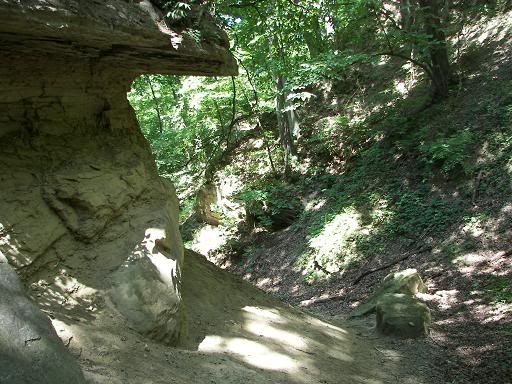 I cleaned the section pretty well and soon found what I was looking for: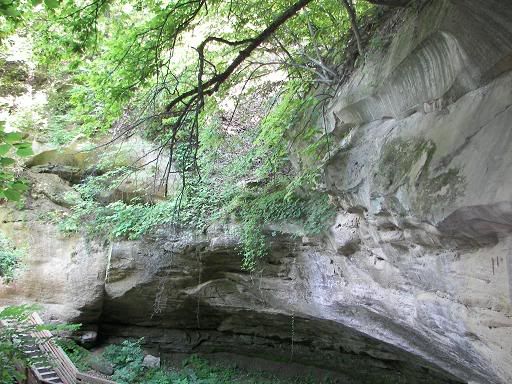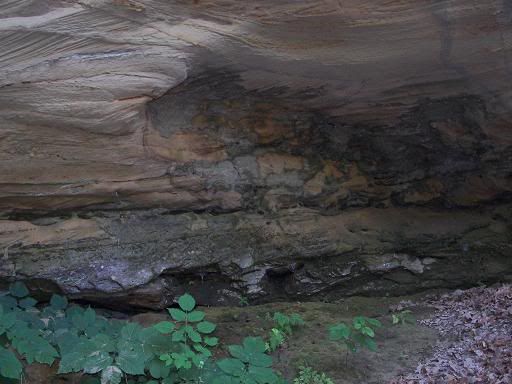 After checking out the caves for a bit, I went down to the river and found a swarm of orioles. When I approached they began chattering at me and getting really irritated. Now, one of my other passions is birdwatching, and I know that when you get a large number of orioles in one area, it means that food is nearby. Orioles eat berries. I eat berries. Time to go hunting. Sure enough, a nearby mulberry tree beckoned. The orioles had already munched most of the large berries, but I did manage to eat a sampling of medium to small sized berries before I went on my merry way: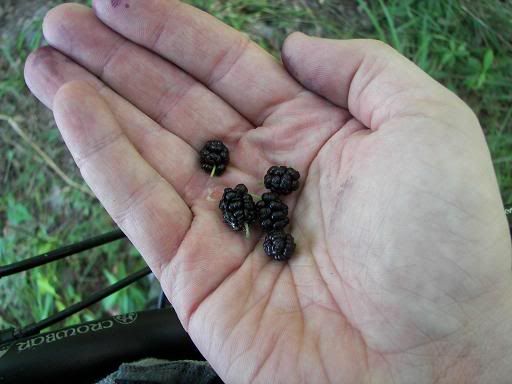 I linked back into a trail that would put me back to the car: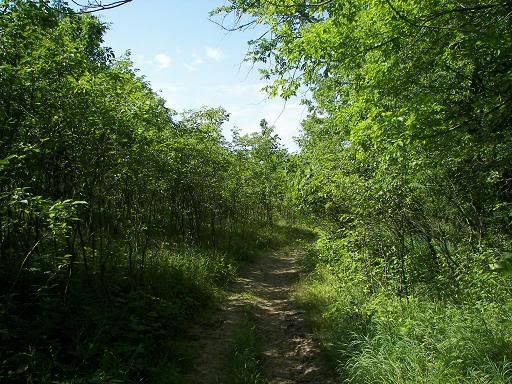 I was sweating bullets by now, and the heat was really starting to wear on me. I began taking more and more breaks as the ride went on. I was also running out of water. While taking a break on my last leg, I snapped one more nature shot: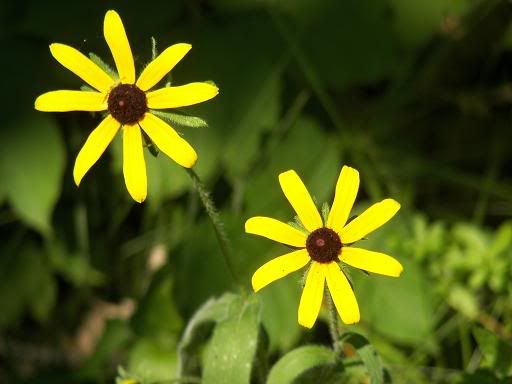 On and on I went, when all of a sudden I emerged from the trail back onto an access road! Only about 1/2 mile of asphalt before I hit my car, and a waiting brew: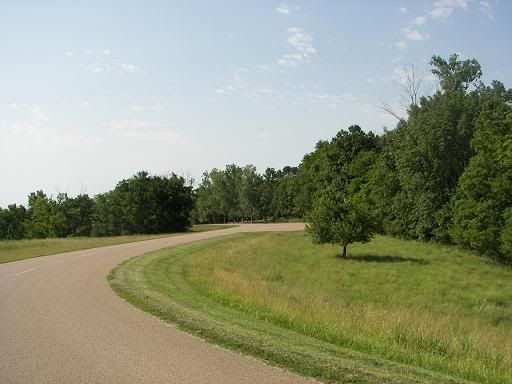 I got back to my car at 5:15pm. Which meant the 2 to 2 1/2 hour ride I had estimated, actually turned into 5 hours. Granted, I spent alot of time off the bike, but according to the cycle computer, I spent 3 hrs 20 minutes on the bike, and traveled a total of 16 miles.
Let's just say I am happy I had the foresight to have a cold Skinnydip Ale and Subway club sandwich waiting in the cooler for me!
That beer sure did taste good. In fact, time for another.
Ride your bikes!