Discussion Starter
·
#1
·
Hi all
Well here is my little how to that shows you how to teardown a ATA cartridge and give it a bit of TLC. If your ATA Cartridge is stuckdown, this guide will show you how to remedy the problem. MODS, sticky this if you wish
=================================================================
WARNING: Im not responsible for any damage you cause to your fork, persona or surrounds. This repair is simple if you have some mechanical inclination and common sense. Care must be taken as these Carts can contain air at VERY high PSI's, undo something the wrong way and you'll have yourself a pretty dangerous speargun.
Righto now the legal Bull$hit is outta the way, onto business!
=================================================================
First what is a stuckdown ATA cart?
Your cartridge is stuckdown if it does not return to full extension despite:
1- Winding the ATA knob to max extension
2- Pumping ridiculous amounts of air in the ATA chamber
Also, another potential give away is if your ATA chamber appears to be losing pressure and the fork keeps creeping down in its travel.
Well first off, here is the likely cause of your stuckdown problem (shown with my awesome paint skills
)
Now I performed this fix on a 888 ATA WC, but I dont see any reason why it wouldnt work for 08/09 55/66/888 ATA forks, and also for 07 66 forks, the only difference would be the cart size.
Only tools needed for this job is a 12mm socket (for the 888), shifter, o-ring pick, and fork oil, also handy to have some drip pans and rags...
Right, time to get back full travel
=================================================================
STEP 1:
First, deflate all the air from both the ATA chamber and PAR assembly, remove your fork from your bike and pull out the ATA adjuster knob (dont forget to set it to max), if you dont know how to do this i suggest you put the tools down now, also, in the case of the 888, its best to remove you crowns aswell.
STEP 2:
Next lay the fork down flat, then using a 12mm socket (in the case of the 888), undo the ATA footnut. Now when the nut disengages the threads there will probably be a loud clank and the cart will fire up into the lowers, dont panic, this is normal on a stuckdown fork. Some oil will also probably spill out, be sure to wipe it up, then pour the remaining oil into a drip pan.
STEP 3:
Next, using a cassette lockring tool, undo the ATA top cap and lift out the entire ATA cart
STEP 4:
Have a friend firmly but gently grip the cartridge body with an old tube, then using a spanner or shifter, SLOWLY (and I do mean SLOWLY) start to undo the ATA cart. THIS BIT IS CRITICAL, IF YOU DONT DO THIS BIT CORRECTLY, YOU'LL HAVE A CARTRIDGE BODY/SHAFT FLYING ACROSS THE ROOM. Undo the cartridge VERY SLOWLY until you start to hear air seeping out, when you hear this, STOP UNDOING THE CART. This is where all that air you were mysteriously losing has gone, and when you tryed to pump the cart back up, you added to it. Wait until the air stops coming out, then undo and remove the cart. If you hear air being sucked into the cart when you are pulling it from the body, this is a dead give away that your o-ring was undersized, it is bleeding into the vacuum within the cart. When you pull the piston out, you may suck up the PAR assembly, this is normal.
STEP 5:
You have now taken apart the ATA Cartridge, lay all the parts on the table and give them a good wipe. Should you wish to perform Renegades PAR removal mod, now would be the time.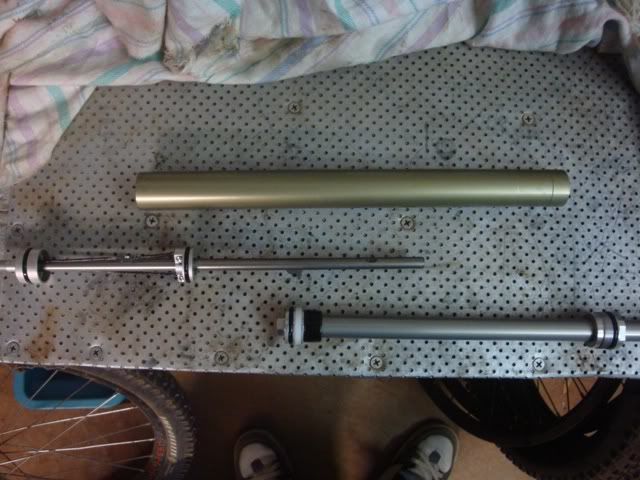 STEP 6:
Now the undersized (or frayed/damaged) o-ring that is causing your problems is the one on the right. To fix this, go down to a local o-ring supplier and get a few o-rings that are slightly larger. You may also wish to replace the other visible o-rings, take them aswell and have them sized, its also best if you buy a couple of each, always good to have spares!
STEP 7:
Once you have replaced your o-rings, drop the PAR assembly back into the cart (dont worry if it dosent fully seat at the bottom, it will when you pump it back up. I like to pour about a cap full of 5wt oil into the cart to keep everything slippery smooth, also lube up the piston and o-rings, then reinsert it back into the cart. Use your spanner and tube and tighten her up, dont get heavy handed on the torque, the threads are made of Aluminium.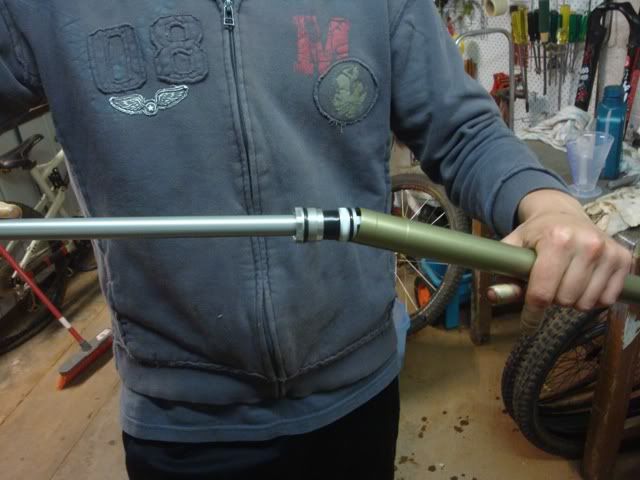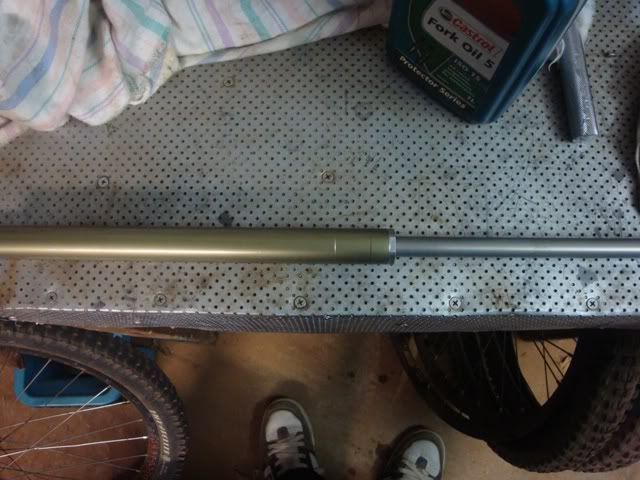 STEP 8:
Congrats, you have service your ATA cart. Now reinstall it back into the fork and check the marz website for your forks oil volume in the ATA leg, fill the oil and pump her back up, and if you have done everything correct, welcome back to full travel! :thumbsup:
Now make sure you dont go hucking the 40 foot gaps just yet, take the first few rides easy to make sure that all the internals are properly lubed and bedded in.
I performed this fix on my mates 888 ATA WC about 5 months ago, and it has worked flawlessly ever since (5 months of DH/FR) so the fix works.
SUCCESS = BEER :cornut: