I'm heading to Vancouver tomorrow for busyness and will have the opportunity to ride a couple of times, so I figured it was definitely worth the trouble to bring the bike.
Here's how I'm doing it using the Performance Team bike case.
After several tries to find the best fit, here's how I'm going to do it... handlebar removed, fork spun 180, wheels top and bottom...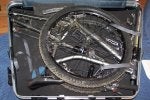 Next, prep the frame. Remove the pedals, chain, rear der, brake calipers, and drop the saddle. Wrap or pad areas where you think you'll have contact. Secure the loose parts so they don't flop around. Secure the chainring pad under the cranks. I used bubble wrap and lots of tape, I'm going to try some closed cell foam like that swimming pool noodle material and less tape next time... folded cardboard might be good too...
Prep the wheels. Remove rotors and pad the hubs and cassette. I used thick paper cereal bowls trimmed to fit. Removing the rotors is a pain, but do you really want to get to your location with a bent rotor? Also, padding the hubs is optional. If you pad the frame good enough where they might touch (on the rear shock in my case) then you can probably avoid this step.
Secure the front caliper...
Secure the rear caliper and rear der...