Discussion Starter
·
#1
·
Hayes have released at Sea-Otter three new variants of their award winning Dominion A4 disc brake:
Hayes Dominion A2 is a 2 piston version of the same brake:
https://hayesdiscbrake.com/product/dominion-a2?cat_id=33
J-UNIT versions have been released of the Dominion A4 and A2. These have a new lever designed for smaller hands: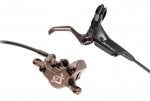 The giveaway is the bigger span between the pivot and the grip on the blade. Compare to the adult version below:
Same pricing, same adapters, same rotors as the existing A4 series but the D series rotor now has a smaller 160mm option.