I've been wanting to convert my full suspension bike to a hard tail and I found a good deal on a GT frame. I'm confident with a wrench but I've not done much bike maintenance before and certainly haven't built up a bike from frame. So, I'm excited to get going and build a bike from scratch.
Here's the frame: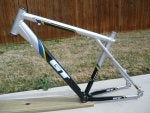 I plan on stripping it down and painting it before building.
Since I'm not at all familiar with the GT setup, I've been looking at photos on the internet to figure out the cabling routes.
There are screw holes near the top of each seat stay. None of the photos show these being used. Does anyone know what purpose they serve? :idea:
Here's what I'm talking about:
Any input would be greatly appreciated.