Discussion Starter
·
#1
·
Well...stoked to say my El Rey is entirely done transforming and literally, if I were offered parts for free there is nothing I would change. Some parts have moved to another bike (eg, original seatpost moved to fully rigid bike, etc). Since receiving the bike from El Beastiality, think I have switched saddle, post, brakes, bars (twice now), cranks, shifter cables.
I can honestly say that this is BY FAR the best bike I have ever owned. It is nothing short of perfect.
Rode today with an arch rival from the Turner forum (2turnersnotenough) and we had a killer time, even though it was hawt as a mofo. He too is a 29er zealot so while I despise him for his choice of 29er FS (Sultan), we share riding perceptions 100% (he has a Flux, for now...an RFX, and had a Spot as well).
Anyway...these are final pics as I am bored right now waiting for kids to need to go to bed so i can crack open a few beers and watch the UFC I taped from last night...new parts as follows as of original build received from the beast:
* bars (I just cant get my mind around using carbon bars on more than hardtail...so they have moved)
* brakes - moved Juicy 7s over to the Inbred
* seatpost - moved Moots Ti post to Inbred
* cranks - sold the Truvativs that came on bike. The bash I used with new cranks looks so b!tchin in person, as if its custom made for the cranks (ordered another set for another bike already I love them so much)
* saddle - just couldnt stomach the fact his ass was on saddle he sold it with
Build is as follows...per what I think is an accurate digital scale, right at 29.9 lbs which is right where I want it as my goal for this bike to do all I wanted was 30 lbs.
Frame = '07 El Rey, large, cosmic orange

Rear shock = Fox Float R Pro Pedal air shock w/ High Volume canister with PUSH factory tuning

Fork = '08 Fox F29

Brakes = Hope M4s with braided housing (180/180)

Stem = Thompson X4

Seatpost = Thomson setback

Saddle = Selle Italia SLR XC

Headset = King

Bars = Synros Bulk

Grips = ODI lock on grips

Cranks = XTR M970 w/ FSA Bash

Drivetrain = SRAM X.9 drivetrain w/trigger shifters, SRAM 11-34 PG-990 cassette, w/ Clark stainless shifter cables

Wheelset = Industry Nines (half black/silver spokes with silver front, black rear hubs) with 9mm axle on front hub using DT Swiss Ratchet Skewer

Tires = Panaracer Rampages (w/ tubes)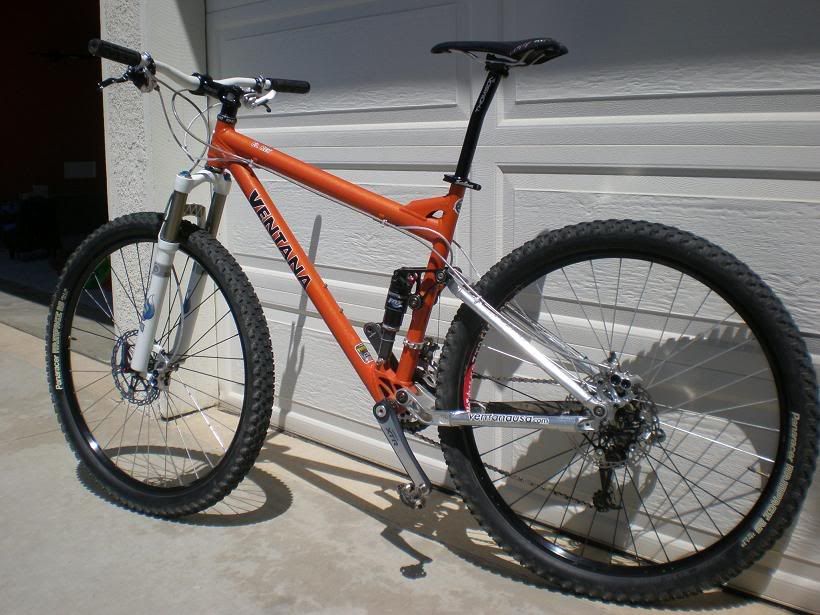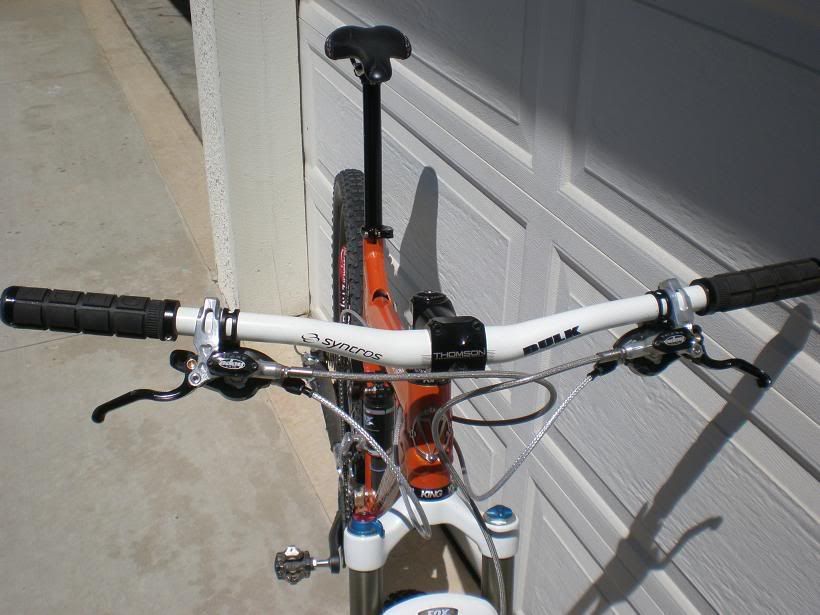 And a pic of me posing at peak of climb from today's ride
Will post up pics of transformed Moto once I receive one more part to complete its changes...