Discussion Starter
·
#1
·
My buddy Mike and I headed up to the top of Grand Mesa yesterday to check out Flowing Park. Big thanks to everyone who provided me with info, it really helped out.
The day started out sunny with a few clouds. About half way, maybe a little more, through the ride the rain clouds caught us and unleashed a fair amount of moisture and some unnerving thunder and lightening. Then as we reached the last bit of gravel coming back to the car, the clouds parted and the blue sky returned.
A few puddles and soft muddy sections on the two track leading out to the little lake, but when we hit trail proper conditions turned optimal.
Along the way:
We came up on a couple herds of Elk. This herd of cows and calves stuck around long enough for a so, so zoom shot before galloping off into the trees...
While it was still sunny we had to stop and smell the flowers...
...and take in the view.
There is some really nice singletrack...
But, then the trail disappears, and a scattering of wire flags and ribbon tied to trees guided our way. I didn't stop to take any pictures along this section because I was pretty focused on picking my way over and around the rocks, while trying to keep track of the flag markers. It was not till we hit the big section of sage brush that flags were few and far between, and we lost the trail a couple of times.
The trail miraculously reappeared and we were really moving through the last section when the little bit of spritz turned to steady rain. Trail conditions held up till we hit the last section through the trees before you reach the fence. The rain was laying down a pretty good layer of water and the elk and decided they liked this section because it was completely chewed up from animal traffic. It was all we could do to keep the wheels moving as the wheels, frame, and fork packed up with dark mud, and there were several spots that we had to shoulder through because of the muck. I really think this section would have been a cinch if all we were dealing with was wet dirt, but the hoof traffic had torn it up so bad that adding water made it a real mess.
Battling slick mud was the theme for the rest of the ride till we hit the gravel. We were a mess, the bikes were a mess, but it couldn't hold back our smiles.
Tried to clean off the biggest hunks of mud before racking up the bikes, so this is relatively clean...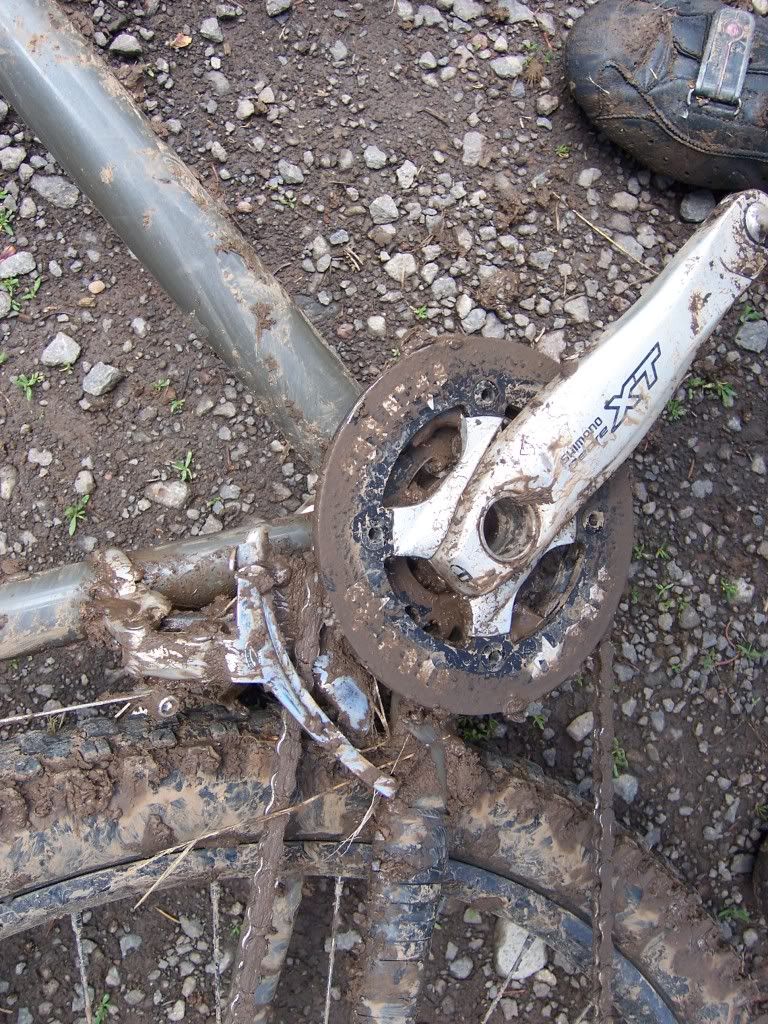 Great ride, even with the rain, bit of trail finding, and mud.