Discussion Starter
·
#1
·
I've been in MTB deprivation lately, so last Sunday was beautiful. Put down the paint brush, scre- the remodeling project for a day. Nothing gets me going like a ride somewhere out on the national forest . Decided on a loop combining Spec Mines Trail and Dody Ridge on the Jefferson National Forest. I think Spec Mines is one of the best downhills in the Roanoke area. Dody Ridge is one of the gnarliest rides around. Cake and ice cream too.
Only 15 minutes or so east of Roanoke is Day Creek parking area for the Glenwood Horse Trail. Its pretty close to the Montvale area.
This ride starts climbing Black Horse Gap.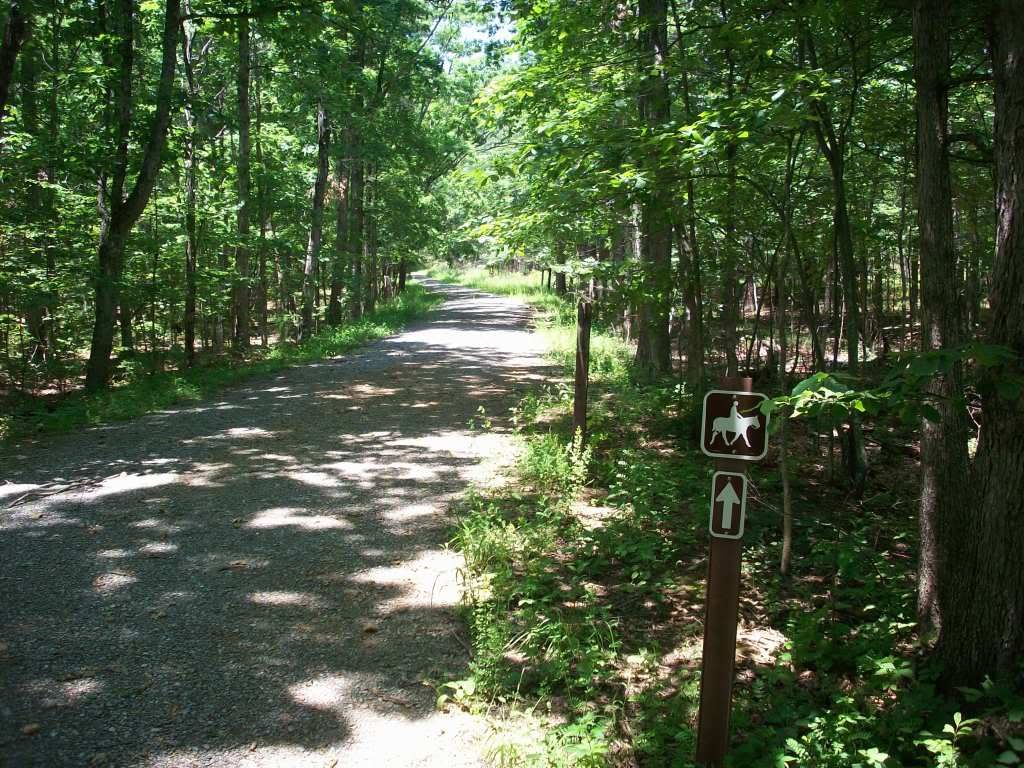 Its somewhere around a 1200 foot climb and pretty steep for doubletrack. It was a stage coach route back in the day.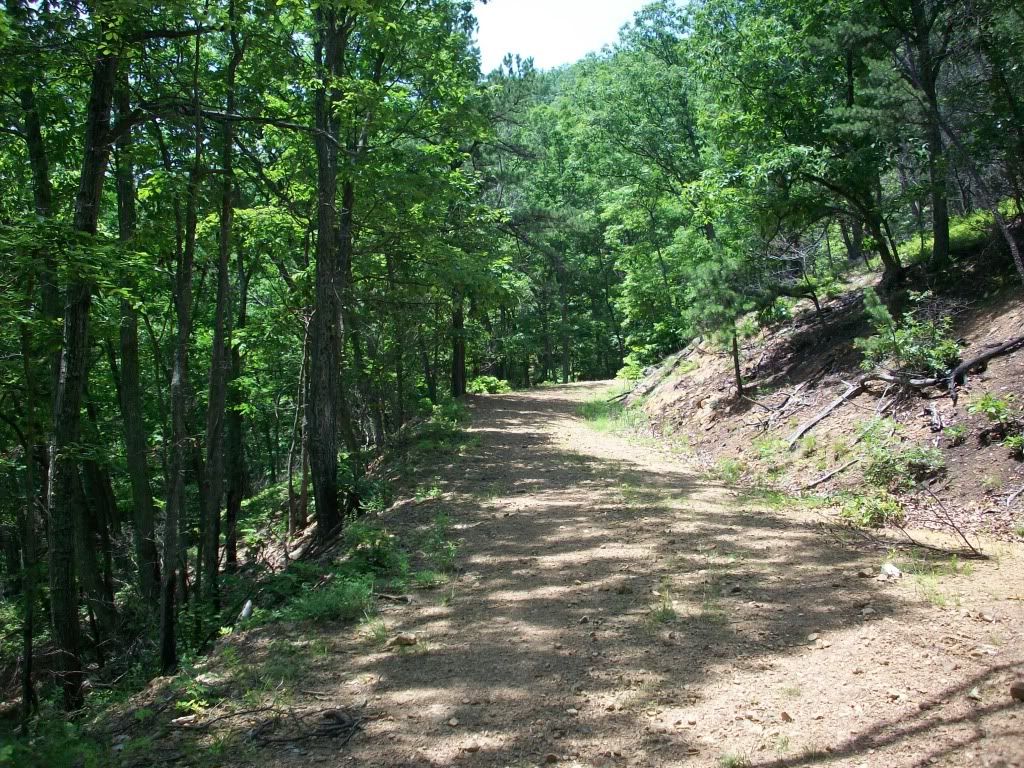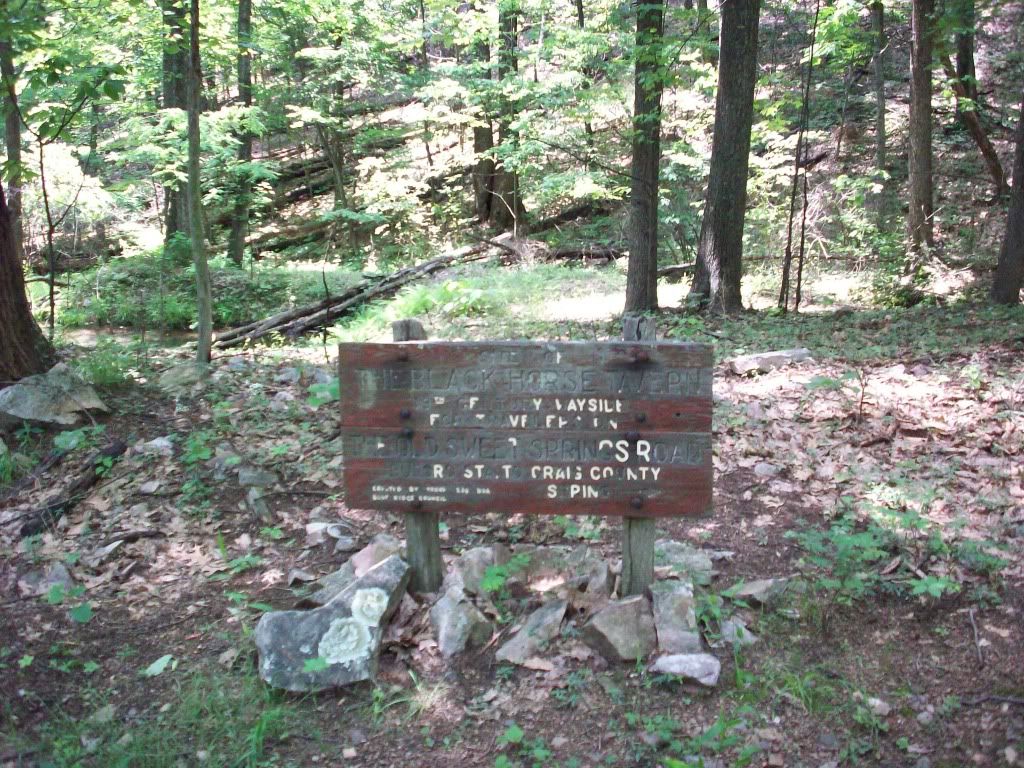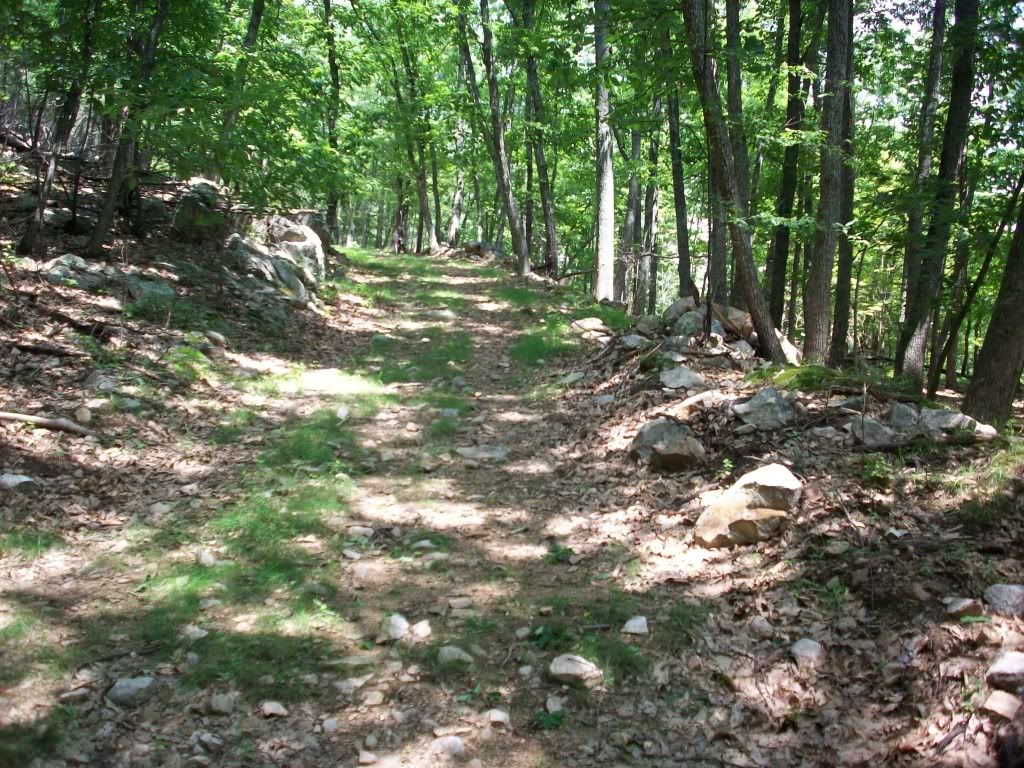 This climb hurt that day. Must be getting old or something. At the top, took a right and headed north on the Blue Ridge Parkway for several mostly downhill miles. Some beautiful scenery on this stretch of parkway.
View towards the Peaks of Otter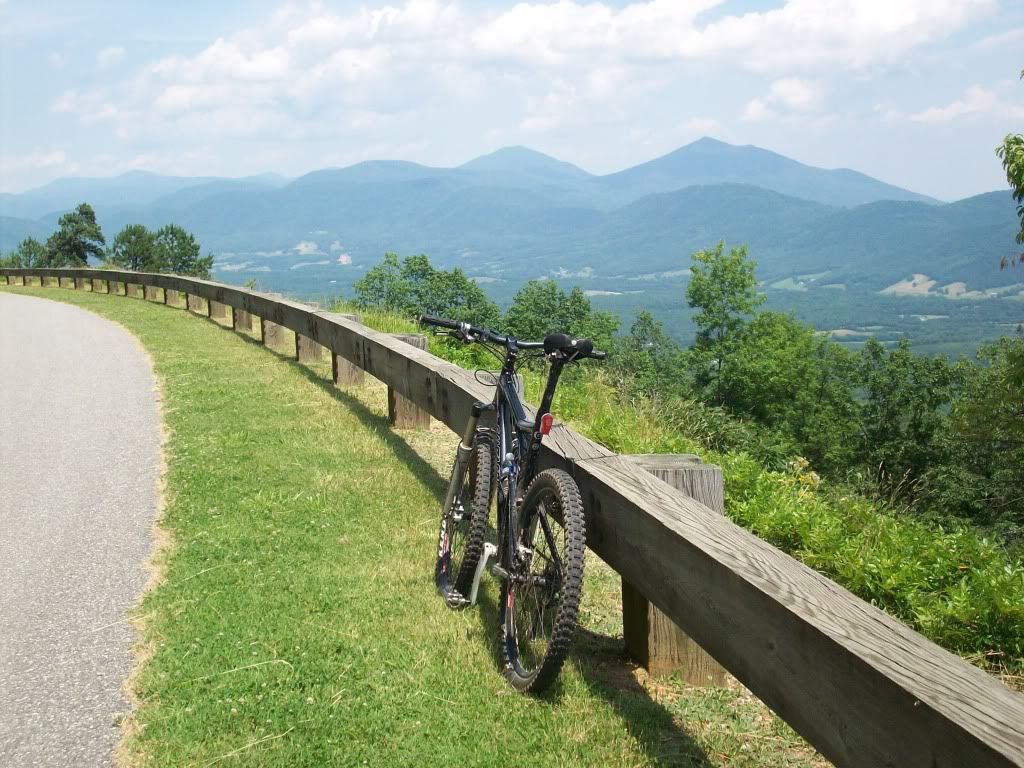 About a 100 feet South of Milepost 96 is the Spec Mine trailhead. It's tucked up in the woods and hard to see. Spec Mines is my definition of fun. A downhill scream with a steep tecky stretch at the end. Mean Gene and I rode this last year on a different route.
Pour on the gas and hold on. Tight and twisty and fast. Packs a lot of fun in 2 miles.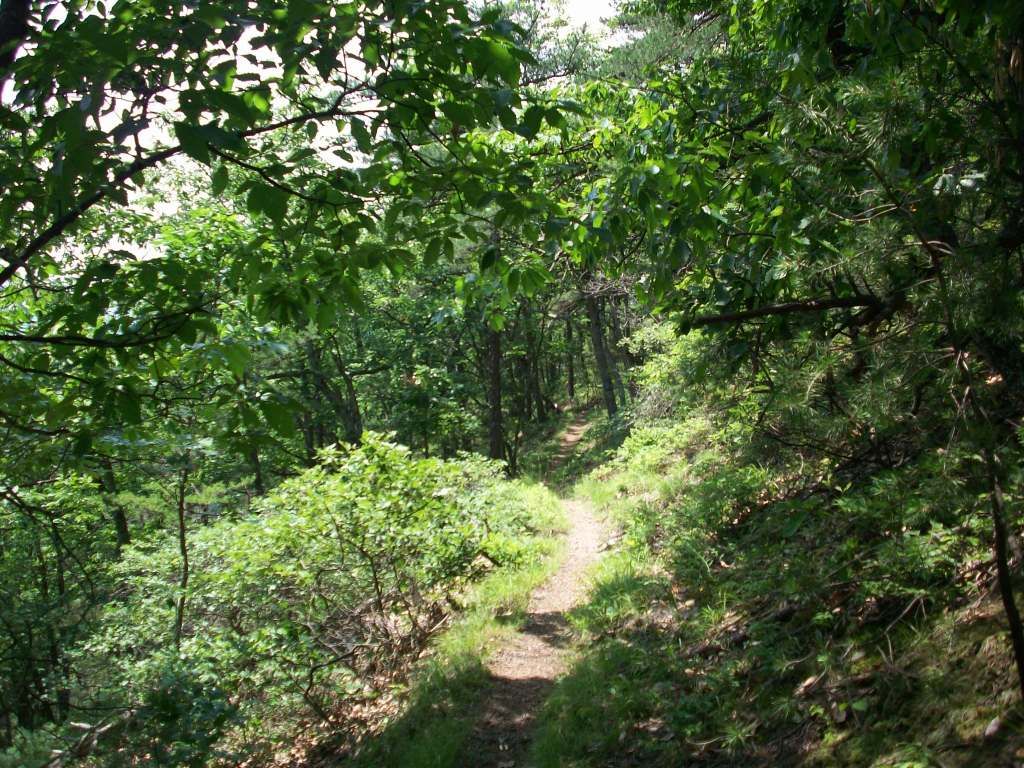 In the last half mile or so, you enter a steep rock garden. Watch for leaf covered loose rocks. I wouldn't ride this in November.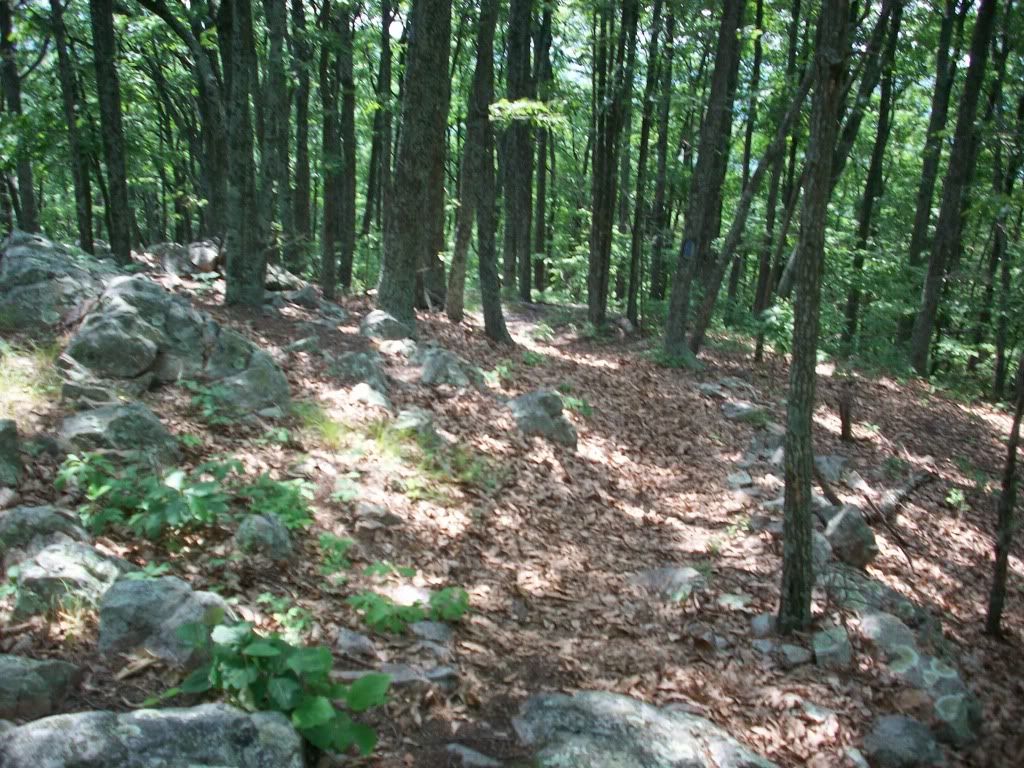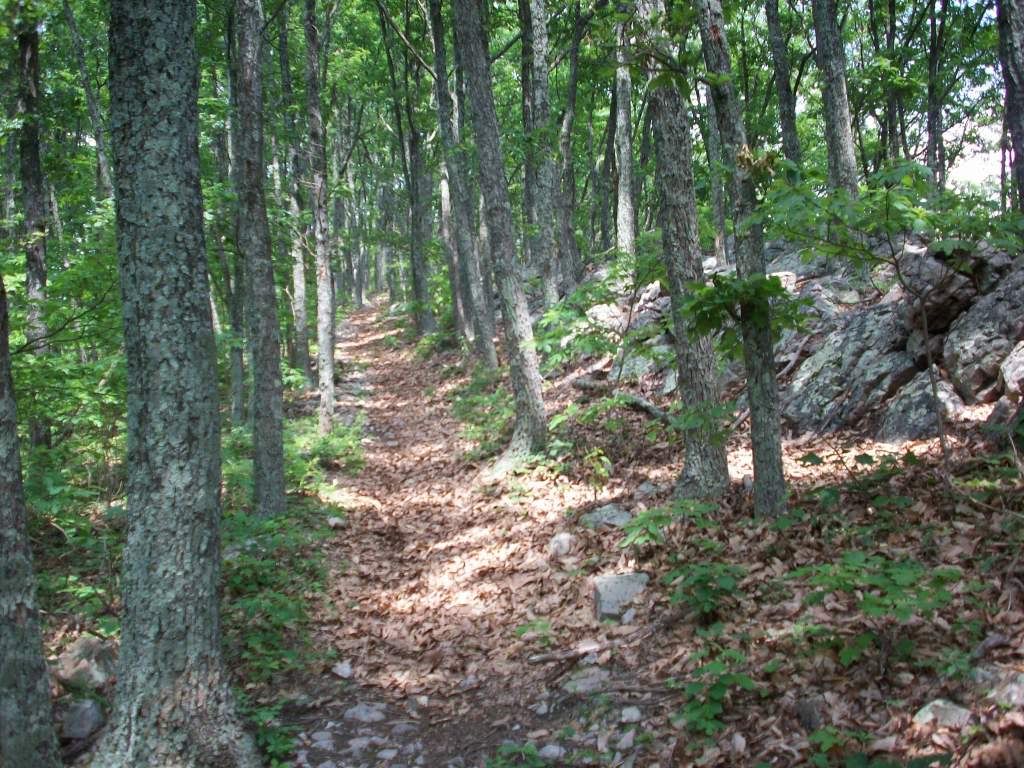 At about 2 miles, the trail crosses a Forest Service road. You are back on the Glenwood Horse Trail. Hang a left on the FS 634 for 2-3 miles.
This guy seemed happy where he was, so I went around.
Seems like I normally meet some horseback riders on this stretch. Passed 3 this day.
At the next road intersection, take the road most to the left. This is Black Horse Gap on the west side of the Blue Ridge. The climbing starts again. The road is blocked off. This is grassy double going back to singletrack. I like this trail.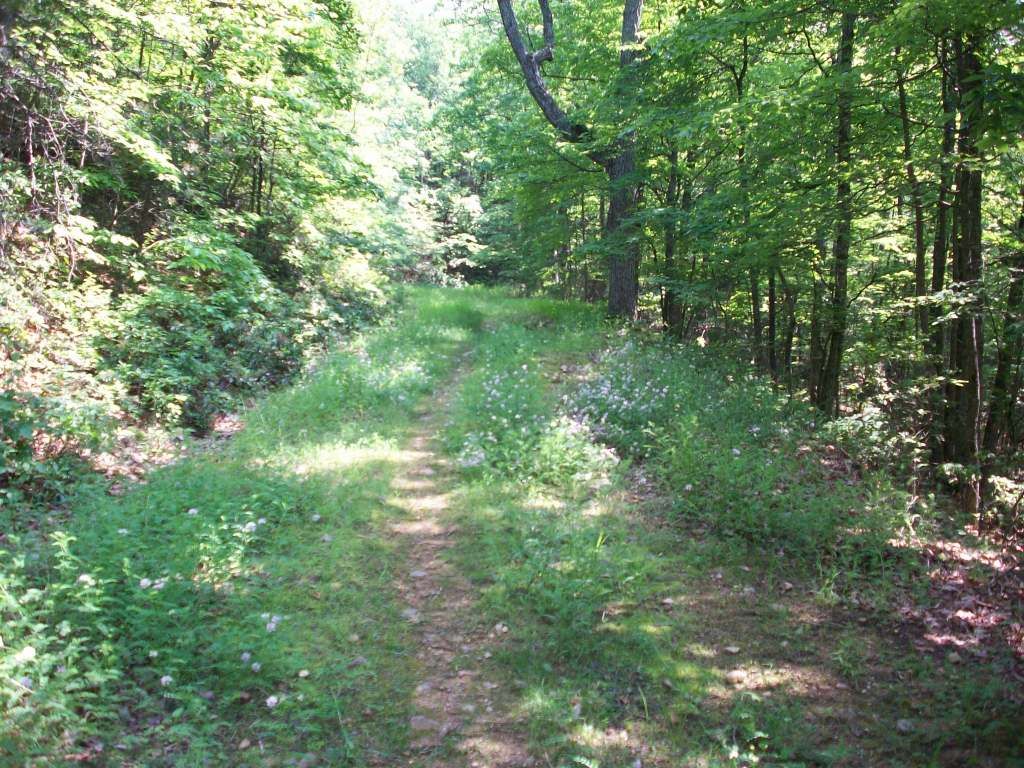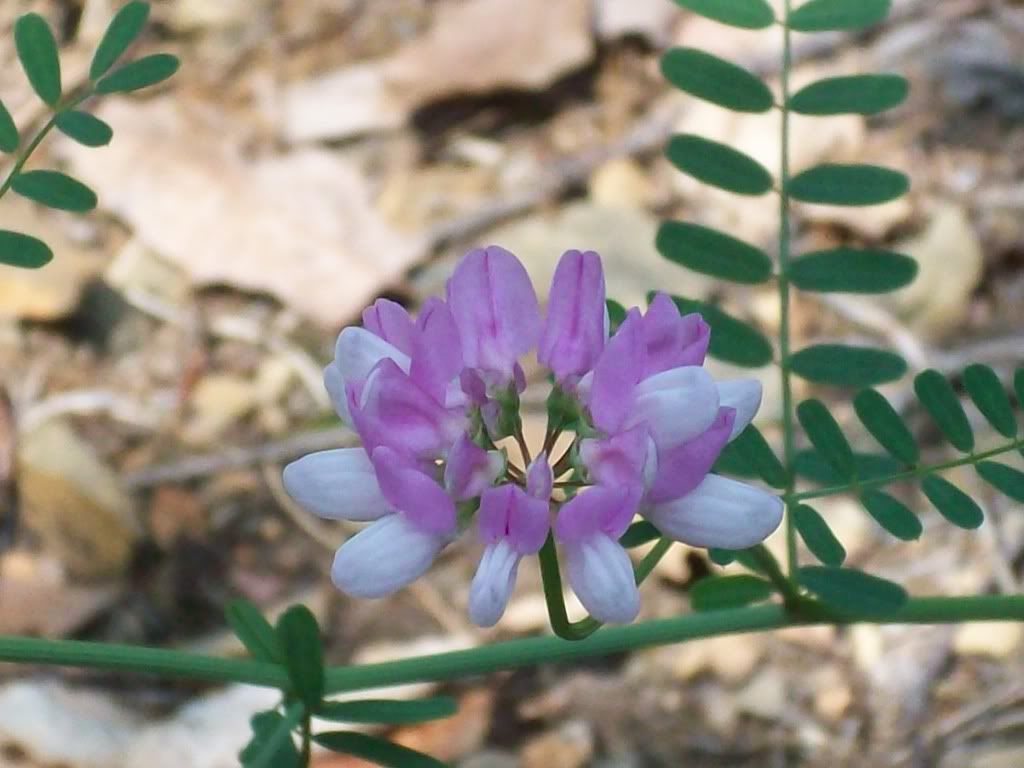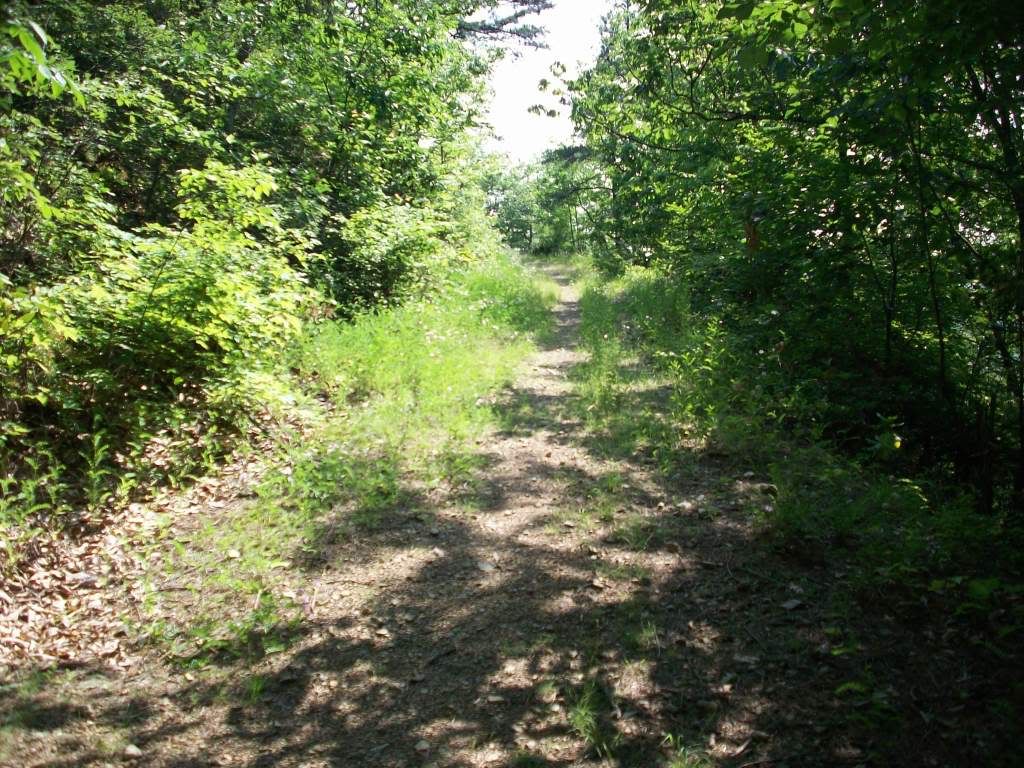 At the top, you are straight across the parkway from the first climb. End of loop1. Hang a right on the parkway and head south for about 3 miles, again mostly downhill. Sweet.
Looking down on Dody Ridge, the last part of the ride.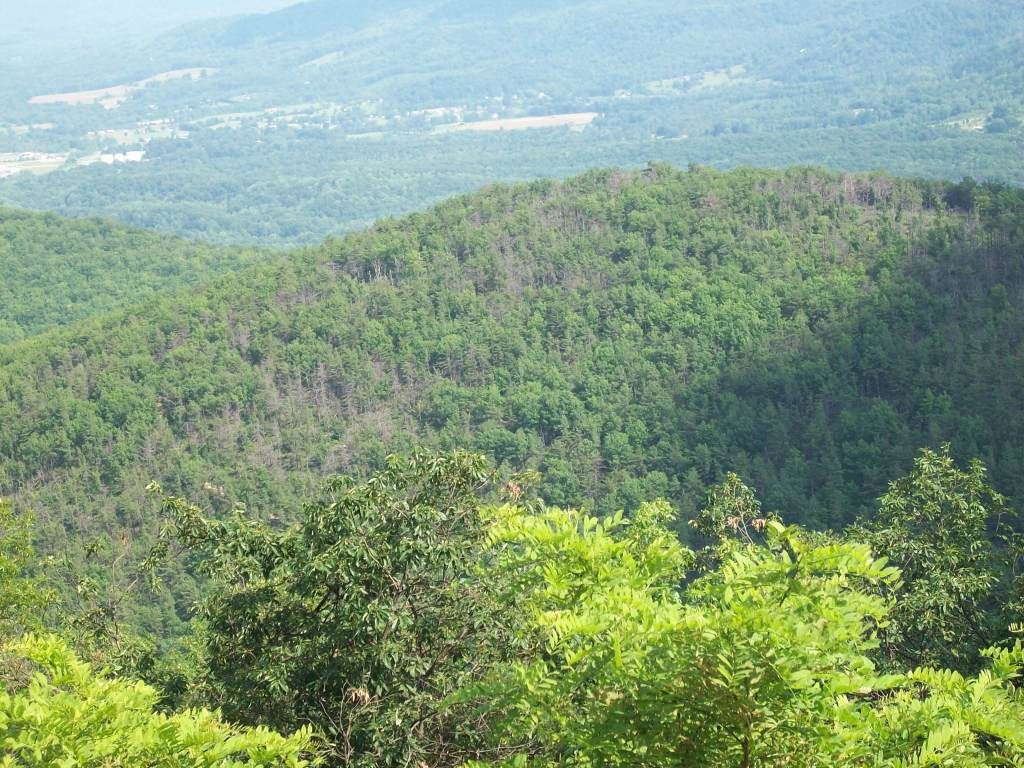 Cool sandstone rock along the parkway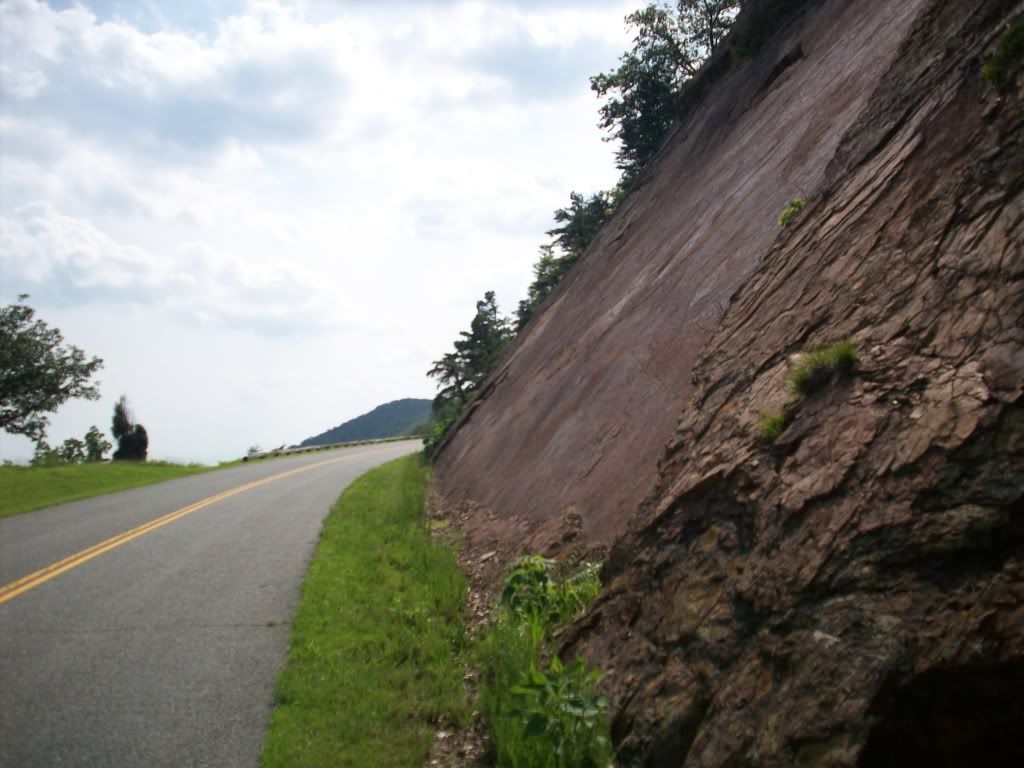 After a nice paved downhill, you come to a dirt road intersection on both sides ot the parkway. I believe this is called Curry Gap. Take the left one and head down a jeep trail. This is the Glenwood Horse Trail again.
FS163 I think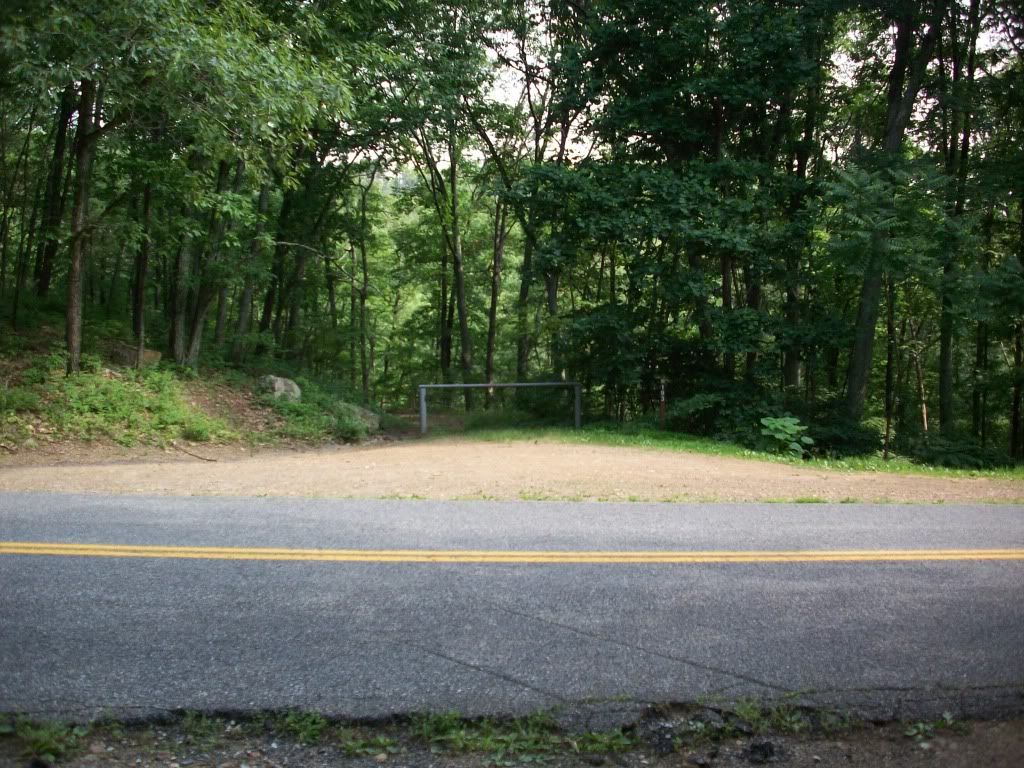 Top part is rocky doubletrack, more of a jeep trail than a road.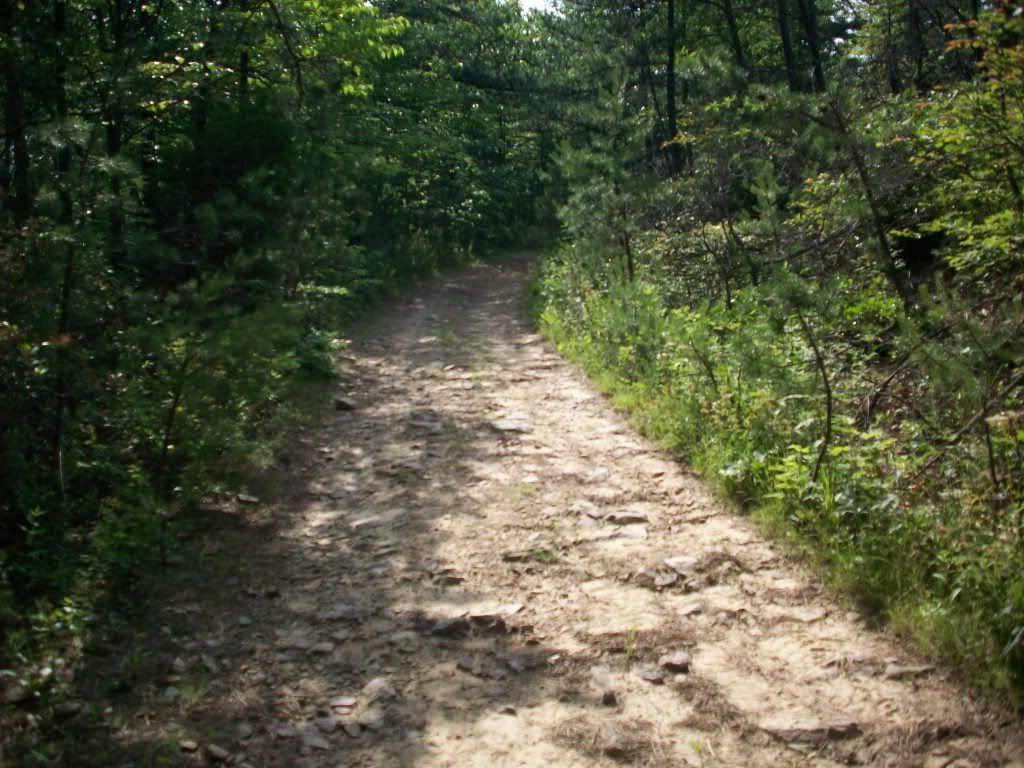 Eventually you come out in a sort of subdivision. How did they get that doublewide up that high? Hang a left on quarry road at the intersection.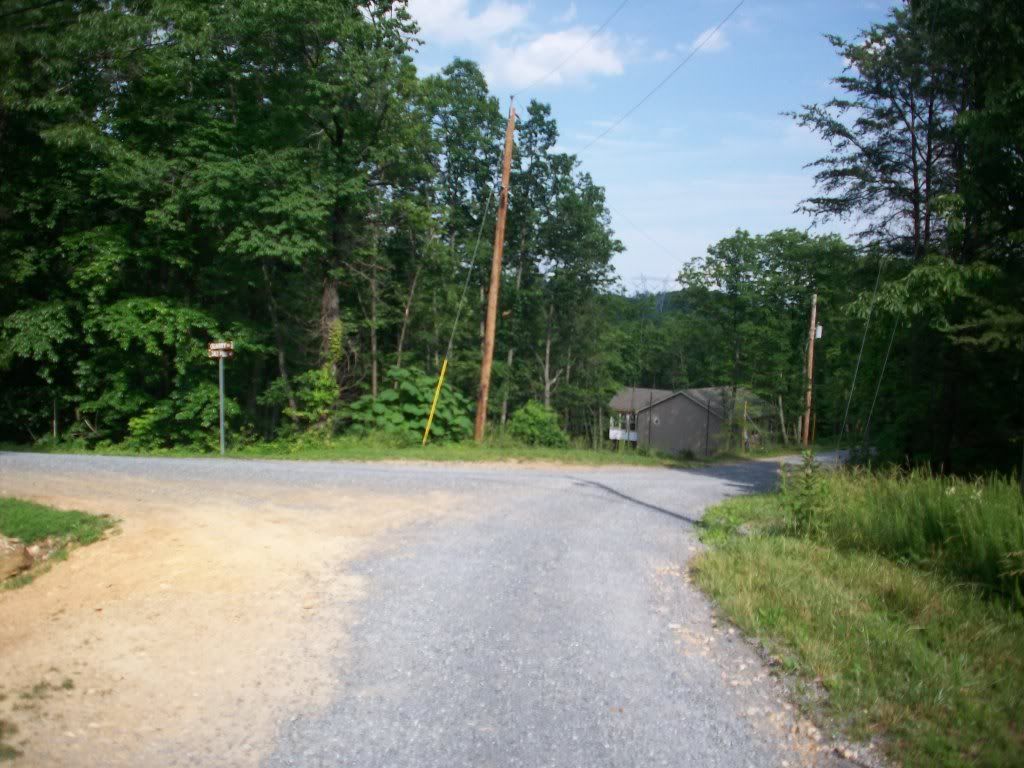 A mile or so it becomes a jeep trail again. The Glenwood Horse trail diverges off to the left behind the "horse" sign.
Thus begins climb #3 up to Dody Ridge. Not as big of climb as the first 2, but it makes up for it by being steep and full of loose rocks.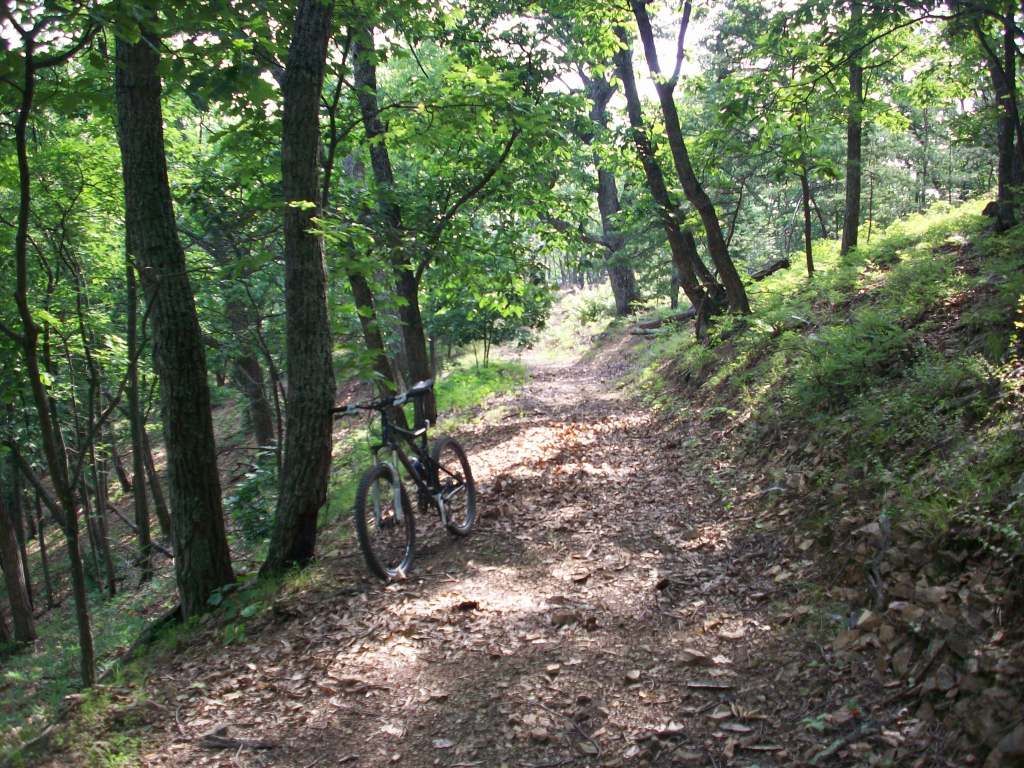 Trail is between single and doubletrack in width, maybe built with a minidozer or could be an old wagon trail.
Bear right at this unmarked trail junction. I think the left one goes back towards the parkway.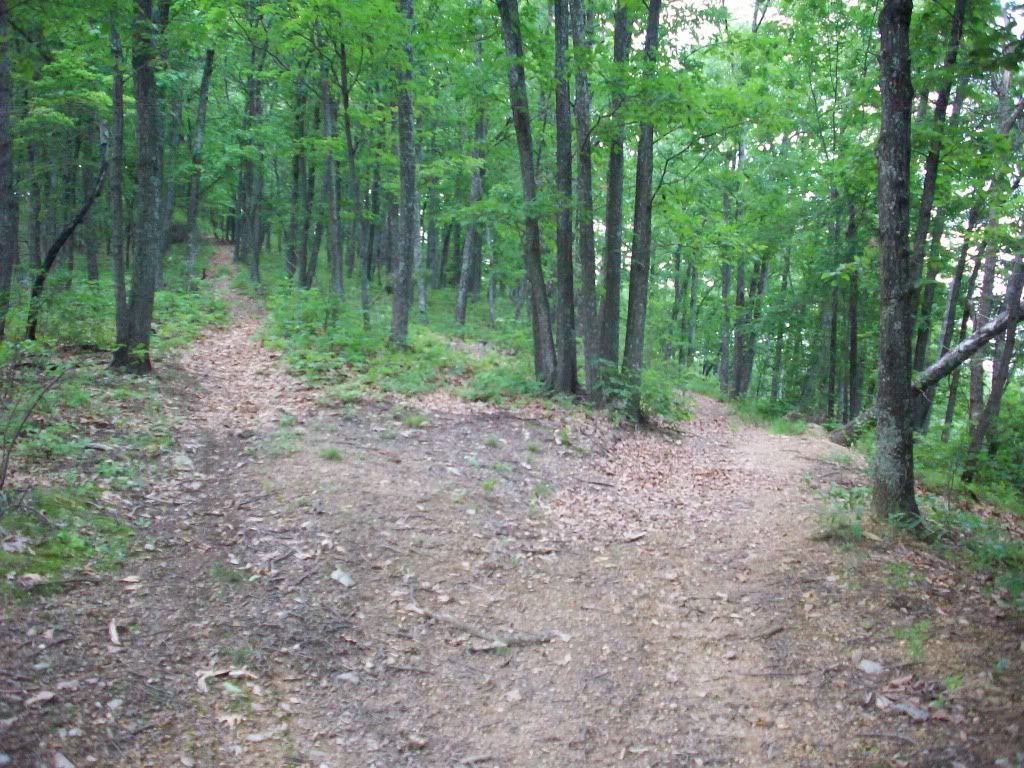 The top at last.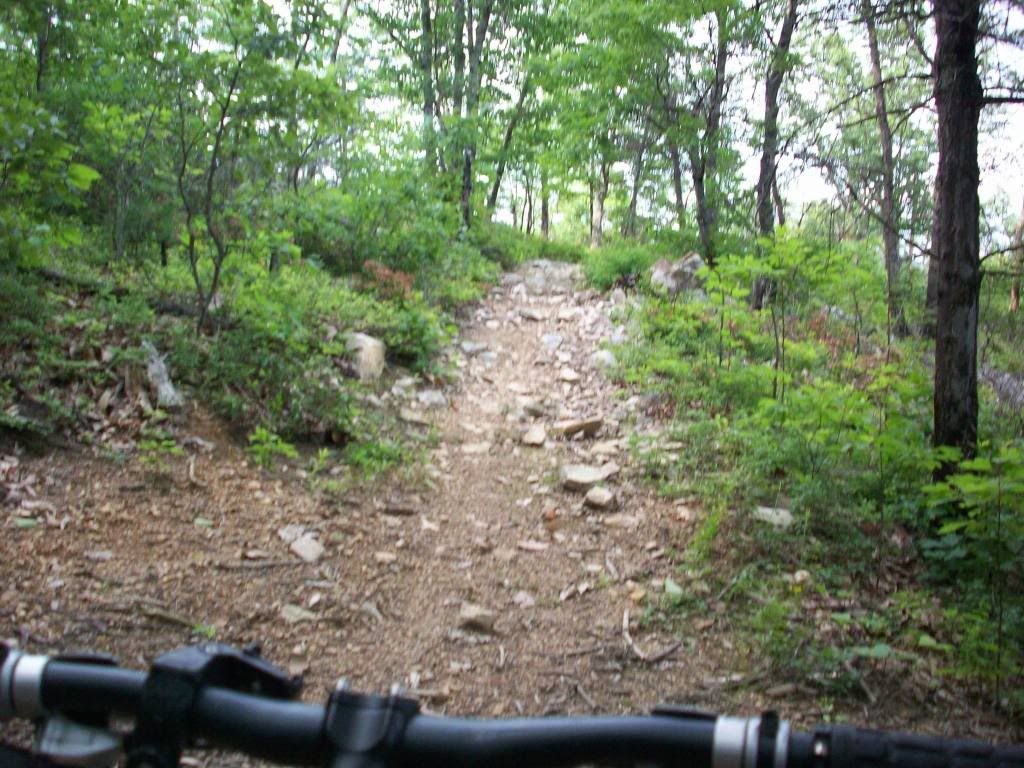 Montvale tank farm in the distance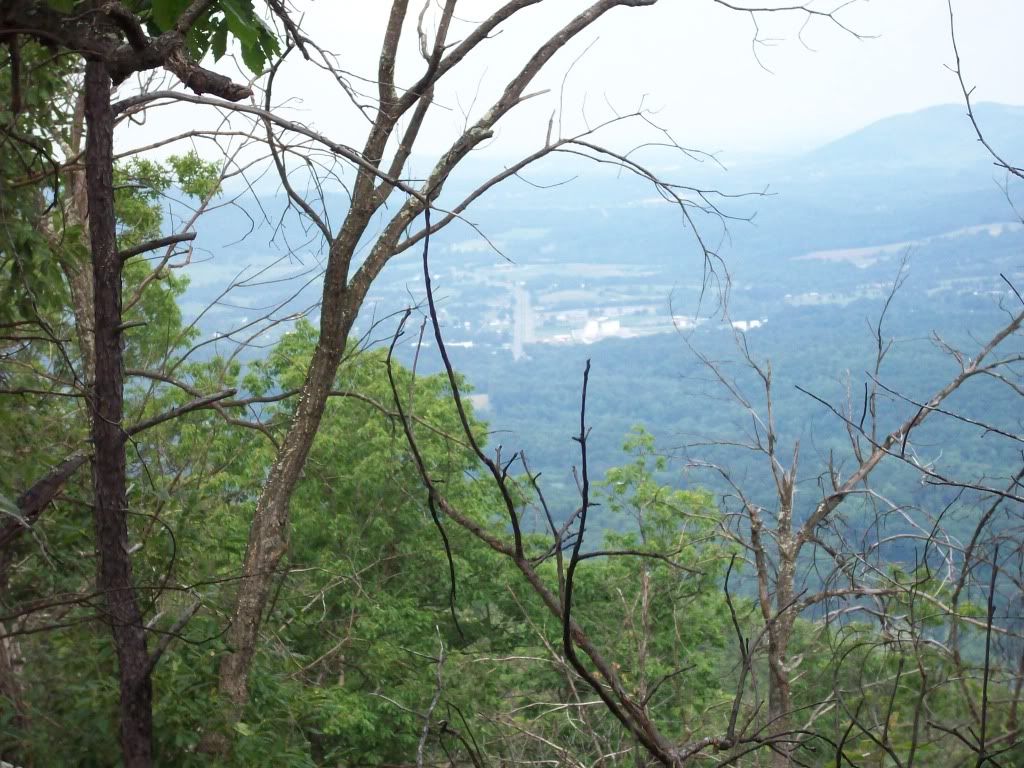 Rocky and gnarly and fun. Dody Ridge must have a "Burn Me" sign on it. Not particularly high, but it juts out east of the Blue Ridge. I think that area has burnt twice in the last 2 years. Mother Nature can be a "B" when she wants too. Momentum is your friend on this ridgetop. Three times my wheel got "chocked" when I wasn't going fast enough to make it over the rocks in slightly uphill sections.
Somewhere between an half mile and a mile of rocky ridgetop fun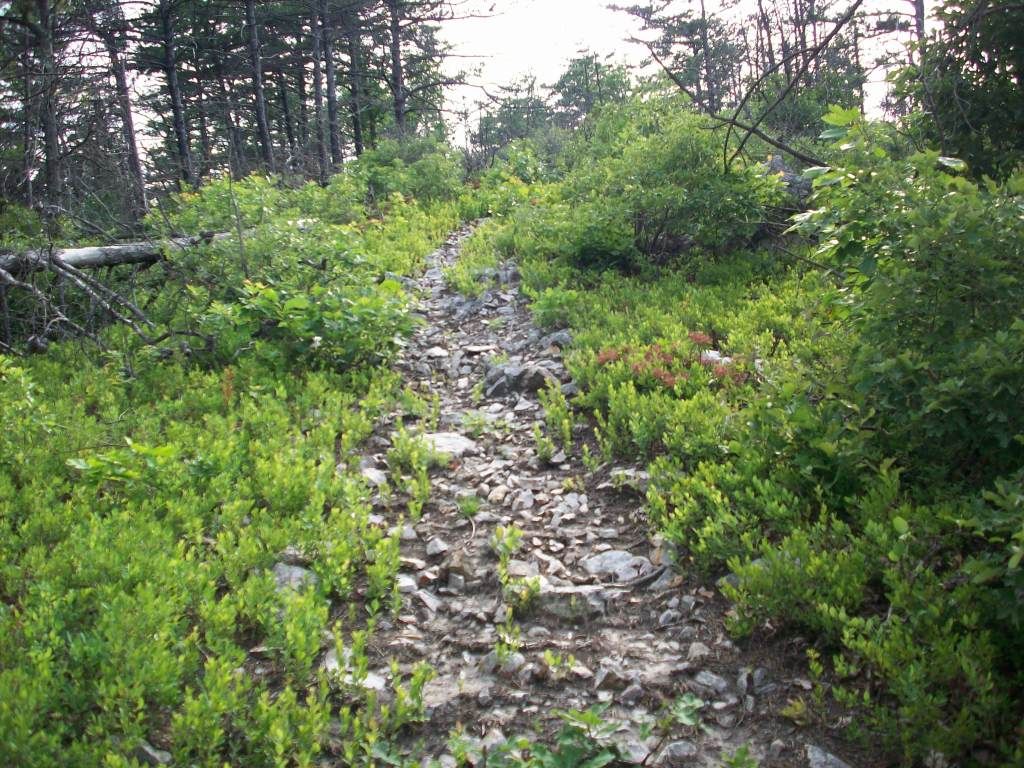 NMan and some of his riding buddies cleaned the ridgetop section off last year and it is nice.
Down the hill. More rocky stuff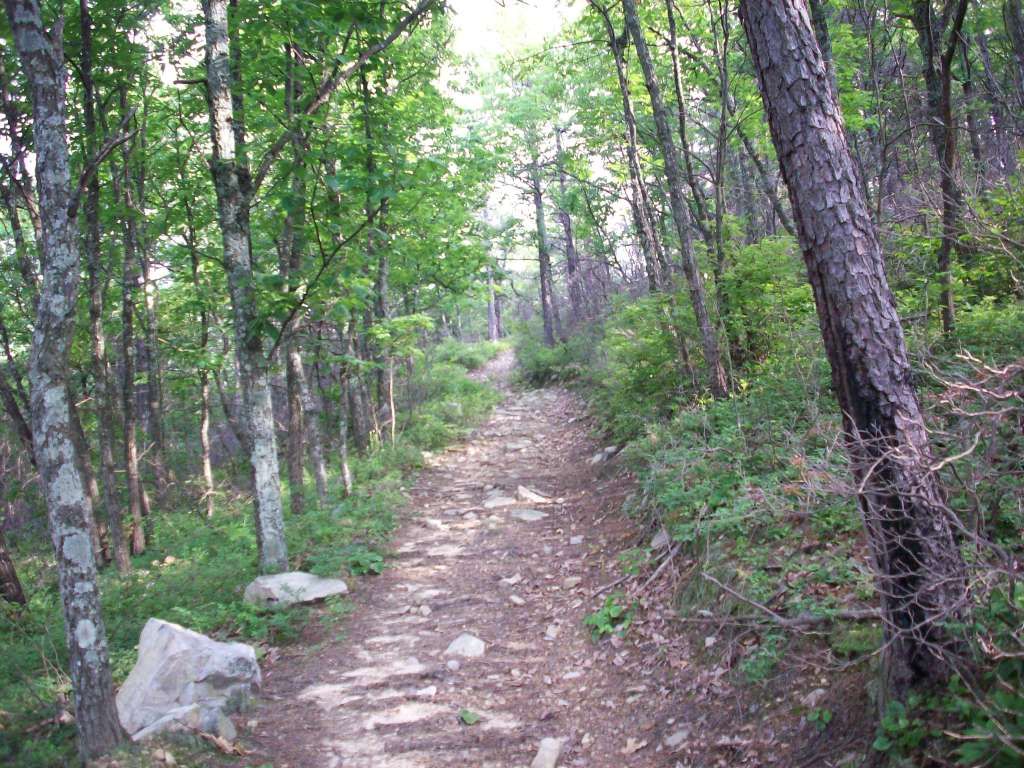 Cross Day Creek
In some more rocks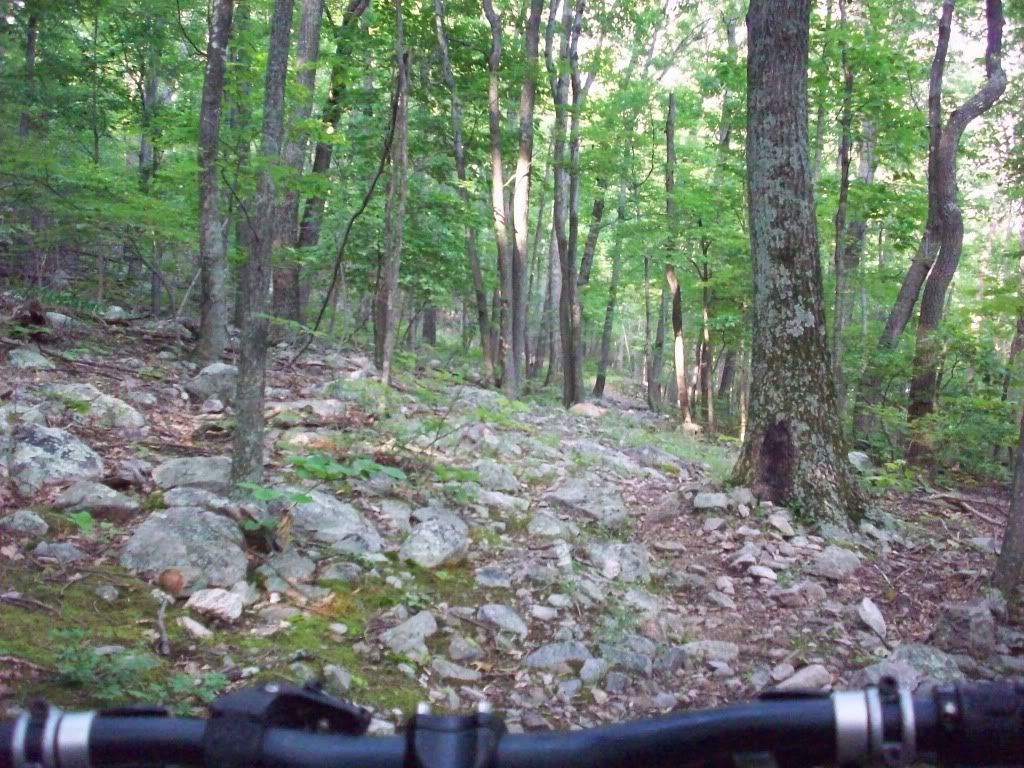 And a little bit of smooth stuff
You will pass another trail intersection along the creek. Either way will take you back to the parking lot. Left side has more singletrack, but a lot of fresh blowdowns. I think the right trail follows the creek (haven't ridden it yet). Both bring you back to the Forest Service road (3078) for a mile or so downhill to Day Creek parking area. 20 mile double loop by my map software. Good Stuff: