Discussion Starter
·
#1
·
If you know someone who would be interested in showing support for the cycling community, I ask that you please pass this on. This has been a terrible blow to this tight knit community and they are rallying together this Saturday here in Summerlin to show their support. Thanks in advance!
THE STORY: (TAKES PLACE ON THE RED ROCK LOOP JUNE 10TH)
Some of you already know because you were actually riding with us but this email is mainly to inform the rest of you who doesn't know what happened yesterday during the traditional Saturday ride at Starbucks at 7am.
Inside the loop during the downhill right before the "wall" a car was driving very slowly right after the last blind corner where you reach your maximum speed to hit the "wall".
Riders in the front manage to barely avoid the car and the driver took off when he saw 40 more riders coming full speed behind him. Unfortunately, our riders went down really hard and we witness the worst crash scenario possible at speed closed to 40 mph! Nathan Williams went down and Trenna Adams went full speed on him, broke her Scott (her bicycle) in 2 pieces, fly down in the front of her handlebar and landed on the right side of her face and head. She was between conscious and unconscious and obviously in extreme pain. Some riders paramedics helped to have her stable on the scene. Ambulance and fire fighter were on the scene within 25 minutes and she went by helicopter to UMC trauma.
Also riders like Vic and Steve White went over their bar and fortunately landed in some soft bush and only broke their wheels. Nathan Williams suffered Second Degree burn on his right side but he'll be OK i heard from his father.
The latest news i got late afternoon on Saturday was that Trenna has broken neck (c1), ribs and jaw with deep laceration on her ride side face. She was responsive in UMC and could move her legs and arms. They have to put her in an artificial coma and the good news is that she won't be paralyzed.
Latest update is that she is out of the coma and has been moved to an ambulatory/rehabilitation center. She is up albeit not happily, but up and moving around nonetheless. Her family needs our support I know this is a mountain bike forum but I also know a few of us also ride on the road.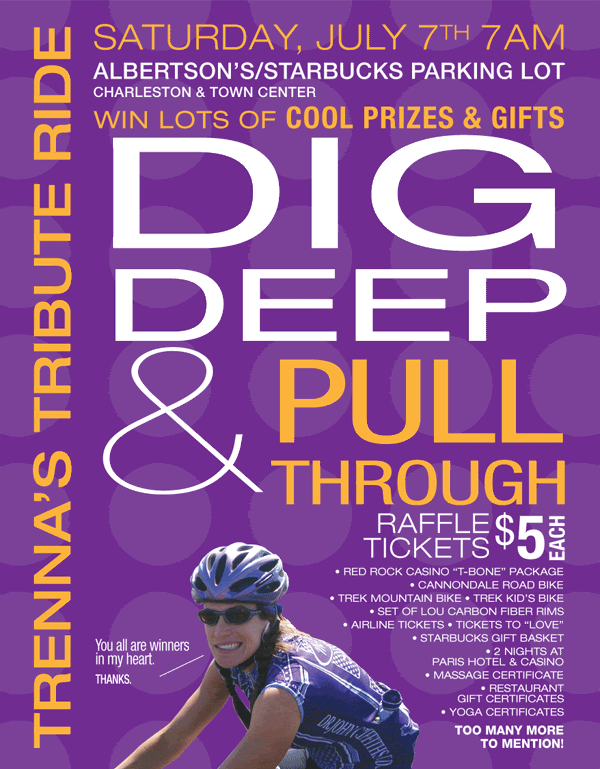 The Trenna Adams Fun(D)raiser & Raffle
Saturday, July 7th 9-5 pm
Albertson's Charleston/ Town Center
RAFFLE ITEM DESCRIPTION VALUE
Allegiant Air 2 Round Trip Plane Tickets on Allegiant Air from Las Vegas to any city providing nonstop service. TBA
Baja Fresh Mex Restaurant
And Tee Shirt
(2 Drawings)
Dinner Coupons $75
Beatles "LOVE" Cirque Du Soleil 2 Tickets (2 Raffles) $280
Beauty and Bed Head Basket Bed Head Shampoo, Bed Head Conditioner, Bed Head Superstar,
Bed Head Hair Gel, Bed Head Headrush, Gripper Mega Spray Wax, Catwalk Fast-Fixx, Gift Certificate - $150, Hair Cut and Color By Amber Carmen
$250
Bikram Yoga by Patrice
(10 Drawings)
One Month Unlimited Classes $150
Boutique Baby Basket 3 Handmade Receiving Blankets, 4 Pacifiers, 3 Bottles, Baby Toy $60
Camp Chef Del Rio Deluxe Copper Fire Pit with Cover $260
Camp Chef Pro 90 3 Burner Propane Stove $284
Dining Medley to
3 Restaurants
Triple George Grill, Pei Wei, Darden Restaurants (Red Lobster, Olive Garden, Bahama Breeze, or Smokey Bones) $75
Foto Facial RF Treatment Laser Aesthetic Solutions Dr. Mark Taylor $500
Giro Atmos Bike Helmet with Case Size Medium $175
Haircut by Sonya Johnson 1 Man's cut and 1 Woman's Cut at Scandal's Salon and Day Spa $65
Hertz 3 Day Car Rental Mustang Convertible $350
Color and Haircut by Jessica Nicol $120
Hollywood Video Rental 15 Free Home Video Rentals (2 Raffles) $65
Kids Bike Trek Jet 20 $189
Las Vegas Cyclery $100 Gift Certificate Good For: Lasvegascyclery.com; Moabcyclery.com; Escapeadventures.com (5 Raffles) $100
Love To Learn Package Lakeshore Wood Fraction Cake, Time and Money Flash Cards, Numbers 1-100 Flash Cards and Games, Math and Money Game, Phonics Fishing for Silent e Game, Magnetic Phonics Puzzles, 6 Assorted Children's Books Priceless
MAC Cosmetics Allover Gloss, Paint Peintures, Matte Lipstick, Brow Shader, Embellish Glitz Gloss $80
Mesquite Vacation Package Two Night Stay with Two Rounds of Golf $200
Mountain Bike Trek 3700 $309
Paris Las Vegas Hotel and Casino Complimentary Two Night Stay in the Luxurious LeMans Suite $800
Pei Wei Asian Diner $30 Gift Card Plus Lettuce Wraps $30
Personal Training Sessions
By Lisa Locati
One Month Free Training $500
Ray Ban Unisex Sunglasses & Eddie Bauer Tailgate Blanket Black Sunglasses
Tan Plaid Blanket
$150
Red Rock Resort Package One Night Stay at Red Rock Resort, Dinner for two at T-Bone Chophouse, Two (2) 50-Minute Therapeutic Massages $600
Road Bike Cannondale Cad 8 Option 1 $1349
Road Bike LEW Racing Wheels Boron, Graphite Composite, PRO VT-1
Tubular Wheel Set
$1500
Rockin' Baja Lobster Dining Certificate (2 Raffles) $50
RUSH Concert Tickets Section L215, Row C, Seats 16 & 17 $200
Stampin' Up Stamp Set 35 Assorted Stamps, Boutique Stationary (set of 10) Journal, Picture Frame $100
Starbucks Gift Basket Assortment $30
Taylor Made Pilates Dr. Mark Taylor $150
The Jewelers - Circle of Life Diamond Pendant 14K White Gold, Prong set with Round full Cut Diamonds, Total weight 1/5 ct., Color/Clarity I/SI2, hanging from an 18 inch Spiga Chain with Lobster Clasp. $500
Wine Gift Basket
(2 Drawings)
Wine, Carr's Crackers, Cheese Spread, Roasted Almonds, Biscotti $25
RAFFLE TICKETS ARE $5 EACH