·
powered by peanut butter.
Discussion Starter
·
#1
·
Lately I've fallen in love with riding my cross bike (a more or less standard issue Cross-Check) on my local mountain bike trails, and I know there are many others on here who also take their cross rigs on singletrack adventures. So let's see your photos!
Now, it's my hope that this thread won't have too much discussion about whether or not cross bikes are
better
than mountain bikes for trail riding. That's been beat to death already. Let's just say that it's a different experience. Are your everyday trails getting too bland for you? Try riding them with 32mm tires, no suspension, and drop bars. Riding a cross bike on singletrack will make you a better rider, I think. You have to pay attention to line choice and ride with as much finesse as you can muster. And bros on full squish bikes give you looks like this --
-- that are just
precious
.
Also, let's please keep the "that's not a cross bike" banter to a minimum. I'm hoping to mainly see (relatively) skinny tires, canti brakes, drop bars, and so on, but debating the semantics of whether a particular bike is actually a cross bike or a monster cross bike or a drop bar 29er with skinny tires is boring. Anyone caught doing so will be ridiculed
thusly
.
Posed pics are good. Action shots will receive a hearty slap on the back.
Here are a couple to start things off:
mah beloved bike:
a lil rock ride:
a lil log: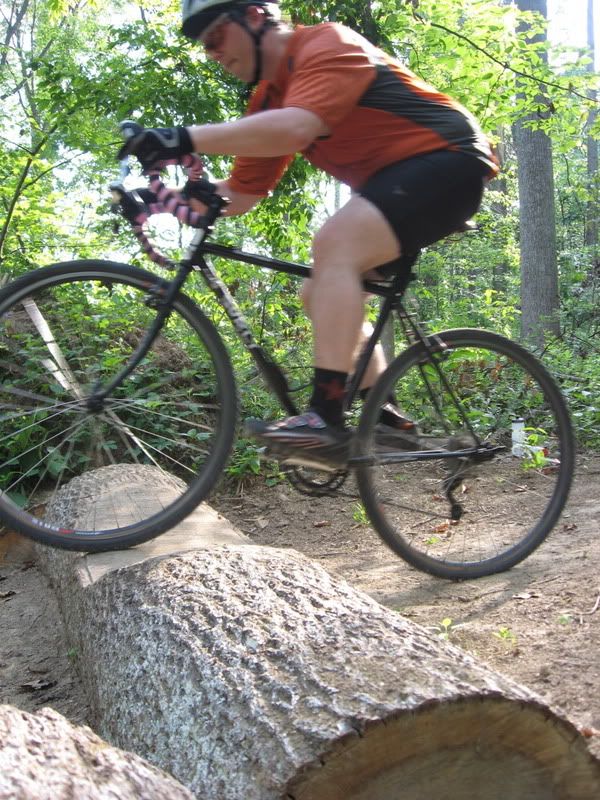 Aight, whatchu got?