Discussion Starter
·
#1
·
First off let me state I LOVE MY SHADOW plus!
It is awesome, it combined with my chain guide removes all chain slap. Not a single noise escapes the combo.
But, yesterday while riding I noticed some chain noise from the rear and stopped to make sure the clutch was engaged. It was so I figured I was just riding extra badazz that day (ya right).
Today I was checking over the bike making sure everything is tip-top for a trip to Santos tomorrow. I checked the tension on the der and found that engaged or disengaged the tension was the same. So I figured I should adjust the clutch in the der and which should stop the chain noise.
I opened up the der to find that the tension adjusting clamp for the clutch band broke on the backside at the bend and wasn't providing any tension on the clutch band. I can only assume this will be warrantied and if it isn't then I can only assume this little part is really cheap.
I also apparently have the new version that does not have the adjusting wrench included inside of the casing. You are supposed to use needle nose pliers to adjust the tension nut.
The der works perfect other than the clutch doesn't work at all so I'm going to use it tomorrow and have it warrantied on Monday. I just wanted to give everyone a heads up and show the pics.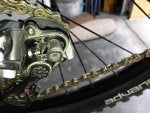 How it appeared when I opened it up
The broken piece
It is really broken, that is the clutch cam it surrounds on the left and on the right is the tension adjusting nut
How it is supposed to look on the clutch cam