Discussion Starter
·
#1
·
Hello all, not posted much as google and searching the forums helps.. but im drawing a blank here ... Or maybe im missing something obvious ..
Fitted a bb and crank I picked up off ebay, to my trek bruiser frame ..
The drive side crank is pretty far over and the chainring is so far over that the chain comes straight off in 1 and 2 cogs on rear, and sketchy feel on all others ..
The chainline is straight when I'm set on the 8th rear cog, so anything inside of 8th gear is didgy, up at 1st and 2nd it comes straight off with no pedaling pressure
Bottom bracket is an FSA square taper 68x113 ...I think its 113, it says 113 on the axle anyways..
Running single ring upfront .. pictured below with 40 tooth, but going down to 32 once payday arrives
Will switching to a 103mm bb bring the crank arms nice and close and sort my chainline out?
One more thing, the bb I have is not symettrical? The drive side sticks out more which is maybe whats pushing my chain ring too far out
Would a symettrical 113m bb sort it? Or should I go down to 103mm
My lbs is a large retail bike shop and the guy their doesn't have much of a clue if im.honest so id rather ask here for help ...
Help please
Chainline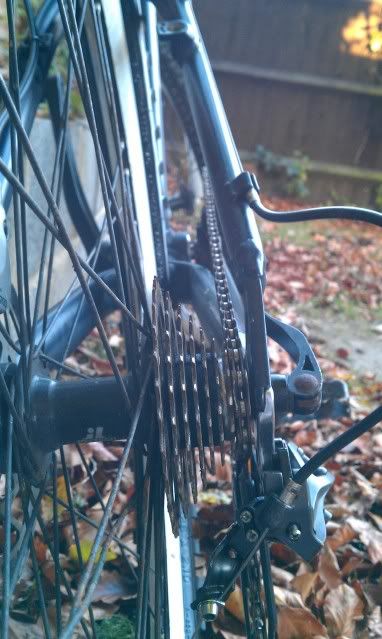 Drive side , chainring is attached outside of spider in pic, since moved inside spider, but still only brings chainline to 6th or 7th gear, still comes straight off in 1,2 and 3 gears
Non drive