Discussion Starter
·
#1
·
Here is my new chiny horse (pronounced chai-neee)
disclaimer: I suck at taking pictures, use your imagination if the pictures don't translate well
So here is my work in progress. Bought it from Chad at
Red Barn Cycles
. Great guy to deal with and very patient with questions. Thanks for the recommendation CharacterZero!
The frame arrived quick and I didn't have all my parts yet. So it became a bike of borrowed parts. RCC let me borrow his lead filled Marzocchi 66, and another buddy let me borrow his Saint/823 wheelset. First two rides I had a real hard time with the 66, it was either too soft and brake diving or too hard and barely getting half its travel.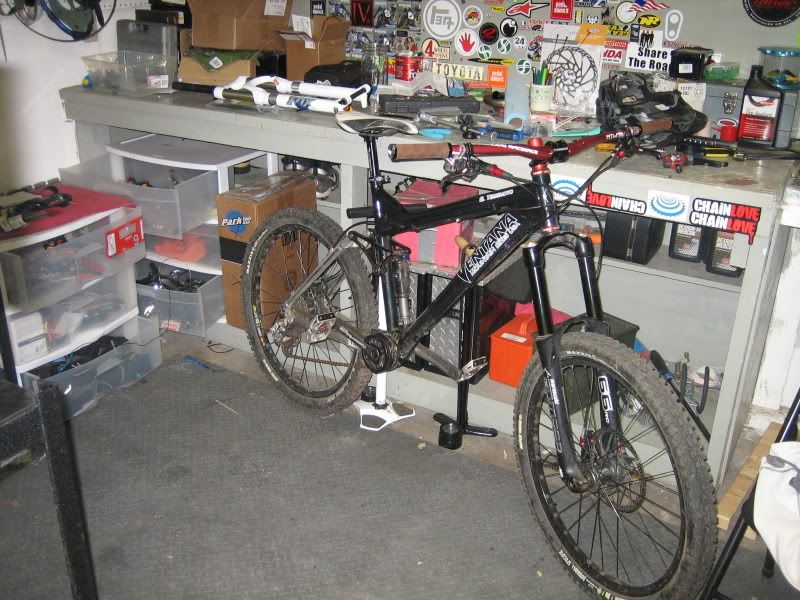 When buying the frame I was seriously considering the Banshee Rune. It meet all of my needs but one. It was not entirely Hammerschidt friendly. Sure it would mount fine, but the bike was designed to be pedal in middle ring (36 or so.) I did some searching and found a couple of Terremotos with the Schmidt so I went for it. Install wasn't as straight forward as I was hoping. The biggest problem is that the through-bolt for the bottom pivot extends into the plane where the Shmidt's backplate rests.
trying to show how far the bolt head extends beyond the tabs: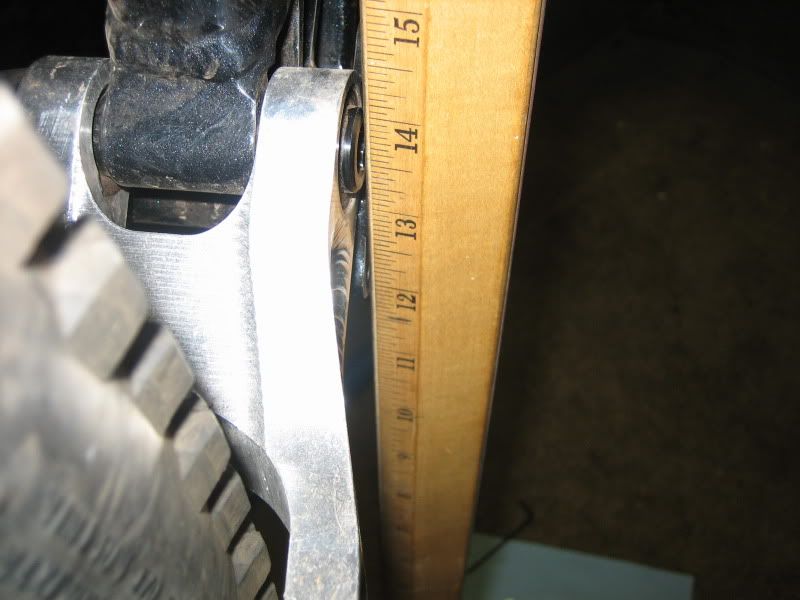 The instructions (yeah I read them) stress the importance of the plate to be mounted flush against the ISCG tabs. But I know better than SRAM so I used some spacers to bring the plate out from that pesky bolt head. I used a .060 inch spacer. Everything mounted up and seemed to work fine. Turns out it was just a little too far out. I went back and tried some other sizes and settled on .040" I talked to Sherwood about the problem and he recommended flipping pivot bolt. Unfortunately the height of the bolt head is greater on the non-drive side. My spacer is a temporary fix until I can get the head of the bolt trimmed down. I plan to lathe off about .050" which is less than a third of the total head height.
.020" spacers meant the bolt touches the backplate: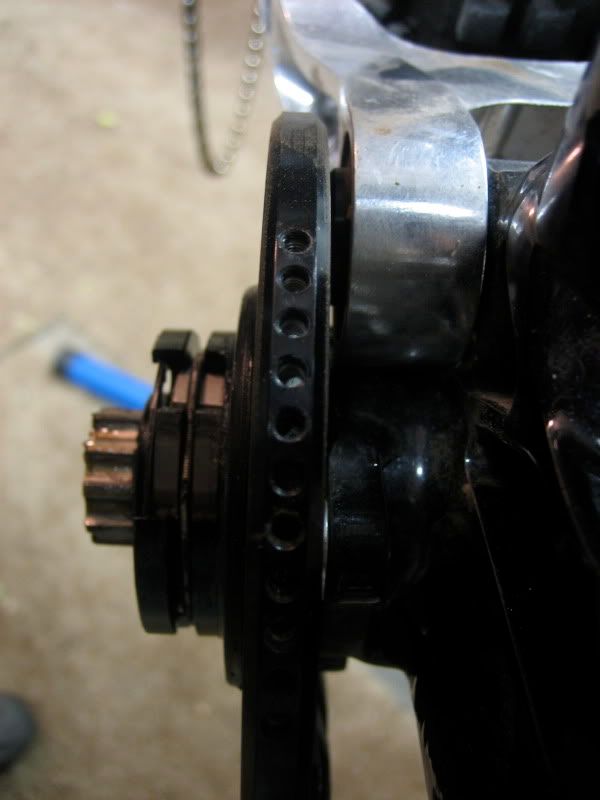 The cable routing for the Hammerschmidt is tricky because it is really different from your normal front derailleur. The stock cable routing would have been a mess, going from handle bar to top tube to seat tube to the front of the crank, so I used some adhesive backed hose guides and stuck them to the down-tube. This made the routing a lot cleaner. The adhesive isn't holding up as well as I had hoped so I need to go back with some epoxy and mount them proper.