Discussion Starter
·
#1
·
OK, I did the RSM to Murrieta thing on Saturday and, I'm happy to say, that I made it out alive even though I made one of the dumbest decisions I've ever made while riding a bike (more on that later).
Other than the length of this ride, it really wasn't that bad (for the most part at least). The route was approximately as follows: Trabuco Creek Rd - up Holy Jim - right on Main Divide to gate near Blue Jay - left on paved Main Divide - cross Ortega to South Main Divid for about 10 miles - detour up to Elsinore Peak (great views) - cruise the singletrack on the backside of the peak (fun stuff) back around to the road - down the fireroad at the apex of the big roundabout turn (it's very easy to see on a map) - right onto the paved road (would have taken the fireroad but it turns out it was private property and there was a guy right on the other side of the gate) - left on Paseo Montana - left on the street it dead ends into (I forgot the name) - follow that down to a dirt road and that will take you to the back side of Bear Creek.
It was that last little bit that gave me the problem. I missed the turnoff for the dirt road and, instead, wound up at the top of a steep hill looking down on my final destination. I tried to find a path but, alas, I couldn't find anything so I decided to rough it and blaze a trail down slope that couldn't have been more than .25 miles long...
BIG MISTAKE!!
Not only was the hill extremely steep but it was also composed almost entirely of sandstone (i.e. it gives out every time you put a foot down) and the undergrowth was so thick in most places that you literally couldn't see for more than 50 feet in any direction. Unfortunately, by the time I realized how bad it was, going back was not an option.
To make a long story short, I made it down that 1/4 mile in about 1 hour 40 minutes after having to literally hack through brush, climb rocks and balance on the edge of gorges...all while dragging my friggin bike along like a dead body (the bike managed to get caught on EVERYTHING!).
After revisiting the map when I got home, it turns out I missed the turnoff to go home-free by about 100 yards but it was on the other side of the hill so, unless you knew where you were going, you weren't going to see it.
Oh well, it was an adventure and one I won't soon forget and, other than having almost no skin left on my lower legs (fortunately most of the rest of me was covered) both me and the bike made it out unscathed.
:thumbsup:
P.S. The total ride was 42.8 miles with just over 7,800ft of climbing. You can check out the GPS data here:
https://www.geoladders.com/show_route.php?route=3135
Main Divide near W. Horsethief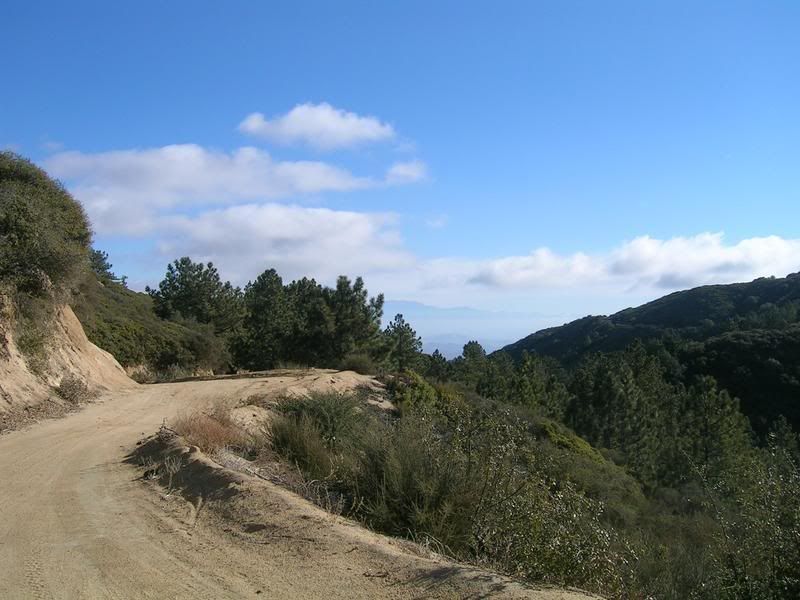 Saying goodbye as I ventured off on my own.
Elsinore from N. Main Divide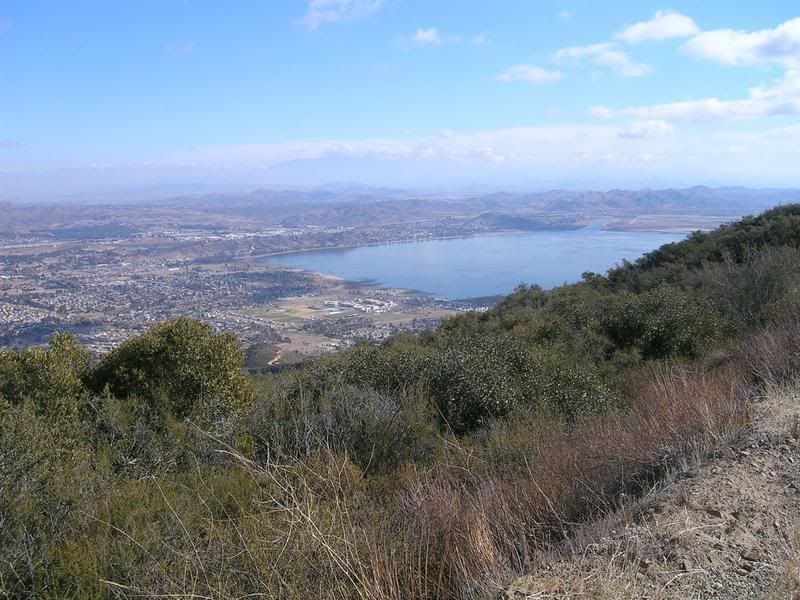 Elsinore from the other side on S. Main Divide
One of the views from Elsinore Peak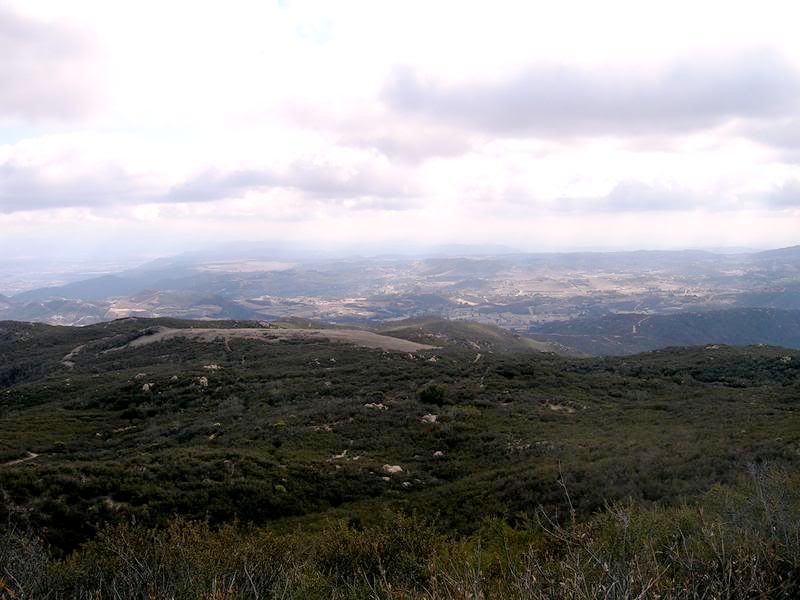 Take this trail at the top of Elsinore Peak to get a nice little singletrack session in. It was well worth the detour.
Anyone need a car?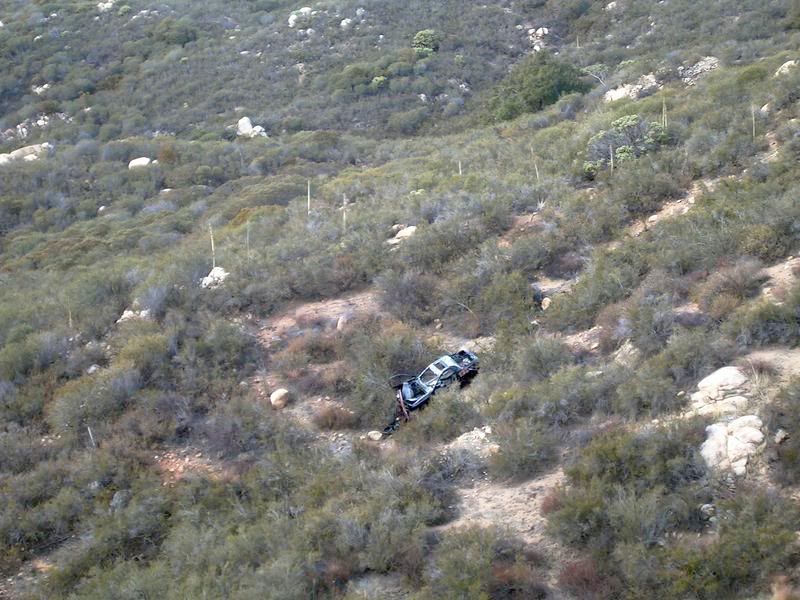 The fireroad that comes off S. Main Divide
Looks tempting but it's all private property.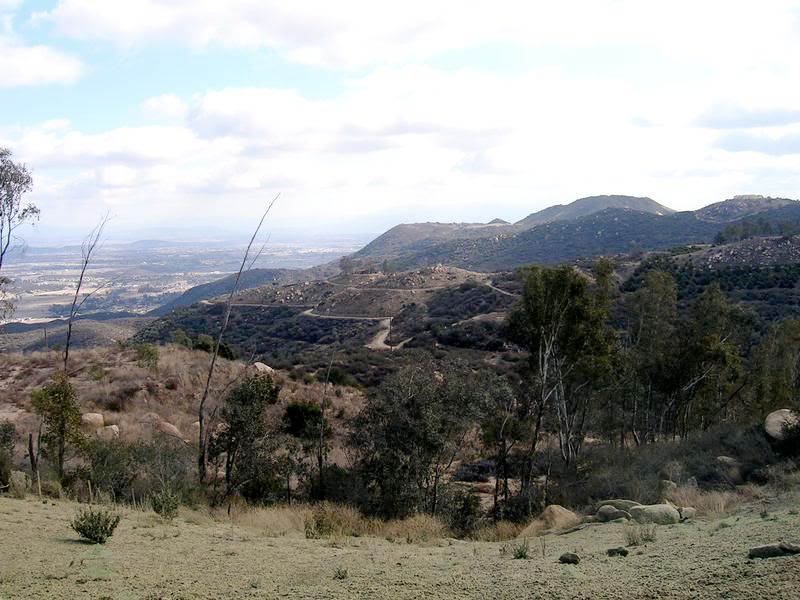 Looking back up the hill that I decided to go down. This was right about the point that I realized A) what a stupid decision this was and B) there was no going back!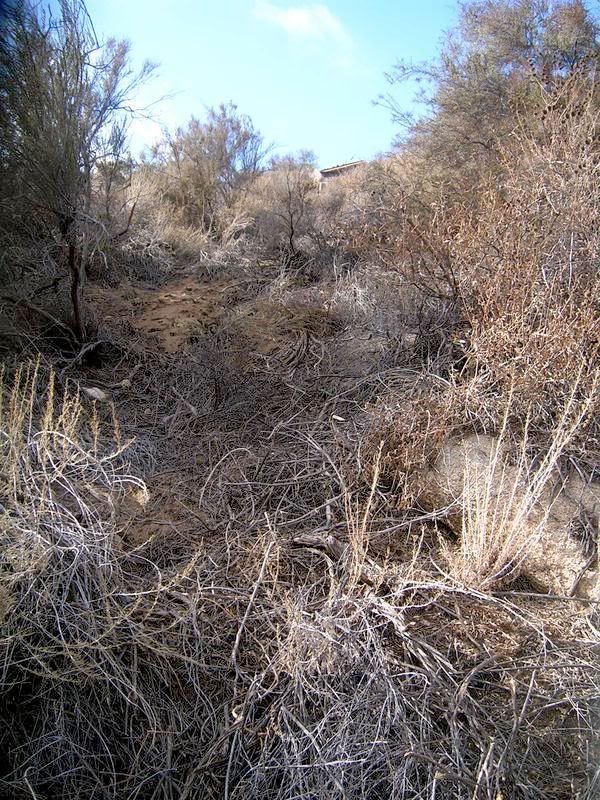 Trust me, it's MUCH worse than it looks.
Finally at the bottom (in someone's back yard), I get to look back up at what I'd moronically come down...