I dont post much on here guess you could say im a lurker. Ive been pretty fortunate and Ive never had any really serious injury, besides some broken clavicles. Well.....my card was pulled on the 20th of December. I was always hoping I wouldnt ever be one of the ones posting in this section. Although the knowledge and the postings in here give me motivation when I get down on myself and im laid up.
While out enjoying my other passion which is snowmobiling here in Alaska I had the accident. Ive walked away from nasty obstacles, odd falls, drops, jumps and stuff way larger with my snowmobile and mt bike than what I encountered that snapped my femur. Long story short I thru the sled away in the air after feeling uncomfy how the landing was gonna turn out which I have done a million times before and walked away unscaved.
Upon impacting the ground my right leg stuck in the snow all the way to thigh level, still unclear if I impacted anything under the snow. My left leg didnt go in the snow at all...resulting in a throwing forward of my body and torquing motion to the left of the knee. I knew immediately something was not right.
Immediately after coming to my senses I looked down and noticed my leg was not straight and that is was pointed at 45 degree angle towards my left leg.....I flexed my leg/quad and everything lined up and this is when the severe pain set it. Originally I thought I blew my knee out. Ran into a couple of dilema's and options immediately.
1 -- We were moderately deep in the backcountry, a good 30 minute ride to the vehicle and a fair amount of terrain/altitude to safety, paramedics would of had a hard time getting in there with a team on snowmobiles with their gear. Let alone getting me out on a mobile sled stretcher.
2-- There was no cell service, so we would of had to send someone out to where they could get service then call then wait, which I would probably go hypothermic and lose what adrenaline and motivation I did have.
3-- Man up and ride it out.
With some help of some friends we stabilized the injury with a shovel, avalanche probes and a alot of duct tape, they lifted me onto the sled and I rode it out thru some grueling pain. 3 hours after the injury I arrived at the ER.
I ended up fracturing the larger ball off the femur. Had a 3 hour surgery to install 5 screws. No ACL or PCL damage was evident which the doctor was amazed after I told him how the knee was displaced....some small ligament stretching on the tibia from the displacement. The doc said this is a pretty serious injury, but it is recoverable and will take alot of hard work and strict rehab.
Here are some xray shots pre and post and leg surgery pics. 23 staples in all, 5 screws. Any pointers for rehab would be helpful. I know there is alot of knowledge in the forum from just reading. My knee brace is in a 10-70 degree range. I have a CPM machine which I spend 6-8 hours a day in. # 1 concern with this injury is losing movement in the knee so rehad and PT was started right away
December 29th, swelling is way down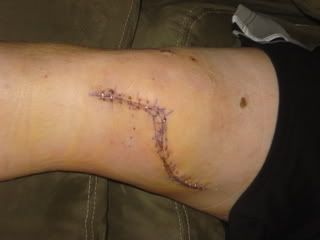 Sorry for the extra long post.