Discussion Starter
·
#1
·
Couldn't help sharing this one.
I have a spare repair stand in our team room @ work, and "JC", of of our guys who does metal fab work as a side endeavor was watching me struggle with it, and was intrigued...we got to talking about how flimsy many repair stands are when you really need to wrench down on something, etc...he asked me for some input, and I bought a Park wall-mount behemoth on eBay, and the rest is history.
Note: I do a LOT of work in my "shop" at home, and I asked him for a "bomb-proof" stand for a shop, not really to tote around to events, etc. I have a nice Park race stand for that. I actually have a picture of JC DOING CHIN-UPS from this stand! :eekster:
Here is the prototype. This one weighs in at 81 pounds and stands 65" (I'm 72")...enjoy...I sure am :drumroll:
In addition to being a beefy baseplate, he designed it to accommodate a 45lb barbell plate in case I need extra ballast (doubtful)...note the casters...brilliant touch on his part and makes cleaning my shop mucho easier...the outriggers are a nice touch too for increased stability...
Clamphead detail: I told him I wanted strength over convenience when it came to moving clamp up and down, so he drilled the holes on-center, so it only takes a minute or two to un-bolt one, loosen the other, and "flip" the clamp down...
Also, A nice rebar handle for moving the stand around on it's casters...much like moving an exercise bike around at the gym, etc.
Pic of my uber Singlespeed on it, to illustrate for scale and overall beefiness.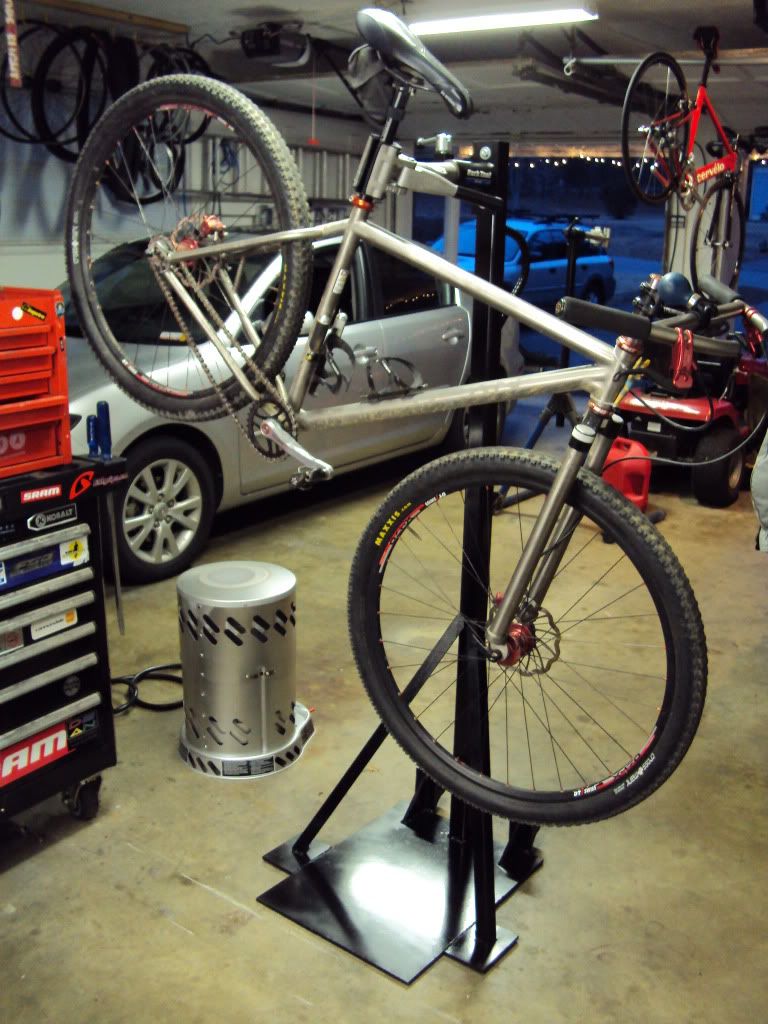 If you are anywhere in the vicinity of here (about an hour south of Raleigh, NC) and are interested in a stand, JC can custom make anything you want.