·
Its only 1" on the map!
Discussion Starter
•
#1
•
A few weeks ago I climbed MT Fuji and carried the bike along for the ride down. Here is the
orginal write up
on that. I had the helmet camera with me and got managed to get some footage that was usable, it just took me a while to get everything put together.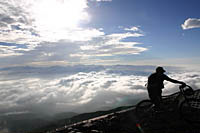 This video was shot on June27th, 2004 just before the hiking season opened. This video is a little different than most of my videos, somewhat brooding in tone.
Right Click on the image to the left to download 46MB video that runs 8 1/2 minutes. There are a few pictures in here taken on my second climb that show the views on clear days.
The weather for my second climb up Fuji this past weekend was awesome, with views that seemed to go on forever. Here are few of the panorama shots from that climb that help provide some contrast to the stuff you see in the video.

Less than a mile into the hike here are your views.

At the 7th station.

At the summit

The Daiinaiin Crater (aka the crater at the top
)