Discussion Starter
·
#1
·
I searched on here because I feel like this would be a hotly debated topic, but didn't really find any comparisons on vertical bike racks.
I have a 2004 Sprinter high roof and I currently use a Yakima 4 bike swing out hitch rack: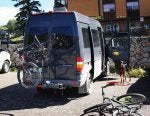 It works great with 1-3 bikes, but not that I am traveling with 4 or more bikes with at least 3-4 of them being full suspension it is a pain to load and there is a lot of contact between bikes. On my last trip I saw someone with a North Shore Rack and I really liked that idea and looked into it realizing there are a few companies that make ones like that:
Recon
Lolo
Yakima
They are all really expensive, which is going to be hard to pull the trigger on, but may be worth it.
My concerns for the sprinter as follows:
-Can the rear doors open with bikes on the rack?
-Will the top of the bikes make contact with the ladder on the rear door or windows of the rear door?
-Easy to load/unload with full suspension and DH bikes?
-It is secured from movement? Don't want a tire going through my rear window on a bump.
Hopefully someone has used these racks with a sprinter van and can provide some input.
Thanks!