Mountain biking brings with it many inherent risks and it's not uncommon to have a mechanical or to need to make minors adjustments on the trail. It's always a good idea to carry a multi-tool so you can straighten handlebars, adjust rubbing brake calipers, tighten loose water bottle bolts, and splice broken chains back together. Even if you don't know how to make all these adjustments yourself, you should still carry a multi-tool so that a more mechanically-inclined rider can assist you if the need should arise. That's why we've compiled this list of the best multi-tools for mountain bikers.
What to look for in a multi-tool for mountain biking
The best multi-tool for you will depend on your individual needs. Multi-tools run the gamut from stripped-down, lightweight tools that are great for weight-conscious riders and cross-country racers, to heavy-duty tools with features that make them useful beyond the bike, and everything in between.
At a bare minimum, your multi-tool needs to have the Allen and Torx bits required to tighten and loosen the critical fasteners on your stem, seatpost, brakes, shifters and make adjustments to limit screws on your derailleur. Generally speaking, this means your tool should have 3, 4, 5 and 6mm Allen keys, a T25 Torx, as well as Philips and flathead screwdrivers.
If you're not worried about counting each and every gram, we suggest sticking with a multi-tool that also has a chain breaker, so you can repair damaged chains.
The best multi-tools for mountain biking
There are a lot of quality multi-tools on the market, but these are the best multi-tools we've tested and would recommend to fellow riders. With all multi-tools, there's a trade-off that must be made in terms of how many functions they have in order to remain light and reasonably compact. We've broken them down by the number of tools starting with small and light and going up in functionality.
Are you more interested in bike tools that live inside your steerer tube or hide inside other parts of your bike? If so, check out our guide to the
Best Stealth Tools for Mountain Biking
.
Bontrager Elite Multi-Tool
Bontrager's Elite Multi-Tool is our pick for minimalist mountain bikers. It has all the bits needed for routine adjustments. It has a slim profile that fits easily in a pocket or hydration pack and weighs just 80 grams
Tools included:
2, 2.5, 3, 4, 5, 6 and 8mm Allen wrenches, Phillips, flat and T25 screwdrivers
Pros
Covers all basic repair and adjustment needs
Slim profile
Lightweight
Cons
The lightweight body is not ideal for high-leverage situations
No chain tool
Price: $29.99
Lezyne RAP-15 CO2 Multi-Tool
Lezyne makes a wide range of multi-tools. The RAP-15 CO2 stands out as the only multi-tool on our list that also includes a CO2 inflator. If you rely on a CO2 for quick trail-side flat fixes, having the inflator head integrated into your multi-tool will ensure you never go rummaging through your pack to find it.
Tools included:
2, 3, 4, 5, 6, 8mm Allen wrenches, Philips screwdriver, T25 and T30 Torx, chain tool, spoke tools, CO2 inflator attached to the 5mm Allen
Pros:
Basic tools plus a CO2 inflator
Compact design
Cons:
Lacks a flathead screwdriver and 10mm Allen
Chain tool is not 12-speed compatible (9-11 speed only)
Price: $29.99
Crankbrothers M19 Multi-Tool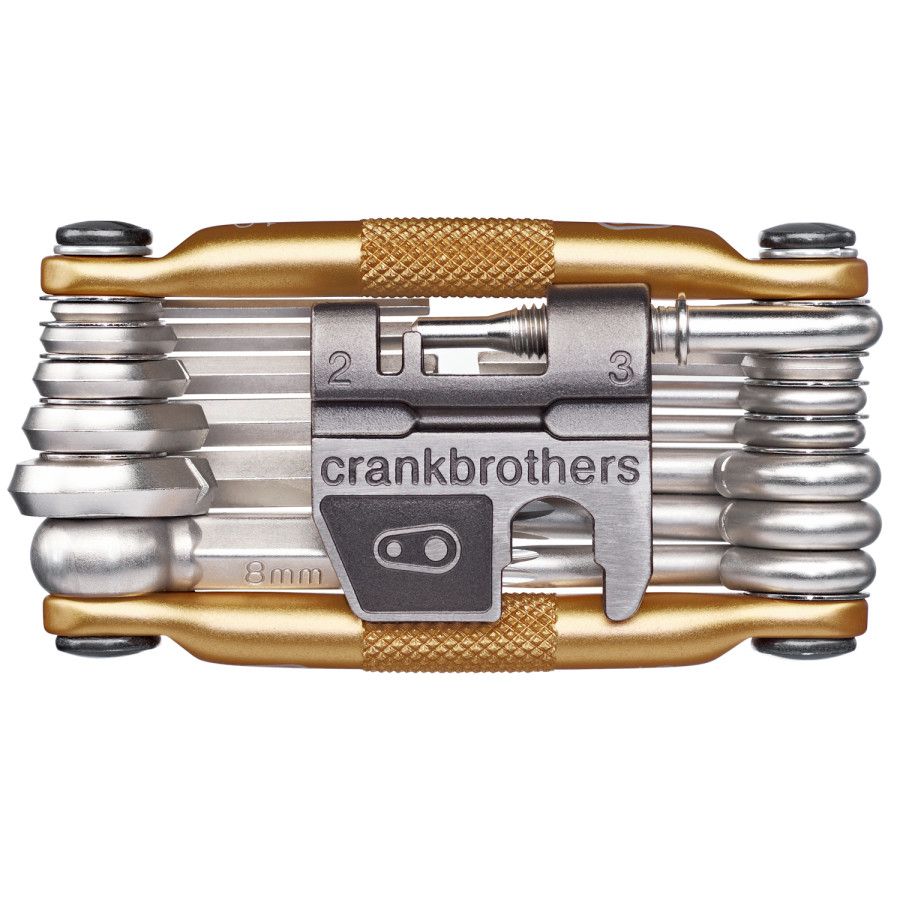 The Crankbrothers M19 is the perfect example of a mountain bike multi-tool that has everything you need and nothing you don't. It's been updated with a revised chain tool that is compatible with 11 and 12-speed chains. The knurled body makes it easy to grip with gloves on and the body is long enough to get leverage to tighten crankarm bolts and pedals.
Tools included:
2, 2.5, 3, 4, 5, 6, 8 and 10mm Allen wrenches, two Phillips and one flathead screwdriver, T25 Torx, chain tool, spoke wrenches, 8 and 10mm open-ended wrenches
Pros:
All the tools required for basic trail-side repairs in one compact design
Knurled body for grip
Washers between bits make for smooth operation
Updated chain-tool for 11 and 12-speed compatibility
Cons:
No integrated tire lever or brake pad spreader
Price: $34.99
Blackburn Tradesman Multi-Tool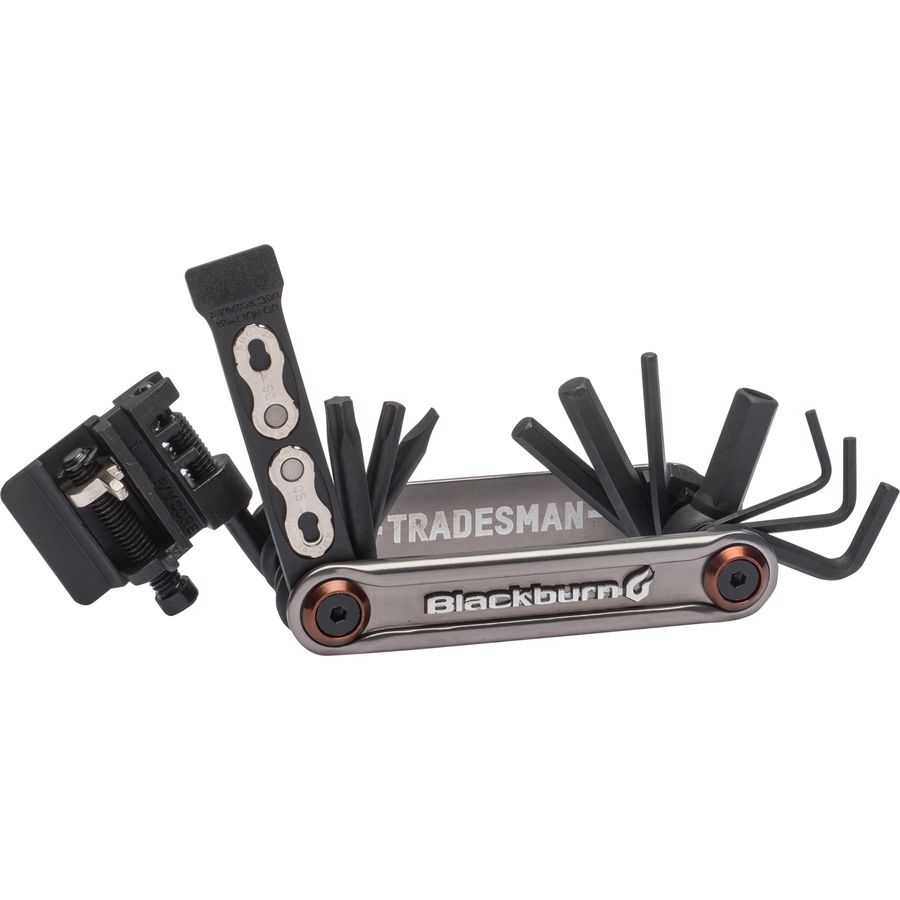 The Blackburn Tradesman is a relative newcomer, but its clever feature set makes it one of the best multi-tools. Alongside the standard Allen, Torx and screwdriver bits, the Trademan takes thing up a notch with integrated storage for a quick-link, as well quick-link pliers to remove stubborn links, and a brake pad spreader tool.
Tools included:
2, 2.5, 3, 4, 5, 6, 8mm Allen wrenches, Phillips and flathead screwdrivers, T25 Torx, chain tool, spoke wrenches, 8 and 10mm open-ended wrenches
Pros:
Covers most trail-side fixes
Quick-link storage and remover tool makes it stand out from the pack
L-wrenches fit in hard to reach places
Cons:
No 10mm Allen key for (some) crankarms
Bulky design
Price: $29.95
Fix Manufacturing Hans Rey Signature Edition Wheelie Wrench
Fix Manufacturing makes a range of clever everyday carry tools for action sports. The Hans Rey edition of the company's Wheel Wrench builds on it's already expansive functionality with the addition of a Dyna Plug flat repair tool. A small carry pouch holds three plugs and an insertion tube threads directly into the chain breaker (don't ride with it mounted this way). When used, the tool acts as an ergonomic handle for proper plug insertion to seal small tears and punctures in tubeless tires.
Tools included:
2, 2.5, 3, 4, 5, 6, and 8mm Allen, Phillips and flathead screwdrivers, T25 Torx, 8mm and 10mm open-ended wrenches, rotor straightener, Presta valve core remover, spoke wrenches, chain tool, integrated Dyna Plug flat repair system
Pros:
Wide range of tools in a compact design
Standard tools plus a rotor straightener and Presta valve tool
Dyna Plug attachment quickly fixes flats
Cons:
Chain tool is not 12-speed compatible (10 and 11-speed only)
Steep price tag
Price: $79.99
Mtbr is committed to finding, researching, and recommending the best products. We earn commissions from purchases you make using the retail links in our product reviews. Learn more about how this works.