a lil' observation of different berm styles, plus jumps can act as turns too (in bmx and skateboarding an off-set landing is called a "hip"), and curved wallrides are basically berms too...
First note that in a berm, the riding line is not always the same. You can have berms where you enter low, then go high in the apex, then exit low. Or you can have berms which are the reverse--where you enter high, go low in the apex, then exit high again. One of the reasons that pump track builders say to put a roller at the entrance and exit of a berm is not just for speed--it's also to basically push the rider down into the low part of the berm then exit upwards. For example, in this video, where the rider is going through the "M" section, notice how he drops down into the berm, gets sideways, whips around, then comes back up. I would call that a high-low-high 180.
Pump Track "M" berm
www.youtube.com/watch?v=JhM022wo0PA
Here's a low --> high --> low. (Pay attention to the packed riding line!)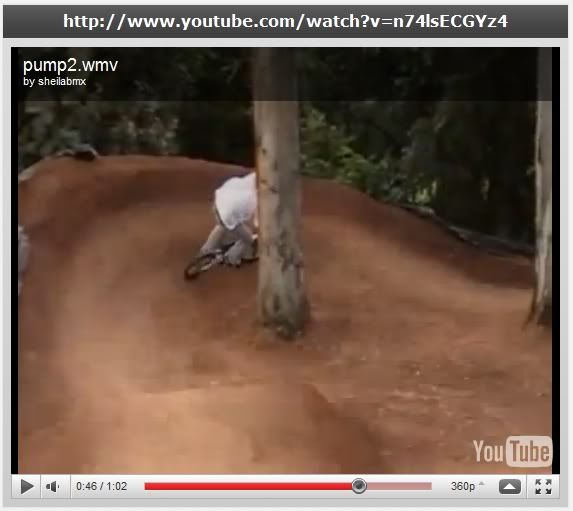 different style of low --> high --> low. (Note the shape of the packed riding line--the groove as it's called in bmx trails).
cool ribbon/wave style....
Note that when you build a berm that is looks like a skatepark bowl, the rider gets to pick their line. They can go high-low-high or low-high-low, whichever.
So, like this skater... is at the high position (at 6 o'clock in this view of the bowl). He could have skated it differently coming down from a high carve at 3 o'clock, then low, then exiting high again at 9 o'clock.) The same can be true of dirt berms on a lesser scale.
Jumping into a berm can be done different ways. The landing can blend directly into the berm, or than can be space before you get to the berm...
landing down "into" berm . . . riding line is low... thus the berm does not need to be tall.
landing, then some space, then berm. you can go high in the apex.
good example of entering high, going low around the apex, then exiting high
chiller version of this:
rad combo of the landing blending into a wave-ish berm with blended waterfall out....
g-force!!
super-tight 180 (leelikesbikes.com)
classic curve wallride berm.
tilted launch to tilted landing
no separate landing at all. jumping directly to berm wall.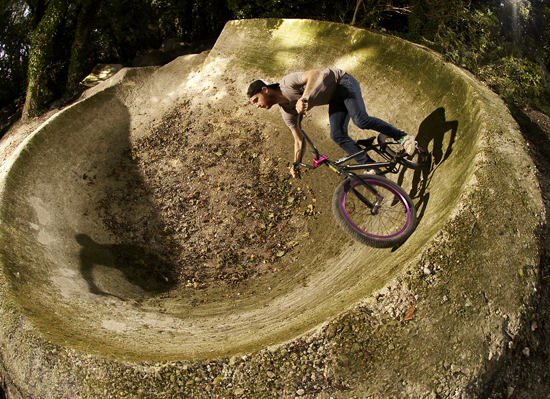 short & steep
steep wall 180
massive speed berm:
bermed launch to straight landing
another launch-berm to straight landing (at cattywoods)
the opposite: straight launch to berm landing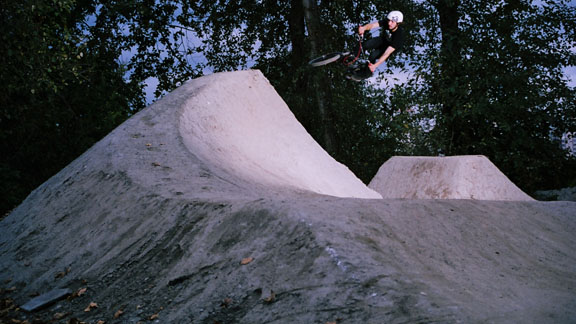 launch up to 180 wallride (at Ray's indoor mtb park)
tilted (not vertical) wallride
another way to do 180 degrees. dirt berm with slanted curve wall - (Winter Park, CO)
if you need to turn around 180, a quarter pipe to vert wall (or just a way over-vert quarter) will generate a lot more speed than a 180 berm will. because you air up... you can leave a vert wall going faster than when you came into it. (Highland MTB Park)
a lot of these photos are from the
What Is Trails?
thread on ridemonkey:
help with jump line into berm
"
https://www.ridemonkey.com/forums/showthread.php?t=241208