Part 2
After marking one of the identical tents put up by race staff with my dog tag (again very military camp like, except for the blue fabric) I proceeded to the massage table and started my recovery for another day of punishment.
Daily pain reduction.
We finished 4th in the Veteran (80 years + combined age) category and 14th overall. Most Shore riders had suffered on the road, with the exception of Andreas Hestler and Kevin Calhoun of Rocky Mtn Bicycles (2nd overall), Cynthia Young and Michelle Newton of Shore Girls Don't Cry (1st in women's division), and Andrew Handford with Alberta partner Pat Doyle of Different Bikes (2nd in vet on single speeds of all things).
Day 2
We had a slow start on the 118 km to Port Alberni, being "neutralized" by a police car that kept us in a tight pack until we were beyond the developed area of Lake Cowichan. A helicopter buzzed overhead Tour de France style, and we received cheers of encouragement and salutes with cans of Lucky from a men's softball game. Once the police escort pulled over the race was on. The hills were small enough that only the pros and the few remaining fresh legged amateurs pulled ahead of the main pack.
Neutralized start on Day 2.
Luckily Mike and I had planned to blow through the first feed zone, as it turned out to be chaos with nearly everyone trying to refill at the same time. We then ended up in a pack with the leading vets (such as Different Bikes), but with the short punchy climbs and the residual effects of the day before, I began to fade.
Other troubles were happening in the pack, teams with "irreconcilable differences" (speed) were "divorcing" and choosing to go at their own separate paces. Jeff Cote (infamous as the former partner of Iceland Harry, after much media attention of their team break up during a past Trans Rockies) rode briefly with us minus his new Vancouver partner. Luckily Mike was patient enough to slow so I could catch up before the main climb of the day. Mike then went 2 minutes ahead to the feed zone and replenished our bottles so I only had to stop for a second. I then focused on breathing and being efficient as possible up the long steep climb. I began to come into my own with the many water bars near the top, unlike many others, I punch it down into the trough to gain momentum to nearly coast up and out the far side (finesse rather than fitness).
Finally on the rough rocky double-track downhill, I could be the faster part of the team. Many are tempted to extract revenge on the partner that has been setting an unremitting pace once the tables are turned, but I was as patient with Mike as he was with me on the previous road sections. If you did not frequently slow to look back it would be very easy to get ½ hour or more ahead, if your partner ran into trouble (also you would have to turn around and go a long way UPHILL to help them). The final part of the downhill did not turn out to be easy, the gentle grade and frequent little climbs meant we had to keep pedaling. We caught sight of the 3rd vet team (Coloradoans David Overstreet and Mark Thompson of Spike Shooter), but I was too fatigued to sprint for the finish. We finished 4th vet team again, moved up to 12th overall in General Classification (total time aka GC), but were disappointingly so close to the podium. That evening we had a "race meeting", poured over the coarse profile and plotted a means to the podium.
Day 3
The race organizers did not want individuals, who had lost or split from their partner, riding solo, so Cote started with us on the 82 km ride to Cumberland, which would later work to our advantage. After the neutralized start the pack bottlenecked at a narrow entrance to another deactivated rail bed. Once through the gap everyone sprinted to gain an advantage. I was struggling, so Mike and Cote dropped back to pace me up to a strong group that included the 2nd and 3rd vet teams. I hid from the wind and tried to ride at a steady state, while Mike and Cote were playing games with the front of the pack to try to break up the pace.
Like the day before we had planned to skip Feed Zone #1, although I deeked in giving all intentions of stopping to throw off our competitors, then hit the gas and hammered up the road. This move resulted in a gap of ~200 m over the 3rd vet team (Spike Shooter) and the others didn't follow. By the base of the main climb (800 m vertical over 5km aka Hike a Bike) one of the Spike Shooters was with us, but he waited for his partner and Mike cracked the figurative whip to get a gap (out of sight, out of mind). Years of biking up North Shore trails (instead of the usual down) suddenly became useful, we soon caught and passed the 1st vet team (Randy Richmond and Sandy Mitchell of Gerick Cycles, Nelson). However, towards the top I began to weaken and had to portage my bike more and more, and on the rolling logging road at the summit, Gerick caught and passed us.
Jason First of La Ruta/Sho-Air (3rd overall) near the top of the hike a bike.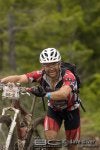 Mike Charuk
"Single track mud tastes better than logging road mud".
Part 3 continued at
http://forums.mtbr.com/showthread.php?p=3326844#post3326844