Discussion Starter
·
#1
·
After this weekend and noticing that my big ring is already badly damaged after less than a half dozen rides on the new bike I've been encourage to get a bash guard.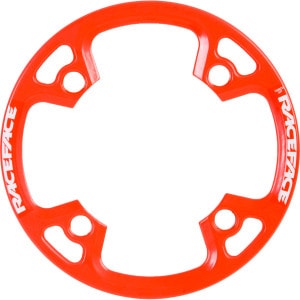 This popped up on Chainlove a while ago for $15. I've got a Pitch with a 22/32/44 setup and I only had about 20 seconds to make a purchase so I got the red one in 34t size. It's made of aluminum but I think some of the trend is towards the plastic versions.
Is this 34t gonna work or should I look for something else? Is the "Bolt Circle Diameter" of 104mm the proper size/dimension for my Pitch? I would assume that most nuts & bolts are somewhat standardized but in my 40-some-odd-years I've learned to never take something so simple for granted.
Ted at DNA Cycles said the only think I'd need for installing a bash guard (besides the guard) would be longer bolts since this guard is thicker than the cog is. Would those bolts come with this guard?
Thanks,