Discussion Starter
·
#1
·
Well, I haven't been doing any proper mountain bike trail riding in about 9 years. The last trail I rode on was Quiet Waters Park in FL. A nice trail but no real descents and climbs. I used to ride two 5 mile loops without much technical difficulties and that was riding on the intermediate skill level there. I should also add that I am now 59 y.o. My bike is a 14 y.o. Cannondale SuperV700SX in great condition because its a low mileage bike. I've even had some compliments on the bike too.
I was 45 y.o. when I bought it and had never been on a mountain bike and hadn't been bike riding in quite some time. I did have am early 80's Panasonic road bike at the time.
So I recently moved in with my girlfriend and learned about a nearby trail called Big Creek in Roswell, GA. So I checked it out at the Trail section here. Found maps of it too and read the reviews. So I got the bug to ride again. I wanted to do it for exercise, the original reason I bought the bike and I hate gyms. (I've met other riders that feel same way).
So today was my third time at Big Creek. It has a nice beginner section with two intermediate sections and an advanced section. Well my first time out I did two beginner loops about 1.5 miles each. I sure was exhausted. Plus I was a bit nervous about being on an unfamiliar trail. But I liked the trail. The beginner seemed more like Intermediate compared to Quiet Waters too. plus this trail is twists and curves and descents and climbs, not steep but good enough for me. Plenty of riders like the trails too. So my second time out was just last Friday and I did one loop of beginner and the second was beginner and one intermediate section. Today I did the beginner and one intermediate section twice. My second loop was just the beginner loop. So today I did my most mileage which was about 5.6 miles. I do take a few rest stops when I ride the trails. But I do feel my stamina getting better. Because now that I'm home and showered up and relaxing, I don't feel as exhausted as I did on the two previous rides.
Plus I've been spending some money on the bike, new helmet, ergo hand grips, new wireless cyclocomputer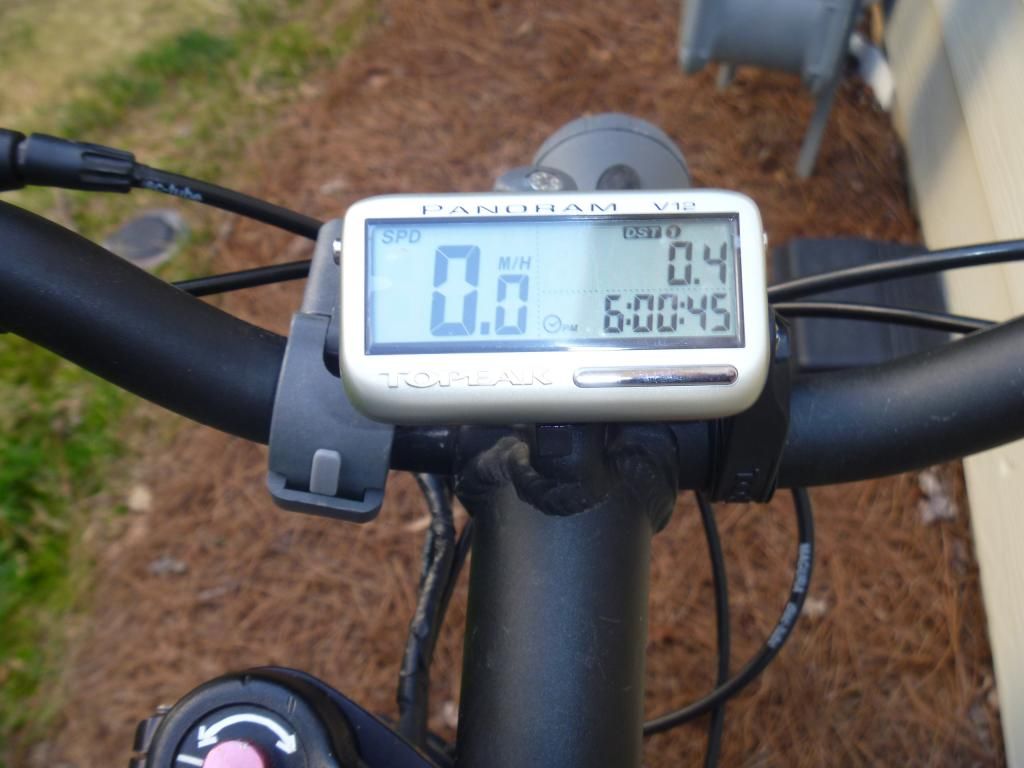 ,
new bike stand and a new Serfas True 1000+ lumen light for eventual night riding too.
And I get it to the trail on a 20 y.o. Rhode Gear bike carrier: