Discussion Starter
·
#1
·
Working on an idea for the rear end on my FSR. If anyone out there has an '01-'06 Big Hit, I need a favor. I need some measurements off of the rear suspension linkage.
Here's a pic of what I need measurements of (Yes, I realize that this pic is not of a stock Big Hit link):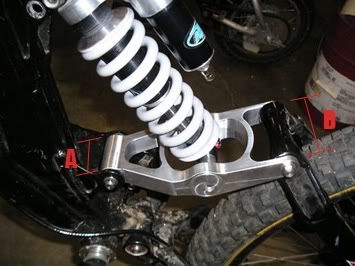 Measurement A - width of front pivot of linkage (in between the frame mounting tabs)
Measurement B - width of inner part of rear pivot (where it meets the seat stay)
Any help anyone can give would be greatly appreciated. Thanks in advance!
Alvin Caragay
Hermosa Beach, CA