Discussion Starter
·
#1
·
Anyone have any experience with Hollywood TRS rack?
https://hollywoodracks.com/products/trs?variant=52121504326
Looking for a 2 bike rack that fits 1.25 hitch.
My GF had a Thule type with plastic wheel holders and lost her bike.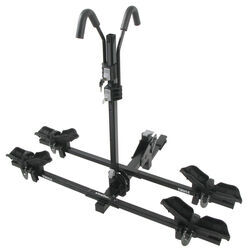 Well the rack sits on the back of her car all day every day and in the heat. It was 110F Friday and she lost her bike on the hwy. Then almost lost her back up bike on Saturday. I think the plastic wheel holders have gone bad in the sun and heat as they just twisted. I just don't trust these plastic wheel holders in the heat of Phoenix.
So looking for something with more metal. This uses trays very similar to my Rocky Mount roof rack and this secure. It might be heavy, but for her once she puts the rack on it won't come off.
I know 1 up works well too and it all metal, but those are really expensive.