Discussion Starter
·
#1
·
Another day of big fun, big adventure, and big gnarl, with my good buddy Dwayner. This week's adventure had just over half the elevation gain of the Sun Top ride, yet it seemed more challenging. Perhaps because climbing narrow single track carved into the side of a cliff requires a constant struggle with balance, perhaps because Thursday night's ten-hill workout with Fairweather had us climbing Heartbreak Hill at the local cyclo-cross course (this hill was advertised to be unclimbable by a local bike shop owner)...and I never recovered. For whatever the reason, pedaling up Ranger Creek trail 1197 was a butt-kicker, and Dwayner's review after running that stretch echos my comments.
From FSR 73, the "trail head" is across HWY 410, where a scruffy, weed-choked path traverses up a roadcut. The first three miles gain elevation slowly as the trail gently climbs through shady forest. At about 4 miles, near Little Ranger Peak, the grade increases, the trail narrows and the obstacles become more frequent.
From the shelter at about five miles, we joined trail 1198, the Palisades Trail. One year ago, I rode this trail with Fairweather where misty weather interfered with the breath-taking panoramas available at multiple viewpoints along this cliff-top trail. Yesterday in cool, breezy sunshine, views of Rainier and the White River were unobstructed. The Ranger Creek Airstrip, visible in one of the photos below, was the site of a minor airplane crash which was observed and photographed in a TR on mtbr.com. Here's a link to the report:
Ranger Strip Plane Crash
Trail 1198 loses most of its elevation just above Camp Shepherd, down steep wooden steps and rocky trail parallel to a waterfall where at least a couple of ice climbing accidents have occurred.
Back on the Hwy, Dwayner ran an extra half mile to make his effort equivalent to a half marathon....but with over 2900 feet of big fun, big adventure, and big gnarl.
Now some pix: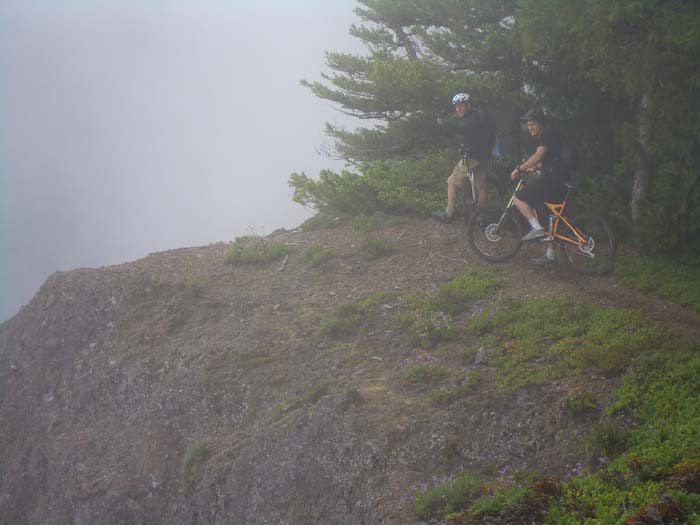 Palisades Trail, shrouded in mystery on previous trip.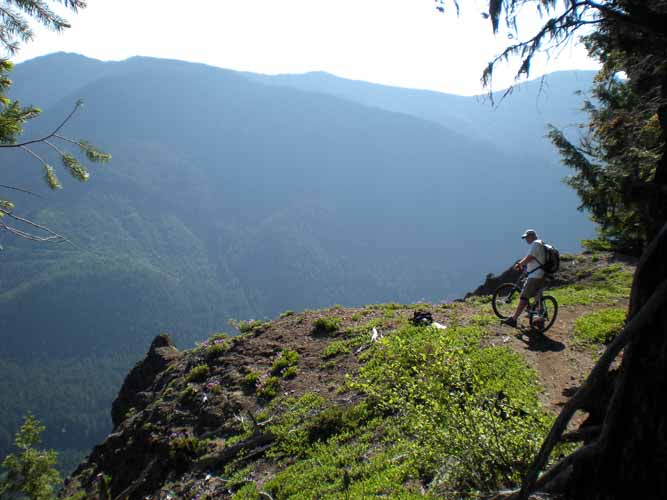 Similar view point under better conditions.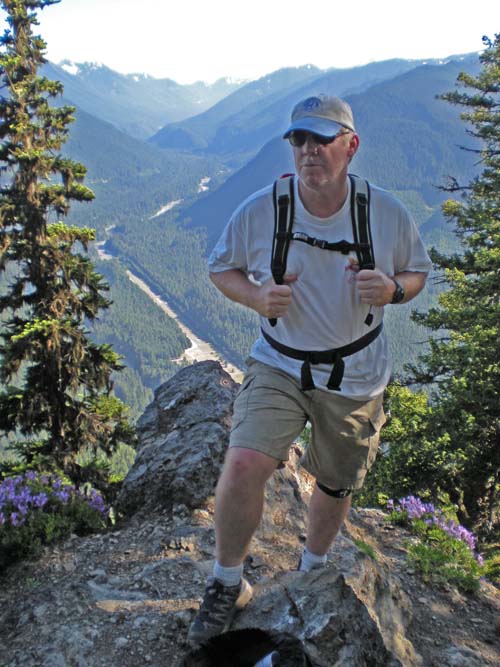 Dwayner and the Ranger Air Strip (roughly our startint point).
Short little movie with narration by Frank Sinatra: