Back in November I talked to Paul Sadoff at Rock Lobster about a custom aluminum 29er singlespeed with sliders. A patient wait over the winter, fun with the build process, and here she is:
This is a burly Easton 7005 frame, the beefiest down tube Paul could find, rectangular-section stays, solid aluminum seat/chainstay yokes, and aluminum sliders. The sliders and yokes are made by Mike Ahrens. Here's how they look up closer:
A nice weld shot, and Paul's sig...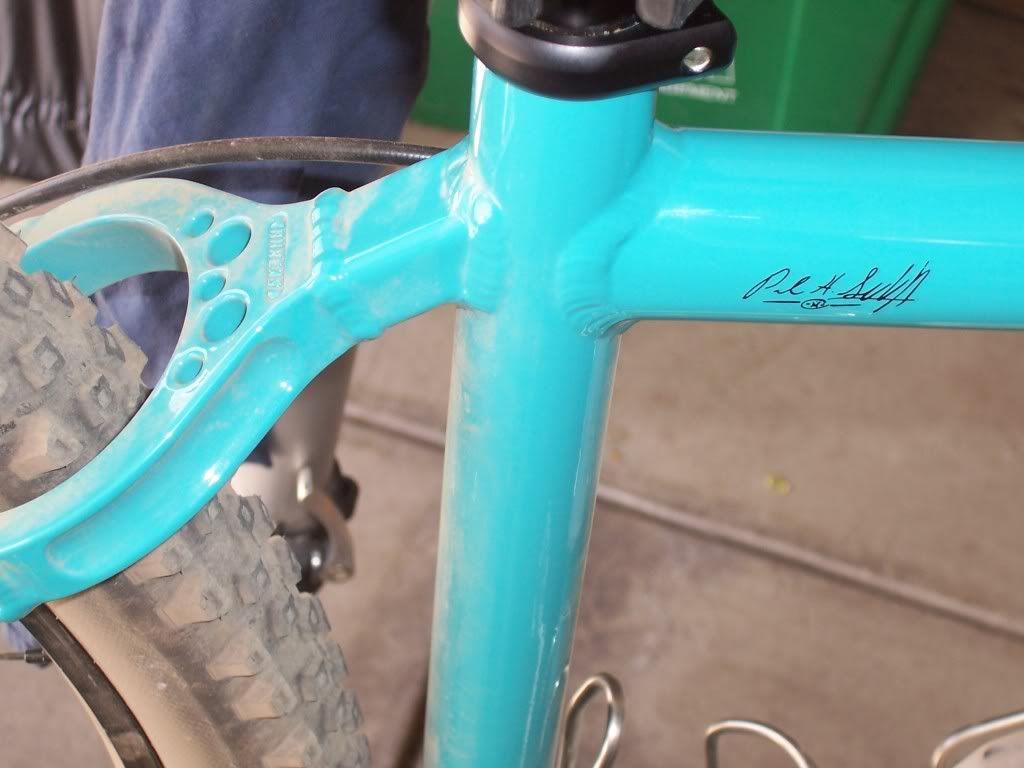 Gobs of clearance, not tried it yet but based on the measurement a Ralph 2.4 on a Gordo will fit in here with plenty of room...that's a tiny little Hutch Toro in there now: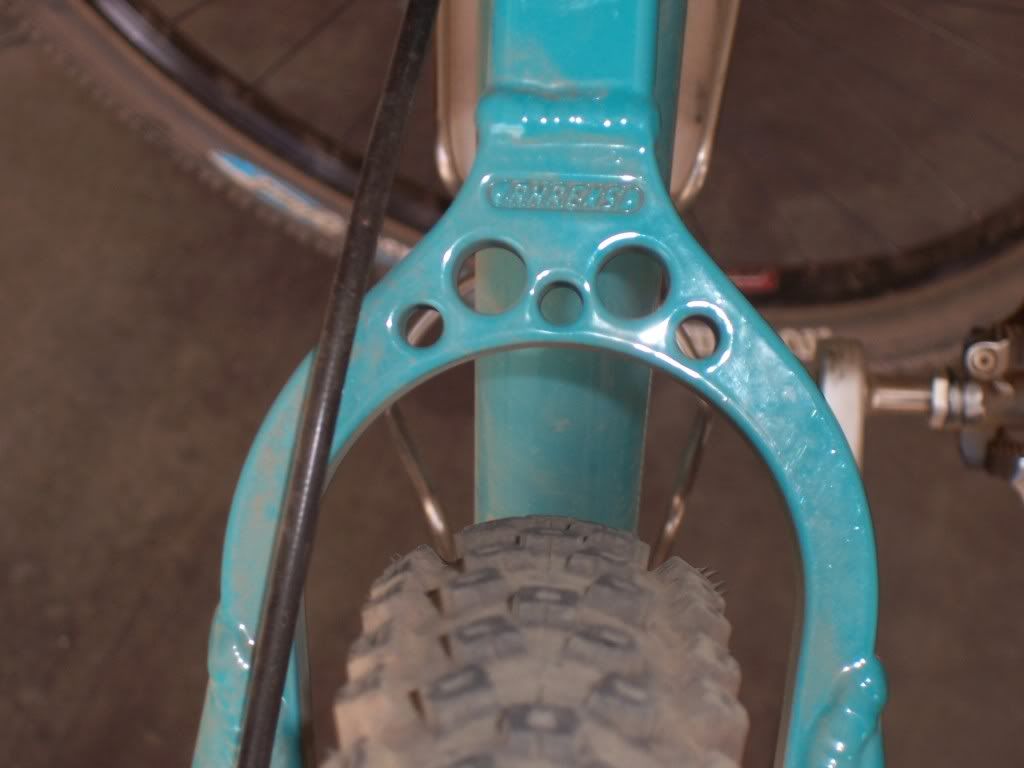 Geometry custom to spec plus Paul's suggestions, a 71 head / 73 seat angle and a fairly short seat tube to provide some standover clearance (I'm short-legged for my height). The sliders provide effective chainstay lengths of roughly 17.2" - 18" depending on gear and tire choice, based on a 65mm BB drop. This provides adjustment about as short as you can practically go on a 29er without doing a bent seat tube or some other approach to keep the rear tire from buzzing the seat tube, and works well for me in my frame size and the 71 head angle. Fork axle-to-crown based on an expected ride height of 480mm on the 100mm Fox Fork.
The ride? Well...I am going to have to learn to mountain bike again for the 4th time...it is a lot better bike than I am a rider. I think the lobster is secretly laughing at me when I am tired on climbs or balk at an obstacle: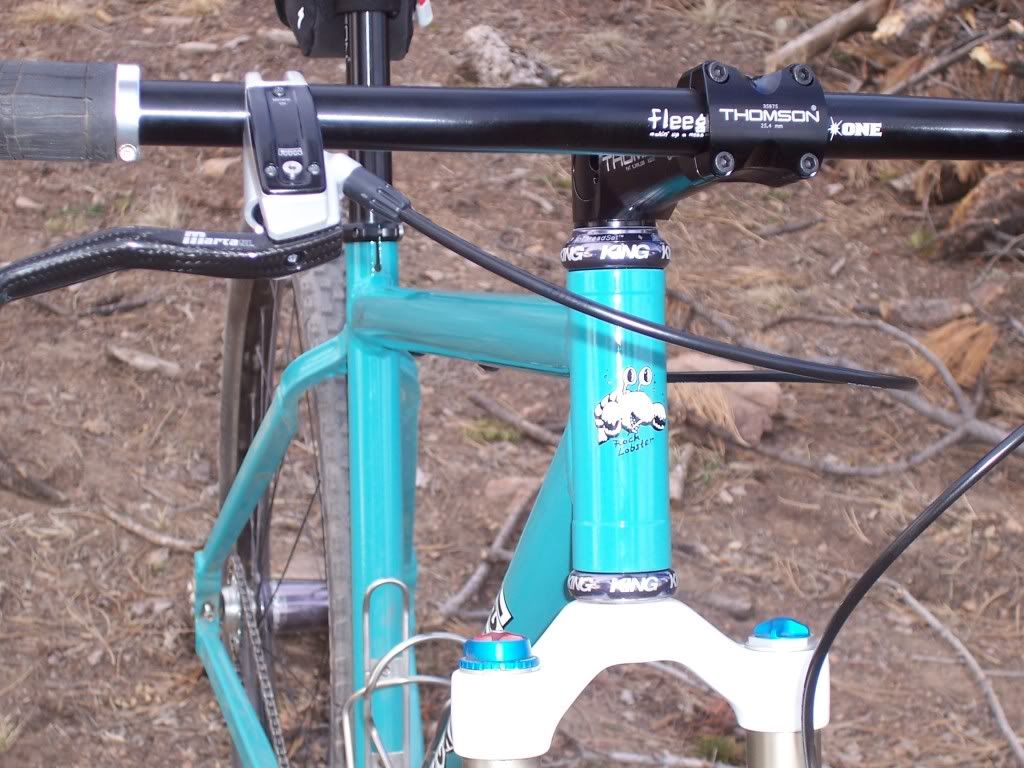 This bike laughs at uphills...it is all up to your legs/lungs, what ya waiting for??
And fast rocky descents that might have had me concerned on one of my steel rigid bikes? Again...the lobster chuckles to itself and shakes its head, no issue, bring it on...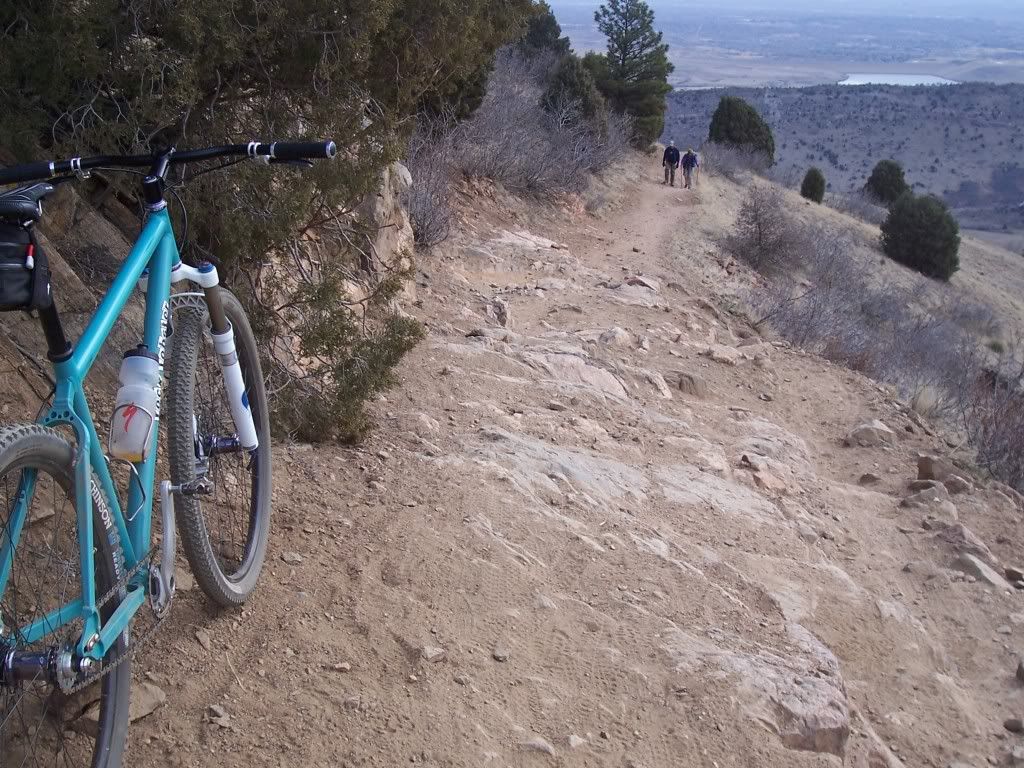 All I can say is it is going to be a really fun spring and summer. This bike is fast, comfortable, and confidence inspiring. It feels very balanced and stable on descents, and I have no trouble lofting the front wheel and sus fork on climbs. Only a couple rides in so far, but I am very, very pleased. The frame builder's art is alive and well in Santa Cruz, CA.
The build, all the stuff I had laying around my garage...
Well, OK, it was in my garage but that is 'cuz I sold off my old "best" frame and this is the new one...um...REAL good decision.
09 Fox 29er fork, 100mm
XT Crank Arms (getting an Enduro BB, XTR cups for now)
Surly 33 ring, Surly 20 cog, SRAM 991 chain
09 Marta SL brakes
Thomson Stem, Post
Fleegle bars - sadly, Fleegle can't see out of my new stem :-(
Shimano XTR pedals
King headset
King SS and ISO disc hubs
Stans 355 rims, Sapim spokes (Speeddream wheelset)
Specialized Alias Saddle, some Lock-on Grips
Silly Little French Tubeless Tires
Yep, those are King Cages and they're Stainless Steel
Yeah, I may try the Captain Control's on it here in a bit, but I am primarily an XC guy and the Hutches are fast, and had that nice blue logo for pictures.
This bike just begs to be ridden long and hard over anything you care to try.
Another season is upon us...Let's Ride!