So the story goes, back in the mid-late 90's when I was just a young guy I rode Cannondales with my uncle, typically borrowing one of his. He rode a pretty slick red and yellow super vee 1000 (iirc, been too long!), I don't even remember what I was riding, maybe a 500 with a headshock, if that even makes sense. Anyways, eventually it was time to get my own bike, and luckily for me a local shop was going out of business and they had a blue carbon '99 Super V-Raven 700 with a super fatty D 80mm fork. Love at first site of course, and the price was right, I fronted my pennies and off I went. I rode that thing all through high school almost every weekend if not everyday. Off to the local single track trails and to the ski areas to ride.
So 12 years later, it's still here with me in pretty good, alas, original condition. The idea of upgrading have been lingering for a while, some of the original gear staring to beg for mercy. I decided that I loved the bike way too much to just buy another one as it's just too much of a comfortable bike to ride so doing some upgrading it is. Decided to upgrade the 80mm travel headshock as it needed service anyways so I found a used 100mm lefty on ebay and sent it off to mendoncycles for a rebuild. Thanks! With that also requires a lefty set of wheels (oh well
), and while I'm at it why not do a 1x9 to save some weight? The last time I stripped the bike down for a full cleaning it was around 25.5 lbs which is in stock trim. I'm not a weight weenie but it would be good to see the difference.
So here's the rest of the build specs. Still a few things to come up with but still have a few months before the trails will be ready to go.
build upgrade specs:
Frame:
'99 carbon super V 700 m frame w/ alum swing arm
using OG rear fox shock damper adjustment no lockout though.
Lefty fork- 100mm titanium, has lock out and damper adjustment.
Lefty stock take off wheel set with shimano rear hub
Carbon seat post (actually put that on last year), need a new saddle
using original bars, bar ends, grips and stem
Juicy 3, 160mm hydro brakes
Drivetrain
Rear- Sram PG-980 9 Speed Cassette 11-34
Front- Blackspire Mono Veloce Single Speed Chainring 4 arm 104mm/Compact 32T
FSA clear poly bashguard
Sram XO 1x9 shifter and matching short throw rear derailleur.
Sram PC-951 Chain w/ Powerlink Gold
Shimano xtr M970 crank set
Shimano PD-M540 pedals
Parts left to get:
tires/tubes
cables
other stuff i'm forgetting
back into shape
Sorry about the low quality pictures, will get some legit ones once the front end starts coming together.
Stripping it down, still dirty from last year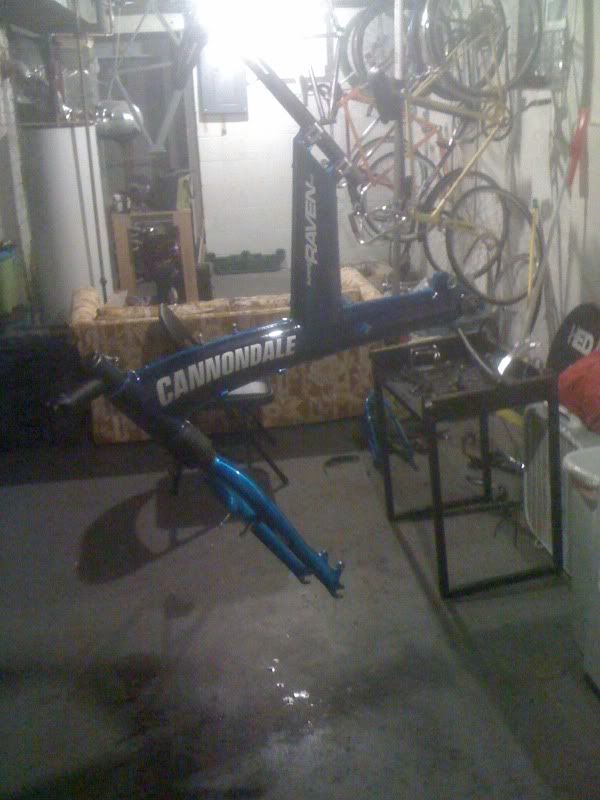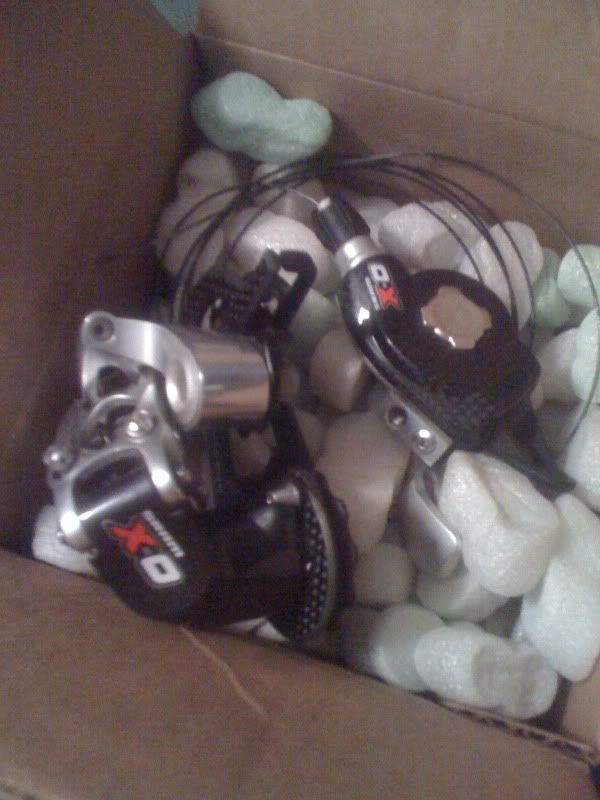 Will keep this updated as it progresses.
cheers!