Discussion Starter
·
#1
·
A couple of riding friends from MA are on a mission to visit as many New England riding spots as they can this summer. When the CT trip came around I offered to show them one of my favorite places. Just for grins I posted it up on the CT board here at MTBR in case there was anyone else out there in MTBR land who wanted a tour.
RedMosquito posted up that he was christening his new sled ('08 Heckler - nice ride BTW) at 7:00 if I wanted to do a pre-ride. I left it up to the sleep godz, which means I was there bright and early (if there's one thing I stink at its sleeping!). Even at 6:45 it the heat was building and the humidity was maxed out.
We got riding before 7:00, and hit some of the major stuff. I gotta say that first climb had me questioning the logic of doing a "pre-ride" but after a few miles I loosened up. I broke off from the RedMosquito ride just in time to meet Strangeland2 and Woodsguy back at the parking spot around 9:00. I was fully "warmed up" at this point (read "soaked in sweat").
As they prepared for the ride PMD of Bikerag fame showed up to ride with us. The four of us headed out and did what I consider the "normal" loop - it was freaking hot and humid. I rode for 4.75 hours overall (ignore the 5.5 hours in the title DOH!), drank all of my bladder, a huge glass of water, a large coffee and a Naglene bottle of water and never peed once. Finished off with some good chills - the AC in the car never felt so good.
We caught a few pics:
There's this roller, I've looked at it many times - Strangeland2 and Woodsguy hit it amazingly well (bastages):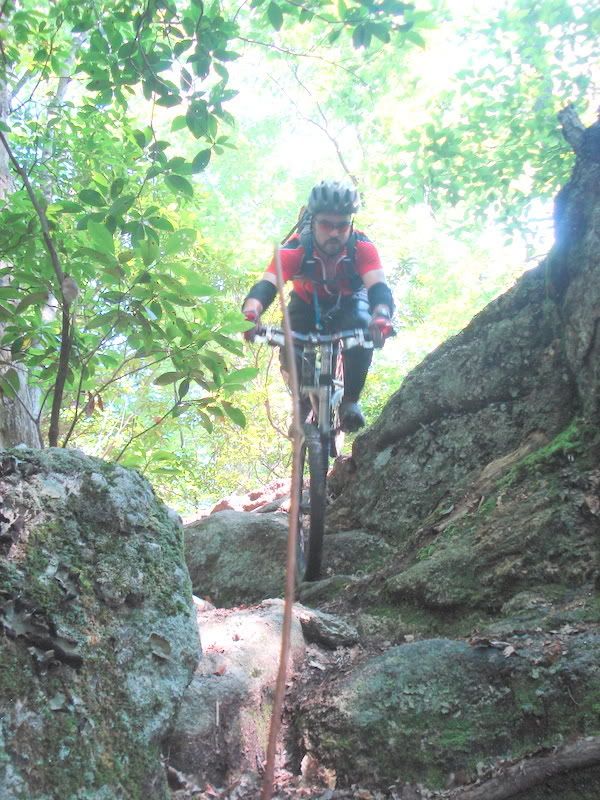 A launch in the woods (the pics of Strangeland2 and Woodsguy didn't come out in my camera):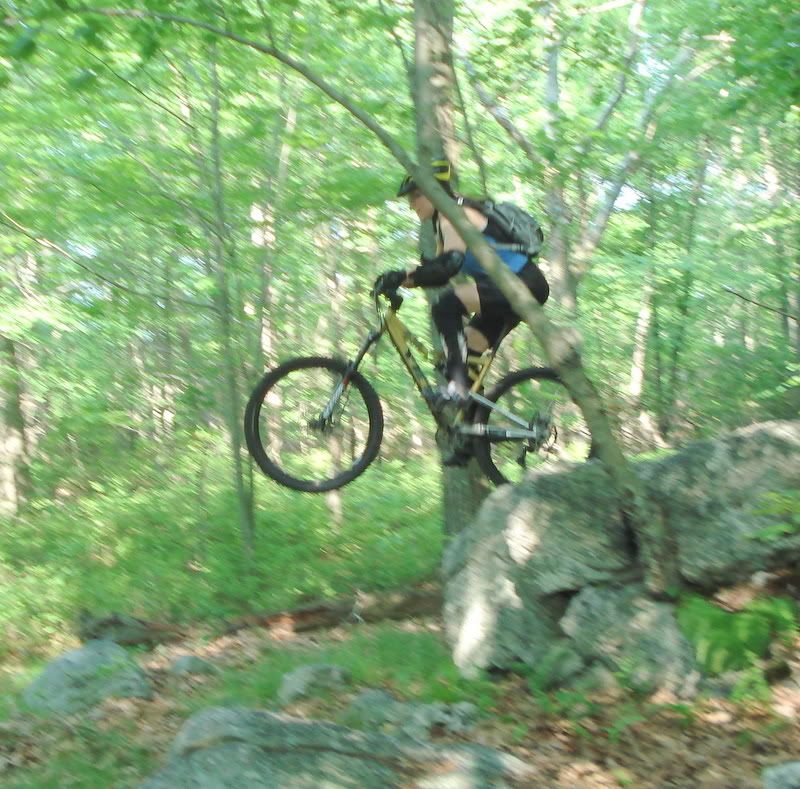 Roller (I _think_ this feature is known as Sunset Rock, but I'm not sure):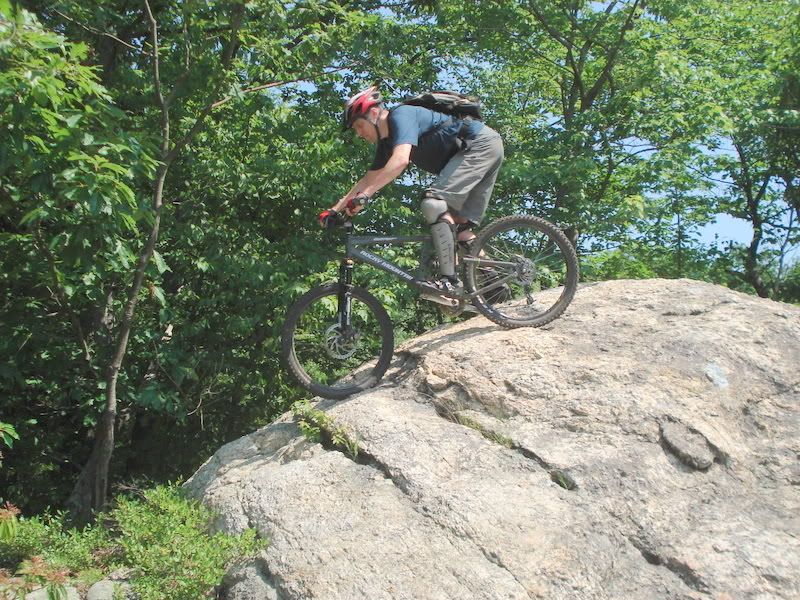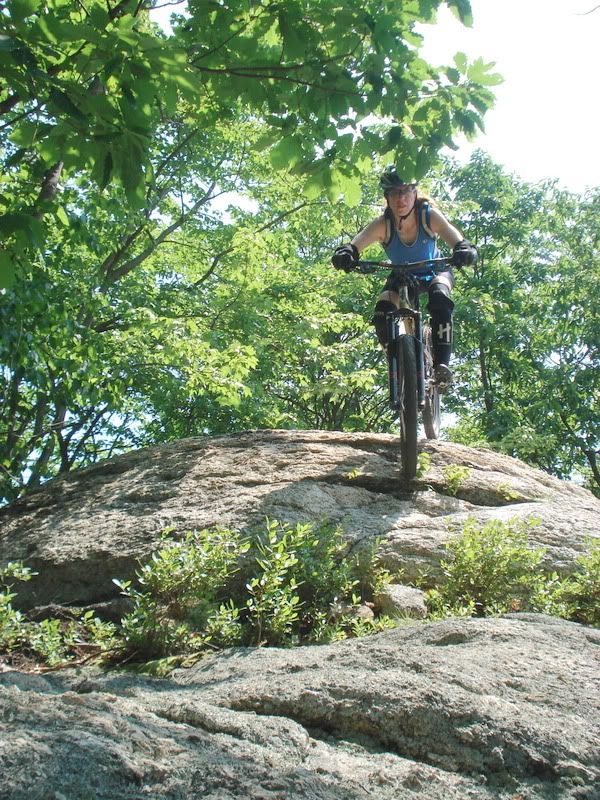 Messing around on the rock: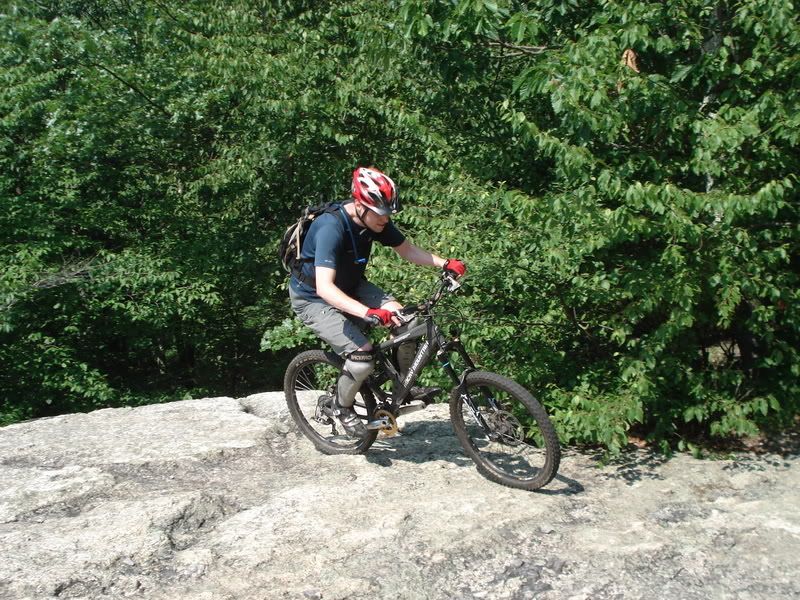 Strangeland2 couldn't resist hitting the roller by the cars: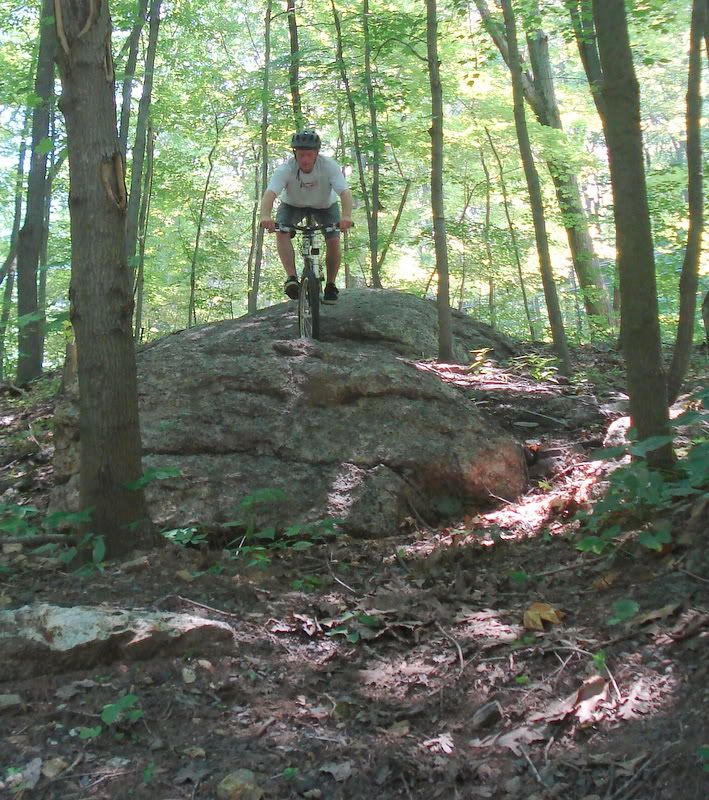 All in all a great ride, we had a blast, even if we had to bag out on the last couple of miles, it was just too hot and humid. Nothing says "stop" like an empty Camelbak bladder on a hot and humid day.
I stopped at the convenience store nearby and bought a large iced green tea (that stuff is great for hydrating after a ride) and a chocolate milk (supposed to be the BEST recovery drink bar none). By the time I got home I was feeling pretty damn good.
John