Okay, so I've had some time under the saddle on this bike…and I think I'm qualified to review it.
Short review? Amazing. Long review? See below.
Order Process/Parts spec:
I did the standard GX build, with the ENVE upgrade and the Fox Factory upgrade. The parts are great…the XT stoppers work fantastically without the SRAM hiccups, and GX shifts as well as it "should". I personally would like to have XO1 cranks, but hey-that's what you get when you pop for the higher end spec.
Should be noted that the little things-the grips and saddle for example are top notch and well thought out instead of an after-thought. You get the phenomenal (if it fits your rear!) Fizik Monte "enduro" (whatever that means!) saddle, and the Ergon "enduro" grips. Nice touches. Even the chain guide (a light weight carbon Praxxis) is well thought out, and intended to give maximum benefit with minimal intrusion/weight gain.
Fit and finish on the frame is honestly the best I've ever seen. The paint job and colors are to DIE for. They're simply gorgeous. If you follow Alchemy at all, you know they've got Ethic Paint Works in house doing their painting. It's so pretty!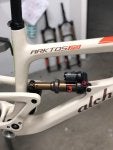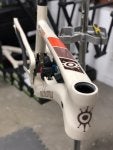 A change/minor point of contention-one thing I would like to see is a move to 170 cranks. More on this later.
One final spec i'd like to see changed is adding a Chris King headset. Let's face it-a bike this nice really needs a pro-level headset like Chris King. But then again, that'd be an extra expense that not many would justify.
Tires are a tough one, but the bike comes with top quality Maxxis DHF/DHR rubber. For my Norcal needs, I swapped the rear to a 2.4 Rekon-and I have to say the bike rolls a lot faster, and I like the rounded profile for cornering personally. I can see going to the DHR for the bike park/more dedicated downhilling.
The 160 Grip2 44mm offset Fox 36 on the front feels perfectly balanced with the rear end-and I thought a 150 would be the way to go-but it's well thought out and doesn't slow anything down in the handling department.
I am going to pop for a Fox Factory X2 here pretty soon to see how that goes….from what I understand it really unleashes the capability of the bike.
Ride Impressions:
Simply put, this bike is awesome. at a "mid-weight", it surprisingly pulls "all mountain" duty in spades. The riding behind my house (that I do most often) is swoopy flat single track, and we really have to go out of our way to find the "bigger" lines. However, when I travel all of 10 minutes away into Auburn (as I have done!) much more of a "big down/big up" action is present.
The great thing about the Arktos 29 is that I feel it can handle both-a true all mountain/one bike quiver. NOTE: the bike has yet to go to the bike park w/ me, BUT there are certifiably steep and technical downhills in Auburn that I've ridden this bike on and feel qualified to share on that.
Tracking on the bike is incredible. The SINE suspension really seems to sit in the "super plush" range, without being overly soft or "bobbing up and down"-ish. IN fact, I never felt the need to close the Fox DPX2 damper to a firmer setting! This bike actually climbs BETTER with the suspension open. The path is super plush in the initial stages of the suspension and then seems to "tighten up" right in that pedaling sweet spot, but the interesting thing is that the bike feels nearly "bottomless", attributing a well thought out suspension path.
Cornering in everything from swoopy singletrack to rutty rocky downhill is on point. I've ridden the bike with both of the stock wheel sets-the M1700 from Dt Swiss as well as the ENVE. While weight appears the same, the Carbon hoops definitely track better and are more precise for this rig. In short, the bike goes where it's supposed to.
Climbing-well, how well is a 31 pound bike going to climb? I can conservatively say that the bike climbs best on rough single track-firmly placing the rider over the bottom bracket and allowing for maximum transition (and traction!) on the pedals. I've climbed things I never thought I could on such a "big" bike, being that of a 29er. But the bike will roll. And Roll. And roll.
Something to note on climbs-I think this bike would do well with 170 cranks. As noted in the photos, I added crank boots-simply because I bashed these things quite often. I would like to see some consideration to changing to the shorter crank-I think the low bottom bracket and suspension path really assist technical climbing, but "just barely" hitting your pedals doesn't exactly inspire confidence.
Long fire road or pavement approaches are not this bikes friend-it is not a XC bike or a "light trail" bike. This bike is made for getting from the bottom of a long climb to the top-eventually. It's not a rocket ship.
Descending is where this puppy shines. With 140mm of rear travel and 160mm of front, the great thing about this bike compared to others is that it's still fun, poppy, and playful. It likes to be "thrown around", which is rare for 29ers, and especially 140mm 29ers that tend to do more plowing rather than popping over the terrain.
Customer Service:



So, i've got a little bad-and a whole lot of good.
Here goes. First off, I ordered this bike through my local LBS. I was SUPER excited, and even more so when I got a personal call from Joel Smith, Alchemy's Director of Sales to confirm and "tighten up" my order…..and was disappointed when the shipment on the bike was pushed back 8 weeks.
When the bike came, I was updated the whole time. Hayden Noel of Alchemy Customer Service sent me photos of the build and bike, sent me tracking info, everything-they kept me in the loop the whole time. Nice touch, but to be honest, one you'd expect when dropping 8 grand. This isn't like ordering a Yeti or Pivot where the bike is either "in" or it's not. Alchemy is more niche/boutique than that, and sometimes ship dates get delayed.
So when the bike was ordered, the rear end had a little play. I was, needless to say, super bummed. Turns out that the rear bolt for the SINE linkage was machined a couple mm too long. No prob-Alchemy took care of it. Another cool thing was that my bike came with an "old model" ENVE RSR bar that had a SLIGHT scratch in it. I didn't complain, but the shop I bought the bike from did. What did Hayden do? He immediately shipped out an ENVE M6 bar, as I ordered. No questions, no issues.
What they couldn't take care of was the fact that it's not good to drop your carbon top tube on a rock from 4+ feet.
OUCH!
So what did Alchemy do? Well they went above and beyond. In 6 short weeks, they handbuilt me a "USA-Made" Arktos 29 front triangle. Yes, I paid for it. But it was well worth it. They even laid it up a little beefier as I'm 200 pounds, and known to be a little "hard" on equipment. They changed over all the parts, and in the box, I even found a couple "extra goodies" thrown in!
USA Made Arktos 29:
I even was told that the rear shock was blown out, and it MAY (not likely, but may be the case) have blown while there was that little bit of play in the rear end, so Alchemy replaced with this DPX2 Performance model for now (as seen in recent pics) until they can get me a NEW fox DPX2 Factory model from Fox (who is behind on production apparently).
In short, the Customer Service was INCREDIBLE throughout the process. Joel Smith, an industry veteran is on point, and Hayden Noel is attentive, answers phone/email/texts promptly, and i a genuinely nice guy.
Overall:


Here's the deal. Alchemy has experienced some growing pains-no doubt. They just brought in a new bike, and there was a bolt issue in the rear suspension. They made is MORE than right.
The bike has been proven. Under me, under the EWS racing team that they sponsor, and under others that ride pretty rough. Production issues are to be expected (and unfortunate) but I think they're past that (they have a full size run at Competitive Cyclist and The BikeCo now!) and are cranking out bikes.
When I broke my bike they felt for me. They made me one in house so I wouldn't have to wait.
Final Thoughts:
It's nice to have something "a little different" from standard fare. However, when I get a "one off" than something production like Yeti, Specialized, Santa Cruz, or Pivot-I don't want to suffer in the ride department.
I don't suffer in this aspect. This bike is as good or better than anything. Plus it's WAY cooler to have something not everyone else has.
This bike should be enough to take Alchemy to the next level. It's THAT good. Certainly same conversation as the new Yeti SB130/SB150, the Ibis Ripmo, the Specialized Stumpjumper, Evil Offering, or Pivot Switchblade.
Custom options are on better than all of those. Parts spec are actually BETTER than those for the money!
So am I stoked? Yep. So much so that I'm going on a ride.