Discussion Starter
•
#1
•
Hi, I recently purchased a used Giant Reign X in size XS for my kid. After scouring though Giant's product archives (US, Canada and International), Bikepedia and googling, I am unable to find a product page for this color scheme and size "XS". I have attached some pictures of the color scheme of the bike.
I was told that this is either a 2013 or 2014 Reign X, and the design of the "Reign X" lettering does match those two years. Also, I am unable to find this bike in size "XS" in the product archives.
The stock fork is a Rockshox Domain RC 26" with 160 mm travel and "Soft" spring (the Rockshox decals match bike's fluorescent green). The stock shock is a Rockshox Kage R Coil (the bike I purchased came with an aftermarket Monarch 200mm x 57mm). The seat-tube indicates "Maestro 6.7".
Apart from asking if anybody knows where I can find a product page for this bike, I am trying to understand why the bike has a 160 mm fork, but 170 mm shock setup, stock from the factory. Is that normal?
TIA.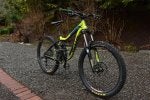 PS: These pics are not of the actual bike I bought, but an exact similar bike, also in XS size, from the seller's friend.